IMPORTANT NOTE: As of January 2nd, MGWCC is now a subscribers-only crossword. The cost is $26 per year, and you can subscribe here:

www.mgwcc.com

LAST WEEK'S RESULTS:
Perhaps a bit easier than your usual Week 4, since Week 3 had played so tough. As this tweet illustrated:
Seems like the weeks got switched over at #MGWCC #nailedit

— Jon (@ManingueNice17) January 24, 2015
We were tasked with finding a sixth piece of fill that should also be starred. Our 11 starred clues (6 theme + 5 fill) were:
19-A [Frequent interceptor of passes and recoverer of fumbles*] = STRONG SAFETY
31-A [Food purchase that currently comes with a kids' book*] = HAPPY MEAL
61-A [John Fogerty song covered by Tina Turner*] = PROUD MARY
77-A [Comedy Central show with an episode where Chris Parnell plays Benedict Arnold*] = DRUNK HISTORY
13-D [Increasingly rare sound*] = BUSY SIGNAL
43-D ["No Rain" band*] = BLIND MELON
Those were the theme entries, now the fill: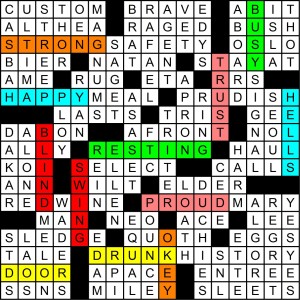 48-A [Inactive*] = RESTING
25-D [Have faith in*] = TRUST
37-D [Word before Angels, Kitchen or Bells*] = HELL'S
52-D [Playground fun*] = SWING
74-D ["___-doke!"*] = OKEY
First leap is to realize that all six theme entries start with an adjective; second is to realize that all six are used in similes using animal names:
Strong as an ox
Happy as a clam
Proud as a peacock
Drunk as a skunk
Busy as a bee
Blind as a bat
There was a nudge towards this second leap in the clue to 33-D, which was AS A SET: [Taken together, or how you should view this puzzle's six theme entries? (well, one's got an extra "n")]. I didn't mean to view them "as a set" meaning as a unified group, but rather to see them as an "AS A SET," i.e. a set of things that use the words "as a" in them. The syntax is a bit off, but hey — I WAS TRYING TO HELP YOU!
Third leap had to be: what's the deal with those five starred pieces of fill? They are RESTING, TRUST, HELL'S, SWING and OKEY, and each anagrams to reference one of these six animals in some way:
RESTING becomes a STINGER, which is the business end of a bee
TRUST becomes STRUT, which is the confident walk of the peacock
HELL'S becomes SHELL, which is home to a clam
SWING becomes WINGS, which allows flight to the mammal called the bat
OKEY becomes YOKE, the uninspiring fate of many an ox
The missing animal is the skunk, so we're looking for a word that anagrams to something skunkish. And there is meta answer DOOR at 80-Across, which anagrams to that animal's signature ODOR.
DIS says:
I was sure it was going to be PRIEST or RIPEST. Once again, you're sly as a fox.
Similarly, erichp:
If only she spelled her last name Striep… (at 3-Down)
mnemonica writes:
I admit I don't get the "extra n" mention in the clue for 33D.
It's in "strong as an ox," which isn't exactly part of the "as a" set, since it's an "as an."
PhilB exults:

Yessss I got a week 4!
As does gpagano:
I'M BACK BABY!
Meta – World Peace quips:
this week gives new meaning to unlocking the meta!
And finally, don't let happen to you what happened to these two solvers:
Aw crud, what with the snow day and everything, I totally forgot about #MGWCC. #fb

— Katie Hamill (@HaitiCamel) January 27, 2015
Oops. Just realized that because of the storm/not being at work today, I forgot to submit a wild guess for the @metabymatt. Oh, well.

— Jesse Lansner (@Jesselansner) January 27, 2015
This week's winner, whose name was chosen randomly from the 251 correct entries received, is Matt Matera of Tewksbury, Mass. In addition to a MGWCC pen, pencil and notepad set, Matt will also receive a Muller Monthly Music Meta coffee mug.
I CAN HAZ META?

Pamela Kolman sends these pics of her cat, who evidently did not appreciate the nuances of a recent MGWCC: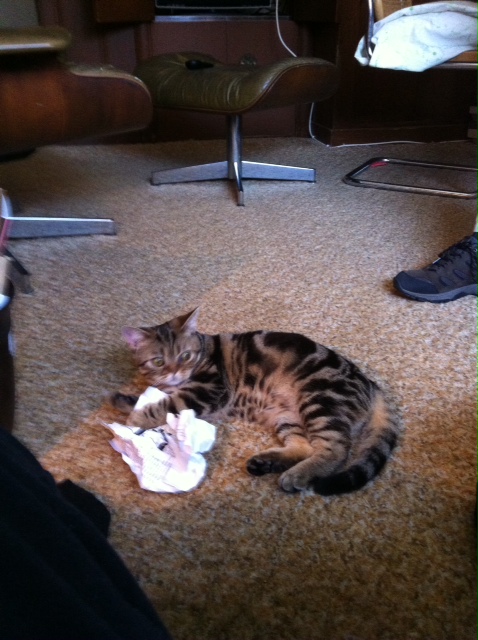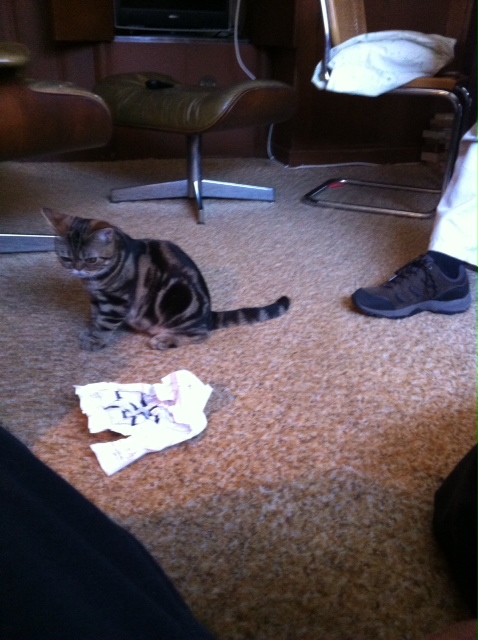 THIS WEEK'S INSTRUCTIONS:

One letter in this grid needs to be changed to complete this puzzle's pattern. Which letter is it, and what letter does it change to?
IMPORTANT NOTE: As of January 2nd, MGWCC is now a subscribers-only crossword. The cost is $26 per year, and you can subscribe here:
Solve well, and be not led astray by words intended to deceive.