IMPORTANT NOTE: As of January 2015 MGWCC is a subscribers-only crossword. The cost is $26 per year, and you can subscribe (or get a free trial month first) here:
LAST WEEK'S RESULTS: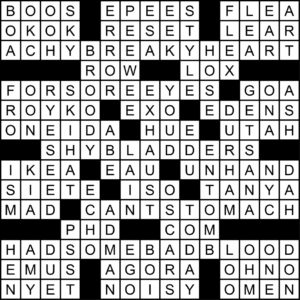 We were looking for something you may (or may not) see a doctor about, and our five theme entries referenced not-really-medically-serious conditions:
17-A [Result of romantic disappointment…but I wouldn't see a doctor about it] = ACHY BREAKY HEART
22-A [How welcome sights may be applied…but I wouldn't see a doctor about it] = FOR SORE EYES. As in "a sight for sore eyes."
40-A [What people nervous about using public restrooms are said to have…but I wouldn't see a doctor about it] = SHY BLADDERS.
55-A [Finds intolerable…but I wouldn't see a doctor about it] = CAN'T STOMACH
60-A [Couldn't get along due to past conflicts…but I wouldn't see a doctor about it] = HAD SOME BAD BLOOD
So you probably wouldn't see a doctor about any of these; but if you did, what kind of doctor would you see?
For an achy breaky heart, a Cardiologist
For sore eyes, an Ophthalmologist
For a shy bladder, a Urologist
For inability to stomach someone/thing, a Gastroenterologist
For bad blood, a Hematologist
The first letter of those five docs spell out contest answer COUGH, found by 259 solvers.
ASB says:
Gonna find out this week how many doctors you have doing the MGWCC (I'm one)

Let's find out:
Jeff says:
I suppose this pediatrician couldn't ask for "JULIA CHILD" as a theme answer

Greenstarfanatic says:
I'M THE REAL DOCTOR HERE.
Neil B writes:
I am a pediatrician. On my days off i say i am off like a cough
And one non-doc, Joe:
And now this hypochondriac has a whole new set of imagined maladies to see these doctors about.
This week's winner, whose name was chosen at random from among the 259 correct entries received, is P.H. In addition to a MGWCC pen, pencil, and notepad set, P.H. will also receive a 1-year subscription to Matt Gaffney's Daily Crossword.
THIS WEEK'S INSTRUCTIONS:
NOTE: Many of you will be at this weekend's American Crossword Puzzle Tournament, so THIS WEEK'S CONTEST DEADLINE IS NOON ET ON WEDNESDAY, MARCH 29th.
This week's contest answer is a famous TV character.
Solve well, and be not led astray by words intended to deceive.