IMPORTANT NOTE: As of January 2015 MGWCC is a subscribers-only crossword. The cost is $26 per year, and you can subscribe (or get a free trial month first) here:
LAST WEEK'S RESULTS: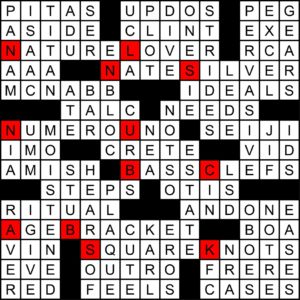 A little nod northward last week: we were looking for something people do a lot in Canada, and our theme entries were:
17-A [Hiker or mountain biker, e.g.]. = NATURE LOVER. One of my officemates owns this company. If you're more adventurous than I, buy a trip and tell me how it was!
21-A [Political analyst whose name anagrams to the Saul Bellow novel "Ravelstein"] = NATE SILVER
30-A [The best] = NUMERO UNO
44-A [Music sheet marks] = BASS CLEFS
56-A [18-25 or 36-45, e.g.] = AGE BRACKET
62-A [Much macrame] = SQUARE KNOTS
Insight #1: the initials of those six are Canadian provincial/territorial postal abbreviations:
NL = Newfoundland & Labrador
NS = Nova Scotia
NU = Nunavut
BC = British Columbia
AB = Alberta
SK = Saskatchewan
Insight #2: The capitals of those six are:
St. John
HalifaX
Iqaluit
Victoria
Edmonton
Regina
The first letters of which spell contest answer SHIVER. It might be cold where you are these days, but it's not Nunavut cold.
Tyler Hinman says:
Good thing I didn't go with my original guess of APOLOGISE
johnstonteacher writes:
Speaking as someone currently enjoying the -11 Celsius weather in Edmonton: accurate!
Steve Blais says no/non:
As a Canadian, I can assure you we don't shiver any more than Americans do. However, I can attest that we do keep beavers as pets
Jason T:
After being at a disadvantage in so many America-centric puzzles (like those darn New York boroughs that stumped me!), what a treat to finally get an advantage as a Canadian… eh?
pannonica points out:

nb: 'hivers' is French for 'winters'. Merci, comme toujours!
And finally, J.T. says:

Being from Canada myself originally (born in a suburb of Edmonton), I pretty much immediately picked up on the provincial abbreviations. But then I couldn't figure out what to do with them. I expected that the solution would involve the missing provinces in some way, but what to do with the QC? Finally I gave up on that direction and instead looked at the capitals, and as they say in some parts of Canada, et voila! Great voila moment!
This week's winner, whose name was chosen at random from among the 326 correct entries received, is Jaime Stearns of Albuquerque, N. Mex. In addition to a MGWCC pen, pencil, and notepad set, Jaime will also receive a 1-year subscription to Matt Gaffney's Daily Crossword.
THIS WEEK'S INSTRUCTIONS:
This week's contest answer is a five-letter country.
Solve well, and be not led astray by words intended to deceive.