IMPORTANT NOTE: As of January 2015 MGWCC is a subscribers-only crossword. The cost is $26 per year, and you can subscribe (or get a free trial month first) here:
LAST WEEK'S RESULTS: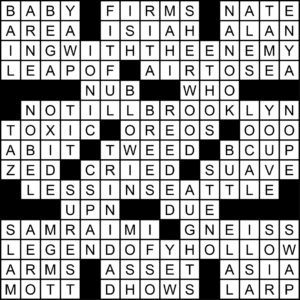 We were looking for something I've been low on lately last week, and our theme entries were:
1-A [My wife Kristin and I had our first one on Monday, which explains this puzzle's theme (Tilghman Merritt Gaffney, born 4:09 PM on 10/2/2017 in Harrisonburg, Va., 8 lb. 10 oz., World Chess Champion 2038-53)] = BABY. Here he is (the mohawk is natural; no matter how we comb it it reappears quickly):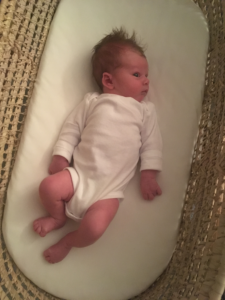 17-A [Financial giant conspiring among its purported competitors?] = ING WITH THE ENEMY. From the Julia Roberts movie "Sleeping With the Enemy."
25-A [Borough of New York City where farming is illegal?] = NO-TILL BROOKLYN. From the Beastie Boys' "No Sleep Till Brooklyn."
42-A [Not visiting the Puget Sound as often as usual these days?] = LESS IN SEATTLE. From the Ryan/Hanks romcom "Sleepless in Seattle."
57-A [Story about a valley shaped like a slingshot?] = LEGEND OF Y HOLLOW. From the Washington Irving short story "The Legend of Sleepy Hollow."
What's missing from each entry? SLEEP, found by a Subscription-Era record 607 solvers. A familiar problem for new parents, and the reason for the four Z's in the puzzle's title.
Cyrano writes:

Congratulations to you both. You'll be sleeping fine by week 700.
Marty says sooner:
you'll sleep well again in 2020
sps says much later:
Don't worry. You'll sleep when they're 20.
Gwinns gets super-specific:
Congratulations, Matt! Don't worry, the sleeping will get better, but only after it first gets a little bit better and then, once you've been faked out, much worse.
Erin punts:

It might get better around the two-month mark. It might not. Congratulations!
Thanks Doc, I guess? (she's a pediatrician).

JosephWNelson will soon be in the same boat:
Congrats Matt! I've got my first due in two months so I'm trying to rest up while I still can.
And finally, Jeff G. writes:
Make sure to enjoy every moment and take lots of pictures.
Will do. Here's one of Tilghman (pronounced like "Tillman" for those who asked; it was my mother's mother's mother's maiden name) and Otis, whom you may recall from MGWCC #136.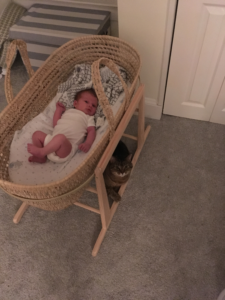 This week's winner, whose name was chosen at random from among the 607 correct entries received, is Adam Pava of Los Angeles, Calif. In addition to a MGWCC pen, pencil, and notepad set, Adam will also receive a copy of Patrick Blindauer's Broadway Puzzlefest. Next week's winner will receive the same.
THIS WEEK'S INSTRUCTIONS:
This week's contest answer is a famous literary work.
Solve well, and be not led astray by words intended to deceive.