IMPORTANT NOTE: As of January 2015 MGWCC is a subscribers-only crossword. The cost is $26 per year, and you can subscribe (or get a free trial month first) here:
LAST WEEK'S RESULTS: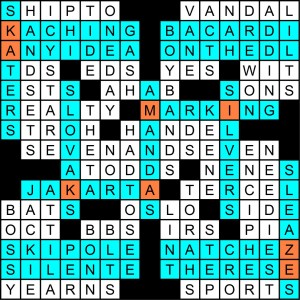 Just a single insight required to solve last week's meta! I like that kind of curveball. We were looking for a well-known (alcoholic) mixed drink, and our one theme entry was across the middle at 34-A: [Mixed drink that's not the contest answer — but which will give you the contest answer, if you make it enough times] = SEVEN AND SEVEN.
Could mean a few things, but here it meant: take the letters where two seven-letter entries "mix," i.e. "cross," and you've got contest answer KAMIKAZE. Vodka with anything is too much for me so I'll let you have that one.
CoyoteCreed writes:

I play MGWCC because I like my crosswords with a twist.
This answer took Tyler Hinman back to his college days:

The official house shot of the Nu Theta chapter of Phi Mu Delta!
Andy Kravis writes:
Definitely found TANG first, thanks for the clarification
After Friday's post, three solvers sent in a quick TANG entry, based on boxes 14, 28, 42, and 56 (i.e., multiples of 7+7) being G-T-A-N. Not close enough to be right, but close enough to be annoying, so I sent out the quick e-mail clarifying that we were looking for an alcoholic drink.
And finally, Steve Blais backsolved this (as did one other solver, Dave C), which I find remarkable. I guard pretty well against backsolves, but must admit that it never crossed my mind on this one. Bravo. Steve explains:
Went in through the backdoor on this one.

I noticed the Z sitting all by itself down in the SE. Seeing as that was an unusual place to stick a Z, I started thinking of mixed drinks that had a Z in them, possibly towards the end of their name. When I came up with KAMIKAZE I scoured the grid looking for the other letters that make up that word. There was the E right below the Z and in the exactly symmetrical opposite part of the grid to the ZE was KA. So far so good. Since K is a relatively uncommon letter, I looked for another one next. There's the KA in JAKARTA, corresponding to the MI in MARKING. This was way too coincidental for me, but of course I still had to justify it.
I knew the seven-letter words had something to do with the meta, but it took me a little longer to notice where they all intersected. And that's why the letters I had found were relevant!
This week's winner, whose name was chosen randomly from the 116 correct entries received, is Al Sanders of Loveland, Colo. In addition to a MGWCC pen, pencil and notepad set, Al will also receive a 1-year subscription to Matt Gaffney's Daily Crossword (MGDX).
THIS WEEK'S INSTRUCTIONS:
This week's contest answer is a famous American athlete who would have made a good sixth theme entry in this puzzle.

Solve well, and be not led astray by words intended to deceive.