IMPORTANT NOTE: As of January 2015 MGWCC is a subscribers-only crossword. The cost is $26 per year, and you can subscribe (or get a free trial month first) here:
LAST WEEK'S RESULTS: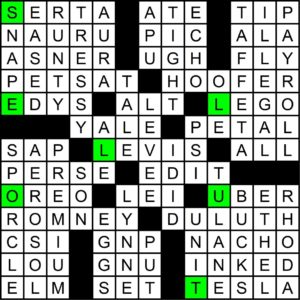 The smug tone of the celebrity endorser, captured in crossword form last week. Seven clues were smarmy endorsements of common crossword entries: SERTA, EDYS, LEGO, LEVIS, OREO, UBER, and TESLA. Those first letters spell out SELLOUT, which 592 solvers found.
Criticize if you must, but I can't hear you over the hum of my brand new Tesla, limited factory edition. Which cost me nothing, of course. You think you're better than me? You'd all take a new Tesla if they offered! You'd do the same thing I did!
Ian Livengood says:
Classic!
Pundog writes:
Now for some reason, I feel like buying a Serta. Weird.
reinrag is 1-for-1 at the site:
My first one! woot!
And Pomona47 asks:
How long until we see "Nabisco presents Matt Gaffney's Weekly Crossword Contest"?
Never, since I just got a better offer from the fine folks at Ikea. The re-branding begins with puzzle #501. Exciting!
This week's winner, whose name was chosen at random from among the 592 correct entries received, is Jessica Schepker of Columbia, Mo. In addition to a MGWCC pen, pencil, and notepad set, Jessica will also receive a 1-year subscription to Matt Gaffney's Daily Crossword.
A DECEMBER TO DISMEMBER:
Remember that, to claim a yearly prize for 2017, you must solve all five of December's puzzles solo, without any help at all from another person. You can still Google-Bing-Yahoo! of course, but not receive help from another human.
Don't be mad — you can do it! You don't need those other people!
THIS WEEK'S INSTRUCTIONS:
This week's contest answer is a famous historical figure.
Solve well, and be not led astray by words intended to deceive.