IMPORTANT NOTE: As of January 2015 MGWCC is a subscribers-only crossword. The cost is $26 per year, and you can subscribe (or get a free trial month first) here:
LAST WEEK'S RESULTS: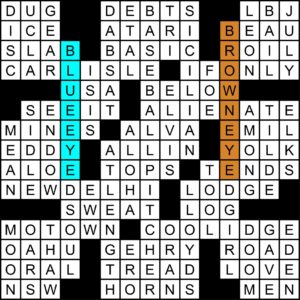 Who's a BASEBALL PITCHER with one BLUE EYE(D SOUL) and one BROWN EYE(D GIRL)? The great MAX SCHERZER, of course, found by 445 solvers.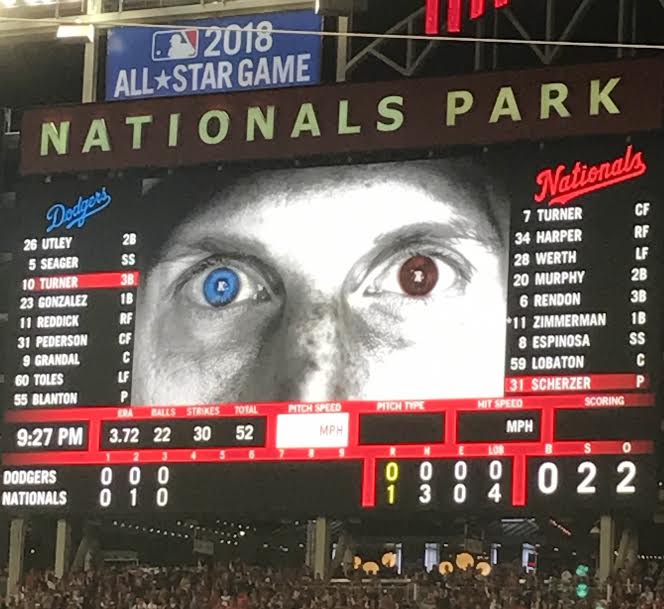 Picture above courtesy of Angela Olson Halsted, who writes:
I took a pretty good picture of him earlier this season if you'd like to use it on your blog this week. Also the picture I took of the Jumbotron last Thursday. 🙂
These are great — here's her other shot: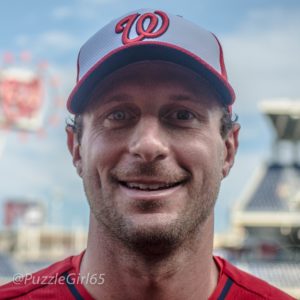 FLEB quips:
Looks like the eyes have it!
docison writes:
Hopefully being the meta answer will console him for last night's defeat.
I'd had this idea for a few months, and when I saw that Scherzer was pitching Game 5 on Thursday I figured that if he happened to throw a no-hitter (which he did twice in 2015) then I'd look like a genius on Friday. Indeed he took a no-hitter into the 5th inning and I was getting pretty excited, but then things fell apart quickly and the Dodgers wound up winning.
gbergvall writes from Scandinavia:
Max is known even to a Swedish baseball fan (of whom there are not too many). However, my team is the Cubs, who will not see Max again this year!
astrokurtis says:
Took me a while, and the answer was staring me in the face.
And finally, Abide was in a fitting place:
Solved it on the red-eye!
This week's winner, whose name was chosen at random from among the 445 correct entries received, is Matt Doeringer of Boston, Mass. In addition to a MGWCC pen, pencil, and notepad set, Matt will also receive a 1-year subscription to Patrick Blindauer's forthcoming weekly series Piece of Cake Crosswords. Just three days left to get in on this, so do it now if you plan on it.
THIS WEEK'S INSTRUCTIONS:
This week's contest answer is a noted 20th-century American.
Solve well, and be not led astray by words intended to deceive.