IMPORTANT NOTE: As of January 2015 MGWCC is a subscribers-only crossword. The cost is $26 per year, and you can subscribe (or get a free trial month first) here:
LAST WEEK'S RESULTS: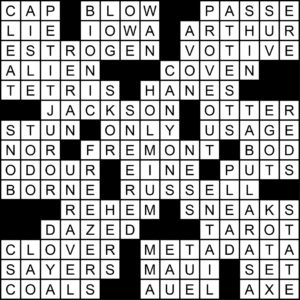 Guest constructor Jeffrey Harris tasked us with finding a TV show last week, and our theme entries were…what? There were two 10-letter downs and then four 8's in a pinwheel fashion, but it wasn't clear that those were theme — and, in fact, none of them were! The key was to notice seven similarly clued and symmetrically placed across entries:
4-A [Columnist Charles] = BLOW
15-A [President Chester] = ARTHUR
24-A [Actor Samuel] = JACKSON
35-A [Explorer John] = FREMONT
43-A [Director David] = RUSSELL
57-A [Essayist Dorothy] = SAYERS
61-A [Novelist Jean] = AUEL
Now, who calls Samuel L. Jackson "Samuel Jackson"? A crossword constructor writing a meta, that's who! Fill in that and the other missing middle initials these people use – M, A, Jackson's L, C, O, L, and M, and you've got MALCOLM, suggesting the 2000-2006 sitcom MALCOLM IN THE MIDDLE, found by 363 solvers.
Raygirl writes:
Yay for more info about superstar Jangler!! And a fun meta! Thanks. (I love that he stresses about the streak. A humble superstar!)
Golem says:
Interesting defensive strategy – submit a tricky puzzle to maintain your streak and break others…
I never watched "Malcolm in the Middle" so there were a bunch of solver comments that are inside jokes I don't get. But here are a few that you might:
Tyler Hinman writes:
I like the fan theory that this show takes place after Breaking Bad and Hal is really Walter White in Witness Protection.
Similarly, Kranke:

Bryan F. Cranston on roller skates. YES
Seth Rotkin says:

This meta's faiiiiiiirrrrrr
Similarly, Vraal:
Life is unfair
And finally, ConvoluTED asks:
Maybe. I don't know. Can you repeat the question?
This week's winner, whose name was chosen at random from among the 363 correct entries received, is Joe Sampson of New Hampton, N.H. In addition to a MGWCC pen, pencil, and notepad set, Joe will also receive a one-year subscription to Will Nediger's weekly subscription crossword. Next week's winner will receive the same.
THIS WEEK'S INSTRUCTIONS:
This week's contest answer is a fitting 10-letter adverb.
Solve well, and be not led astray by words intended to deceive.