IMPORTANT NOTE: As of January 2015 MGWCC is a subscribers-only crossword. The cost is $26 per year, and you can subscribe (or get a free trial month first) here:
LAST WEEK'S RESULTS: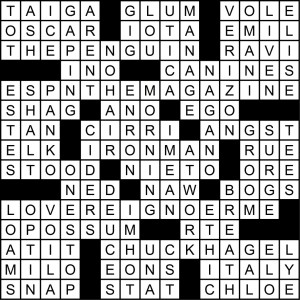 Sick as a dog here, so quick writeup: we were looking for a country in [FLAG OF ___] to make a final theme answer. THE PENGUIN wears a monocle; ESPN THE MAGAZINE is published biweekly; an IRONMAN competition is a triathlon; LOVE, REIGN O'ER ME is a Who song off the album Quadrophenia; and CHUCK HAGEL worked as Defense secretary in the Pentagon.
So we needed a flag referencing a word with a hex- or sex- beginning to round out the sequence, and that would be contest answer ISRAEL, whose flag features the Star of David, known in geometry class as a hexagram.
There were a few alternate answers that I sent to the panel and I'll update the story on those here this weekend once I'm back to full strength. I don't get sick very often but when I do it's a doozy. Entry updates might be a little slow as well so bear with me.
This week's winner, whose name was chosen randomly from the 119 correct entries received, is Alex Prieto of Los Angeles, Calif. In addition to a MGWCC pen, pencil and notepad set, Alex will also receive a 1-year subscription to Matt Gaffney's Daily Crossword (MGDX).
THIS WEEK'S INSTRUCTIONS:
This week's contest answer is a U.S state.
Solve well, and be not led astray by words intended to deceive.