IMPORTANT NOTE: As of January 2015 MGWCC is a subscribers-only crossword. The cost is $26 per year, and you can subscribe (or get a free trial month first) here:
LAST WEEK'S RESULTS: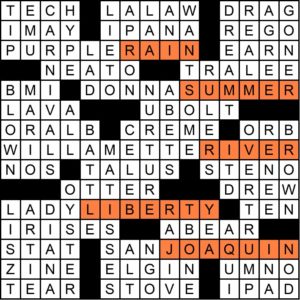 What U.S. state capital did last week's puzzle point to? You could've just guessed and had a 2% chance of being right. But that's crazy! Look at the theme answers at least!
17-A [The second-best album of the 1980s, per Rolling Stone] = PURPLE RAIN. After "London Calling" on their list.
25-A [She hit #1 with "MacArthur Park" and "Hot Stuff"] = the late DONNA SUMMER. Celebrity trivia: she was a fluent German-speaker.
37-A [Eugene is on it] = WILLAMETTE RIVER. Eugene, Oregon, that is.
45-A [Gotham behemoth] = LADY LIBERTY.
56-A [California county whose seat is Stockton] = SAN JOAQUIN.
J Bowzer writes:

Would have been really hard without Joaquin in there.
So of course I put him last! 476 solvers noticed that the last words of each of these five — RAIN, SUMMER, the late RIVER, LIBERTY and JOAQUIN — are the five siblings of the PHOENIX family of actors, making Arizona's capital our contest answer.
Guffman asks:

By the time I got to Phoenix you had 19 solvers. A tribute to Glen Campbell?
Who passed away last week.
Small Wave Dave knows that desert town:
Despite living there more than 40 years, I still have enough un-fried neurons to do puzzles!
Solvers who get out into the world more than I do: Steve Jorgensen says…

Thank you Matt! Hate to have to miss next week as I will be underwater 80 miles off the coast of Belize with no internet access.
Similarly, Gnarbles:
I was hoping the answer would be Juneau as our cruise ship is just pulling into Juneau as I hit the submit button. Off to see whales and orcas
Similarly, David Stein:

Doing this in a whiskey bar in Glasgow. Trying to explain meta crosswords to the Scots

hipokrit says:
I still miss River.
If you haven't seen Running on Empty I'd recommend it highly.
Finally, Lookout Bear says:

Hooked on Phoenix worked for me!
Lookout Bear is a hilarious username. One of these months we should take a vote on who's got the best MGWCC handle.
This week's winner, whose name was chosen at random from among the 476 correct entries received, is Beth Reid of Louisville, Ky. In addition to a MGWCC pen, pencil, and notepad set, Beth will also receive a one-year subscription to Matt Gaffney's Daily Crossword.
LPZ 10:
Lollapuzzoola 10 this weekend in the Big Apple! I'm unable to attend but I've been three times in the past and its a hoot. Drop by if you're near.
WSJ META:
My meta in today's Wall Street Journal is somewhat amusing. Try it once you conquer MGWCC #481.
THIS WEEK'S INSTRUCTIONS:
This week's contest answer is a hit animated movie, released in the first decade of this century, that completes this puzzle's theme.
Solve well, and be not led astray by words intended to deceive.