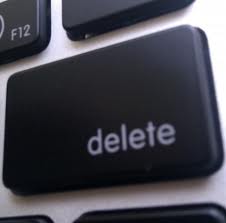 LAST WEEK'S RESULTS: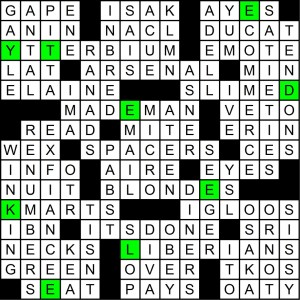 Where would we be without the DELETE KEY? It's the eraser of the 21st century. It was also last week's meta answer, since you could delete nine letters in the grid and continue blithely along as though nothing had happened, since the relevant clues still worked. Like so:
[Some shouts] are AYES or AYS after you delete the E, and, on the crossing, [Concern for Jeffrey Bezos or Bill Gates] is E-COMMERCE or just plain old COMMERCE.
[Hit with "Ghostbusters" goo] clues either SLIME or SLIMED, while [They're found near joints] clues either TENDONS or TENONS.
[Joe Pesci in "Casino," e.g.] was MADE MAN Tony Spilotro, who was also a complete MADMAN. Originally I had "Goodfellas" in this clue, but changed it since his character in "Casino" was even more psychotic.
[Lots of Swedes] are BLONDES (feminine) or just BLONDS (masculine), and both Bob SEGER and the late Pete SEEGER satisfy the clue [Surname in the Rock and Roll Hall of Fame].
[Some stores] could be K-MARTS or just MARTS, while [Engaging in romantic activity] could yield either WINKING or WINING. This was the breakthrough entry for many solvers, since this could've easily been LEX/LINKING or SEX/SINKING instead of using the obscure WEX Pyle.
[Many of them live on the Atlantic coast] clues LIBERIANS, but chop that L off and you've also got IBERIANS. While [Food for a pig, perhaps] could be SLOP or just a SOP.
[Put a chair in front of] clues SEAT, but also the past tense SAT. As with the SLIME(D) clue, taking advantage here of a verb that's the same in the present and past tenses. And as with the BLOND(E)S clue, taking advantage again of the feminizing E in French with [Jilter, perhaps] for EX-FIANCE(E).
Finally, up top we have the element YTTERBIUM, in which you must remove the Y and the second T (not the first one, which would make 2-down a naughty word) to yield TERBIUM, both of which satisfy the clue [Element in the lanthanide series]. The downs are [Good surname for someone who lives in Chicago?] for GALE or GAYLE (Windy City, get it?) and [Stuffable bread] yields PITTA plus the American spelling PITA.
Those nine deleted letters anagram to DELETE KEY, found by 170 solvers.
Several folks found a tenth (unintended by me) deletable square, the T crossing ITO [Name in 1995 headlines] and TKOS [Fight stoppers, for short]. devjoe was first:
There's an "extra" theme entry in this puzzle. TKOS -> KOS and ITO -> IO (in the news because the Galileo spacecraft got there in 1995).
That's Io, one of Jupiter's moons.
And Squonk says:
Happy #300!
Thanks! 300 down, 700 to go, since this series ends on Friday, August 6th, 2027, with puzzle #1000.
This week's winner, whose name was chosen randomly from the 170 correct entries received, is Andrew Esten of Somerset, Mass. In addition to a MGWCC pen, pencil and notepad set, Andrew will also receive a copy of Trip Payne's forthcoming 2014 Puzzle Extravaganza. The winner next week will receive the same.
MONTHLY WINNERS:
Just now realized that I blanked on the monthly winners for February. I'll do those next week, and bump the number of winners from 10 to 12 to make up for the delay. Actually February already had 15 winners planned, so we'll make it 17. Wow! That's a lot.
THIS WEEK'S INSTRUCTIONS:
The 37th Annual American Crossword Puzzle Tournament begins today (sorry I'm not there this year, and good luck to those who are). This week's contest answer is a past or present champion at the American Crossword Puzzle Tournament. If you don't have the ACPT champions memorized, here's a list. Submit your answer in the form on the left sidebar by WEDNESDAY (NOTE: EXTRA DAY THIS WEEK BECAUSE OF THE TOURNAMENT) at noon ET. Note: the submissions form disappears from the site promptly at noon on WEDNESDAY.
To print the puzzle out, click on the image below and hit "print" on your browser. To solve using Across Lite either solve on the applet below or download the free software here, then join the Google Group (2,230 members now!) here. Or you can download the .puz file (you may have to right-click the link and save to your Downloads folder).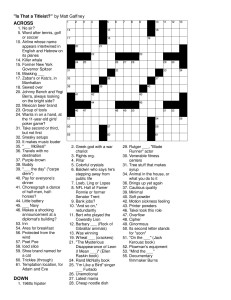 Solve well, and be not led astray by words intended to deceive.