LAST WEEK'S RESULTS:
Is it normal for four times as many people to get Week 5 than got Week 4? No. The two puzzles were "switched at birth," as one solver quipped, and 236 solvers found PIERRE CURIE as the relevant French-born Nobel Prize winner.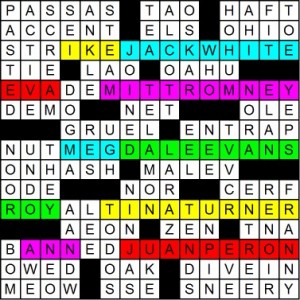 Successful metapuzzlers noticed that the spouses (or ex-spouses) of each of the five named celebrities concealed themselves in a different theme entry. So IKE Turner hid in STRIKE JACK WHITE, EVA Peron in EVADE MITT ROMNEY, MEG White in NUTMEG DALE EVANS, ROY Rogers in ROYAL TINA TURNER, and ANN Romney in BANNED JUAN PERON.
Reuniting each three-letter hider with their mate (putting MEG up top with JACK, for example) leads to an acrostic that reveals the name MARIE:
MEG White
ANN Romney
ROY Rogers
IKE Turner
EVA Peron
Reunite her with her spouse to get the meta: French-born Chemistry Nobelist PIERRE CURIE. Note that it couldn't have been MARIE CURIE, nee Sklodowska, since she was a Pole born in Warsaw.
This week's winner, whose name was chosen at random from the 236 correct answers received, is Joel Berghoff of San Rafael, Calif. In addition to a MGWCC pen, pencil and notepad set, Joel will also receive a signed copy of my new book Mental Floss Crosswords.
MONTHLY WINNERS:
I'm just now (11:55 AM ET) realizing that I've blanked again on monthly prizewinners. D'oh! I'll announce them next week, and pick 12 instead of the normal 10 to atone for the delay.
BEQ GUEST PUZZLE:
I have a rather hilarious guest puzzle (and brief interview providing the backstory) with Brendan Quigley at his site today. Philosophical question: is it considered an epic fail if the task was impossible in the first place?

WHAT'S A META?
Nothing, I just wanted to tell you about an article I have today at About.com. It's about this contest site and metapuzzles in general. Basic stuff for veterans here, but helpful for introducing others gently to metapuzzles.
SPECIAL PRIZES THIS WEEK AND NEXT:
Winners this week and next will receive BOTH:
*** a subscription to Patrick Blindauer's Las Vegas-themed Holiday Puzzlefest, an annual landmark on the crossword calendar. Buy it at the link above for $11.11.
AND…
*** a 1-year subscription to editor Ben Tausig's new American Values Crossword, which morphed out of the old Onion puzzle. Check out the massive Kickstarter total they've amassed!

THIS WEEK'S INSTRUCTIONS:
This week's contest answer is a famous book. Submit your answer in the form on the left sidebar by Tuesday at noon ET. Note: the submissions form disappears from the site promptly at noon on Tuesday.
To print the puzzle out, click on the image below and hit "print" on your browser. To solve using Across Lite either solve on the applet below or download the free software here, then join the Google Group (1,908 members now!) here.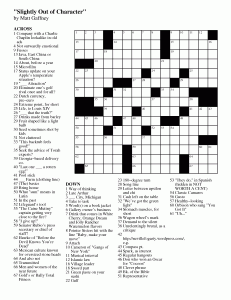 Solve well, and be not led astray by words intended to deceive.