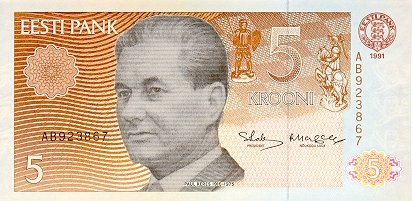 LAST WEEK'S RESULTS:
165 correct entries came in on MGWCC #247. High for a Week 4, and I didn't manage to peel off any of the 13 perfect scores, either. We'll fix that later on this month, which has five Fridays.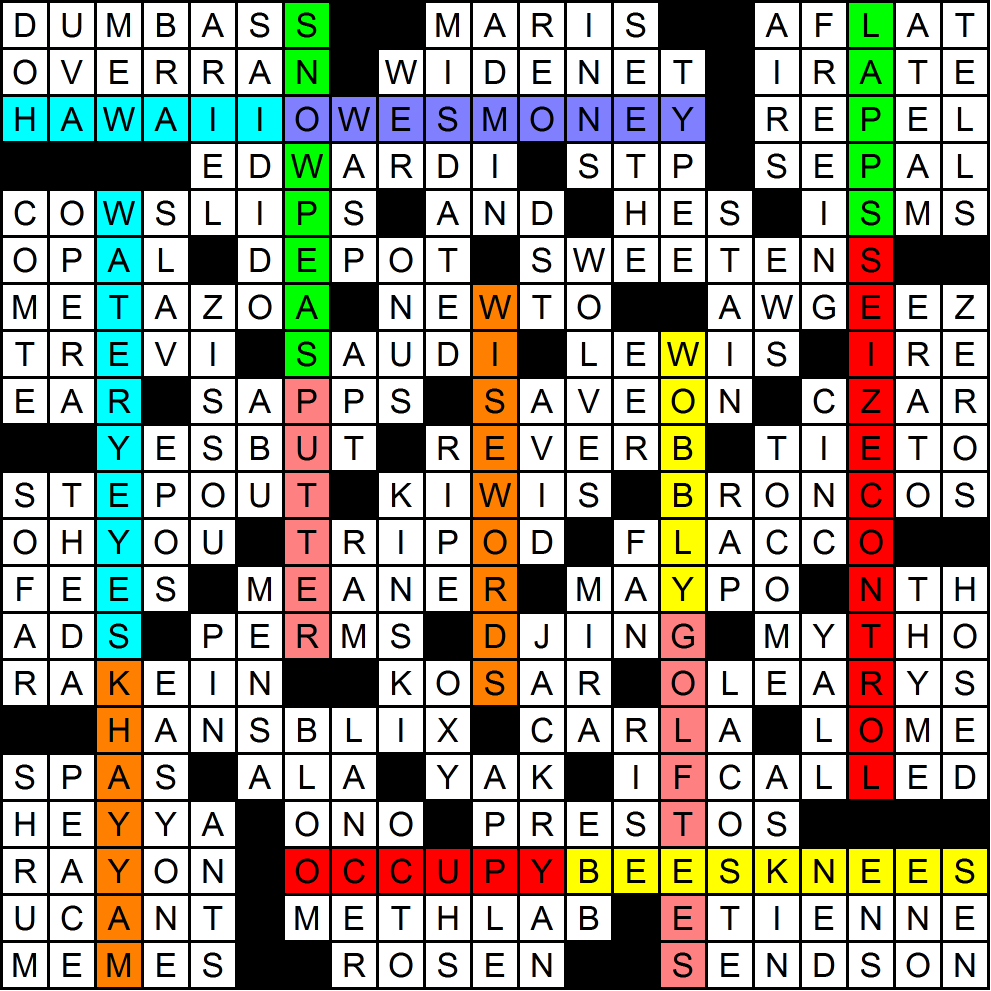 Six long theme entries last week, plus a mysteriously asterisked entry at the central down:
22-a [Summary of Honolulu's economic woes?] = HAWAII OWES MONEY. What state doesn't? I think only North Dakota doesn't have any debt.
7-d [Club made out of green vegetables?] = SNOW PEAS PUTTER
15-d [Headline about a coup d'etat in northern Finland?] = LAPPS SEIZE CONTROL
30-d [Nickname for a poet who was always getting weepy?] = WATERY EYES KHAYYAM
55-d [Driving hazard?] = WOBBLY GOLF TEES
114-a [What baby hive members do during story time?] = OCCUPY BEES KNEES
And then that solitary starred clue at 46-d: [They should be heeded*] for WISE WORDS.
What's going on here? The six long theme entries consist of a word with a double letter (like PUTTER or LAPPS), plus a homophone for a plural letter (like SEIZE for C's, or TEES for T's), plus — here's the tricky part — a word suggesting a double-letter word in another entry. So in LAPPS SEIZE CONTROL we have a double-letter word (LAPPS), plus the letters homophone (SEIZE), plus a word suggesting another double-letter word in another entry (CONTROL, which suggests the double-C word OCCUPY).
Intricate, so let's do another one: in WOBBLY GOLF TEES, WOBBLY suggest KNEES, while GOLF TEES suggests PUTTER, a golf term with double T's. Still confused? The color-coded solution diagram above should help.
Instructions asked for one of the currencies replaced by the euro. WISE WORDS suggestes a YY word relating to words, and there's poetic wordsmith Omar KHAYYAM at 30-d. Which means we've got one set still unmatched: OWES MONEY needs a money word with a double-O in it, and the only euro-replaced currency satisfying that requirement is the Estonian KROON, making that money our meta answer.
Off-topic: The kroon might seem an obscure and random currency, but to chessplayers it was beloved since the 5-kroon note bore the visage of chess great Paul Keres (1916-75; see image at top of post). Keres is widely considered one of the strongest players never to become world champion; though he never made it to the peak himself, he notched victories against every world champion from Capablanca to Fischer.
Munch fell for a vicious (and unintentional) red herring:

C- Seize,Y-Wise,P-Peas,R?,I-eyes,O – Owes,T-Tees and B-Bees left over. Feeling like I was building something and had both parts missing and extra.
I kept getting CYPRIOT POUND entries but didn't know why until a solver finally explained: just take those double letters and you get CYPBIOT. So close, so it surely had to be the correct path, right? But no. 22 solvers in total guessed it, though.
This week's winner, whose name was chosen at random from the 165 correct entries received, is Jack Martin of Medford, Mass. In addition to a MGWCC pen, pencil and notepad set, Jack will also receive a copy of Patrick Berry's forthcoming cryptic suite. Just 5 days left in its Kickstarter campaign, so do it soon if you're gonna.
MONTHLY PRIZES:
127 (!) solvers submitted the correct contest answer to all four of February's challenges (ZEBRA, IRON HUBBARD, LOS ANGELES TIMES, ESTONIAN KROON). The following ten lucky and skillful winners, chosen randomly by computer from that group, will receive a MGWCC pen, pencil and notepad set:
Ed Brody — Cambridge, Mass.
Phil Chow — Elmhurst, N.Y.
Russ Cooper — Phoenix, Ariz.
Gene Faba — New York City, N.Y.
Roger Friedman — Annandale, Va.
Charlie Haley — Durham, N. Car.
Brandon Hensley — Princeton, N.J.
Don Lloyd — Point Reyes Station, Calif.
David Stein — Silver Spring, Md.
J.T. Williams — Pasadena, Calif.
Congratulations to our 10 winners, and to everyone who went 4-for-4 in February.
YOU LIKE ME, YOU REALLY, REALLY LIKE ME:
Well this is cool: I won the Orca for 2012 Constructor of the Year on Sunday!
Other honorees included Ben Tausig for Puzzle of the Year, Brendan Quigley for Best Freestyle Puzzle, Merl Reagle for Best Sunday-Sized Puzzle, Patrick Berry for Best Gimmick Puzzle, Jeff Chen for Best Easy Puzzle, and Bob Klahn for Lifetime Achievement. Read about all the nominees and winners here.
THIS WEEK'S INSTRUCTIONS:
This week's contest answer is a farm animal. Submit your answer in the form on the left sidebar by Tuesday at noon ET. Note: the submissions form disappears from the site promptly at noon on Tuesday.
To print the puzzle out, click on the image below and hit "print" on your browser. To solve using Across Lite either solve on the applet below or download the free software here, then join the Google Group (1,990 members now!) here.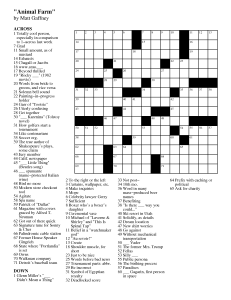 Solve well, and be not let astray by words intended to deceive.