LAST WEEK'S RESULTS: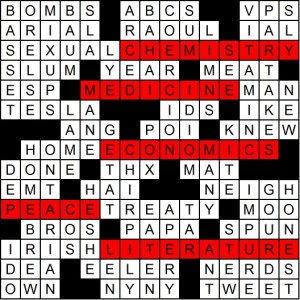 531 solvers found PHYSICS as last week's meta answer. I self-blogged this puzzle at Fiend on Tuesday, so read the review there today instead of here!

http://www.crosswordfiend.com/blog/2013/03/13/mgwcc-249-matts-self-review/
Jason T opines:
This puzzle was dynamite!
Mean Old Lady says:
Physicist daughter would be ashamed did I not get this. Wanted to spell it Fizzicks just to mess with you.
smwcross writes:
39-Across. 40-Across, 41-Across!
And finally, Lee Sammons ran into some trouble:
I did yours and Fireball today and forgot which was which, so I spent a lot of time looking for your meta in the Fireball puzzle. Bah!
Now there's an idea for a tough meta!
This week's winner, whose name was chosen at random from the 531 correct entries received, is Dan White of Manhattan Beach, Calif. In addition to a MGWCC pen, pencil and notepad set, Dan will also receive a copy of Neville Fogarty's forthcoming puzzle suite (which you can Kickstart here). Next week's winner will receive the same.

WE HAVE NOTHING TO FEAR BUT FEYER HIMSELF:
Bravissimo to Dan Feyer for convincingly winning his fourth consecutive ACPT last weekend. His finals-mates, yet again, were Anne Erdmann, who took second place (on her birthday!), and 5-time champ Tyler Hinman, one of the extremely small number of people who is disappointed by a third-place finish in Brooklyn.
This is starting to feel like the Federer/Nadal/Djokovic/Murray lock on grand slam finals over the past 8 years! When are you three going to let someone else on that stage? (Answer: never!)
ONO SHE DIDN'T!
Yoko Ono answers her favorite 10 Twitter questions each Friday at her website. Last week I tweeted her:
Matt Gaffney @metabymatt
Hi Yoko, your first and last names each appear all the time in crosswords. What's the best clue you've ever seen for yourself?
They just use my name for a filler. I like that. Thank you, thank you, thank you.
We're totally busted! Also, I was sure she would say her favorite clue was [Lennon's love].
BIG SHOES TO FILL:
This week I've taken over crossword duties at The Week from the great Peter Gordon, who ends his brilliant four-year run there.
These will be current events-themed, similar to the weekly Slate puzzles I wrote from 1999-2003. First one is here (PDF only for now).
QUARTER NOTES:
MGWCC #250? Already? That means the contest is one-quarter done as of today. MGWCC #1000, which will end this series, runs on Friday, August 6th, 2027.
250 down, 750 to go. First quarter ends today; second quarter starts next week. Game on!
THIS WEEK'S INSTRUCTIONS:
This week's contest answer is the answer to a hidden trivia question. Submit your answer in the form on the left sidebar by Tuesday at noon ET. Note: the submissions form disappears from the site promptly at noon on Tuesday.
To print the puzzle out, click on the image below and hit "print" on your browser. To solve using Across Lite either solve on the applet below or download the free software here, then join the Google Group (2,000 members now!) here.
[UPDATE, 3/16/13/, 11:40 AM ET: in the clue for 50-across I've confused my college basketball tournaments. The clue should reference not the NIT but the NCAA Men's Division I Championship. This was just a mistake and has nothing to do with the meta.]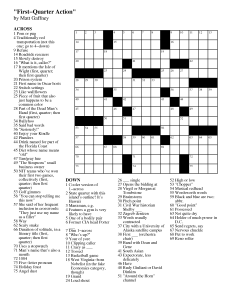 Solve well, and be not led astray by words intended to deceive.