LAST WEEK'S RESULTS:
[A strand of the fabric] read all six theme clues last week, the answers of which described someone known for wearing a letter on their clothing:
23-a LORRE BREAKOUT ROLE was child-murderer Hans Beckert in Fritz Lang's great movie "M." A pursuer identifies Beckert as the culprit on the streets of Berlin and, afraid of losing him, surreptitiously slaps an M in chalk on his back so he stands out in the crowd.
36-a WITCH DOCTOR SINGER is Alvin from Alvin & the Chipmunks, known for the big A on his sweater so you don't mistake him for Simon or Theodore. If you don't think you know this song, yes you do.
55-a AL MVP WINNER OF MMXI is Detroit Tigers ace Justin Verlander, who wears the gothic D on his uniform.
82-a VERONICA LODGE'S GUY. That's Veronica from the Archie comics, and Archie Andrews himself wears the R on his sweatshirt for Riverdale High.
98-a PURITANS SHAMED HER was Hawthorne's Hester Prynne, forced to wear an A (for "adulteress").
118-a LEAPER OF BUILDINGS, of tall buildings in a single bound, in fact, is Superman, who wears the S on his superhero suit.
Weave those six strands together, and what fabric do you get? MADRAS, of course, found by 304 solvers. It's also the hometown of World Chess Champion Vishy Anand, who'll be defending his title this November in Madras, aka Chennai, against Magnus Carlsen. Hey, an excuse to show a random chess picture!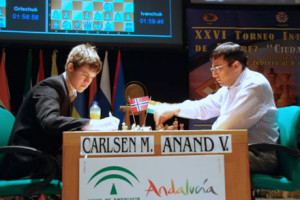 Were weeks 3 and 4 "switched at birth" this month? I had originally intended to run the Caymans puzzle in Week 4, since I would actually have been on Grand Cayman while people solved, which would've been cooler. But I became concerned that one of my non-crossword friends would innocently post my location on Facebook or Twitter if I waited that long, so Week 3 was indeed tougher than Week 4 this month.
Also: thanks to solver CY Hollander for the MADRAS montage above.
This week's winner, whose name was chosen randomly from the 304 correct entries received, is Jason Rau of Carlsbad, Calif. In addition to a MGWCC pen, pencil and notepad set, Jason will also receive a 20-week subscription to Peter Gordon's new Fireball Newsweekly Crosswords.
THIS WEEK'S INSTRUCTIONS:
This week's contest answer is a five-letter word that bears a certain relationship to a word in this puzzle grid. Submit your answer in the form on the left sidebar by Tuesday at noon ET. Note: the submissions form disappears from the site promptly at noon on Tuesday.
To print the puzzle out, click on the image below and hit "print" on your browser. To solve using Across Lite either solve on the applet below or download the free software here, then join the Google Group (2,050 members now!) here.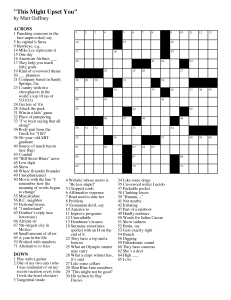 Solve well, and be not led astray by words intended to deceive.