TIP JAR WEEK: A NEW RECORD, AND 36 HOURS TO GO!
36 hours left in Tip Jar Week! And we're at $9,175 (including checks), meaning we've already surpassed last year's total by about a hundred bucks. Can we get to an even $10,000? I say we go for it! But I would say that, right?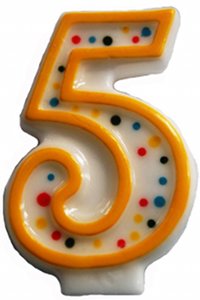 Seriously, so extremely gratifying to have the site grow every year. Chip in by visiting the Tip Jar Page, or just click the PayPal button below. If you prefer to send a check, e-mail me (crosswordcontest@gmail.com).
12:05 AM, JUNE 16th: Tip Jar Week is now over! We easily surpassed last year's total — thank you to all who chipped in! I'll have final numbers in this Friday's post. — Matt
LAST WEEK'S RESULTS: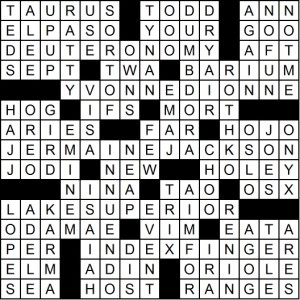 Had to be 5, right? 5th anniversary of MGWCC and all that. But let's see how we got there.
Instructions asked for a number between 1 and 10, and the five (of course) theme entries were:
17-a [Source of the saying "man does not live by bread alone"] = DEUTERONOMY.
24-a [Oldest of French-Canadian girls born on May 28th, 1934] – YVONNE DIONNE of Dionne Quintuplets fame. Two of the five, Annette and Cecile, are still living.
39-a [One of Michael's brothers] = JERMAINE JACKSON. Bet you can't make it to the chorus.
51-a [Duluth's body of water] = LAKE SUPERIOR. I was once told by a Duluthian that Lake Superior is so big you can surf on it. Appears to be true!
63-a [It's pointed at things] = INDEX FINGER.
What do these five have in common? They're all members of famous sets of five: books of the Torah or Pentateuch, the Dionne Quintuplets, the Jackson 5, the Great Lakes, and fingers. Which makes 5 our meta answer, found by 611 entrants. Six incorrect entries also came in.
e.a. writes:
thanks for putting the answer right on the website so i didn't have to do any work
Norm Hurlbut got it as well, and found an Easter egg:
Which, thankfully, is not the number of this month nor the number of Fridays in it (brutal May for me, MGWCC-wise). By the way, nifty JACKSON HOLE over there in the east.
NDE says:
I hoped that each of first, second, third, fourth, fifth would be represented, but apparently that was not Jermaine, um, germane to the puzzle.
And finally, Chip quips:

If last week felt like a pentathlon (which I didn't finish!), then this week was more like playing the nickel slots.
This week's winner, whose name was chosen randomly from the 611 correct entries received, is Bridget O'Brien-Mitchell of Rochester Hills, Mich. In addition to a MGWCC pen, pencil and notepad set, Bridget will also receive a copy of the forthcoming Team 23 crossword from the AVCX gang.

THIS WEEK'S INSTRUCTIONS:
This week's contest answer is how some people get while solving metapuzzles. Submit your answer in the form on the left sidebar by Tuesday at noon ET. Note: the submissions form disappears from the site promptly at noon on Tuesday.
To print the puzzle out, click on the image below and hit "print" on your browser. To solve using Across Lite either solve on the applet below or download the free software here, then join the Google Group (2,056 members now!) here.
Solve well, and be not led astray by words intended to deceive.