GUEST CONSTRUCTOR MONTH REMINDER:
This is the last Friday of July, but a reminder: for various reasons, Guest Constructor Month this year will consist of five puzzles even though July only has four Fridays. We're going to poach the first Friday of August and then August will be a four-Friday month.
LAST WEEK'S RESULTS: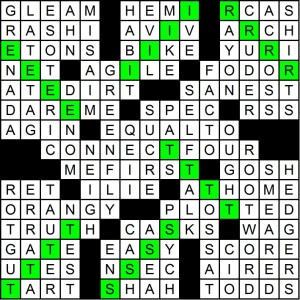 349 solvers found the right video game last week for Julian Lim's meta. The central across entry was the only overt hint in the grid, CONNECT FOUR clued as [Game whose TV ad featured the line "Pretty sneaky, sis"].
So what's going on? You needed to locate six instances of a letter appearing in a diagonal line of four, as they might in Connect Four. As you can see from the diagram at right, those six diagonals of four spell out TETRIS, our meta answer.
Jon Delfin writes:
TETRIS, or, TTTTEEEETTTTRRRRIIIISSSS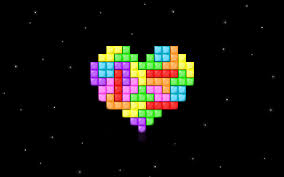 Jay Giess asks:
Was TETR1S from the first 6 across clues a coincidence?
Yes! Wild.
DIS writes in Russian:
Хорошо!
Steve vets says:
A palindromic answer would be: Sir, Tetris.
And finally, Squonk points out:

Very nice fill given the constraints on the puzzle!
I agree. Well done and thanks, Julian!
This week's winner, whose name was chosen randomly from the 349 correct entries received, is C.H. In addition to a MGWCC pen, pencil and notepad set, C.H. will also receive a copy of my new book Bite-Size Crosswords. Weekly winners for the rest of GCM will receive the same.

THIS WEEK'S GUEST CONSTRUCTOR: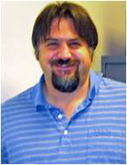 By day, Victor Barocas is a Professor of Biomedical Engineering at the University of Minnesota with interest in the structural mechanics of soft tissues. Outside of work he's a National Puzzlers' League member (nom: Scarab), has been constructing crosswords for the past few years (notably this and this), and in 2013 helped organize the puzzles for the Minnesota Crossword Tournament in St. Paul.
Can you emerge victorious this week? Read on to find out…
THIS WEEK'S INSTRUCTIONS:
This week's contest answer is a famous athlete whose first name, if it were in the grid, would complete this puzzle's theme. Submit your answer in the form on the left sidebar by Tuesday at noon ET. Note: the submissions form disappears from the site promptly at noon on Tuesday.
To print the puzzle out, click on the image below and hit "print" on your browser. To solve using Across Lite either solve on the applet below or download the free software here, then join the Google Group (2,073 members now!) here.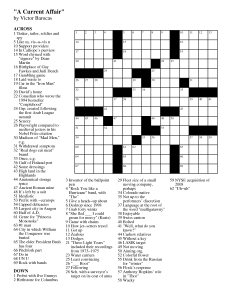 Solve well, and be not led astray by words intended to deceive.