LAST WEEK'S RESULTS: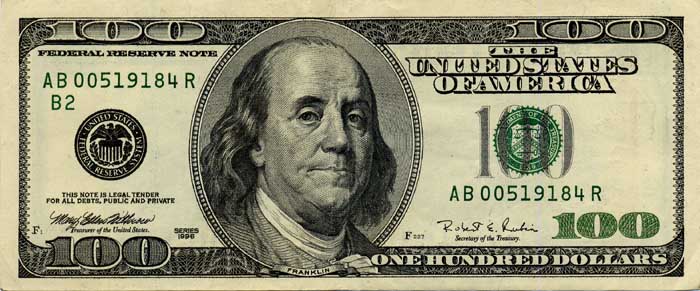 Which Founding Father did last week's meta point to? The sentimental favorite (he was a chessplayer, after all!), BEN FRANKLIN, whose "key" contributions to our understanding of electricity were hinted at by the four theme entries: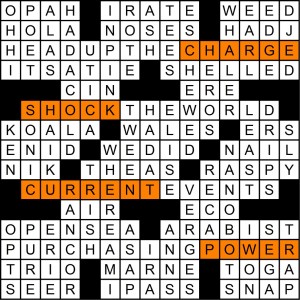 17-a [When there was a new technology to be discovered, this Founder would often ___] = HEAD UP THE CHARGE
24-a [He was often known to ___ with what he invented] = SHOCK THE WORLD
41-a [As a newspaper owner, he certainly kept up on ___] = CURRENT EVENTS
54-a [And if you look at the money he's on, you'll see that even today he's got serious ___!] = PURCHASING POWER
So FRANKLIN it had to be. His Wikipedia entry is almost comically long and wide-ranging. If I may cite from that article just one of the many things he introduced to the world, a decision-making technique now commonplace. From a 1772 letter to Joseph Priestley (! — some friends this guy had):
… my Way is, to divide half a Sheet of Paper by a Line into two Columns, writing over the one Pro, and over the other Con. Then during three or four Days Consideration I put down under the different Heads short Hints of the different Motives that at different Times occur to me for or against the Measure. When I have thus got them all together in one View, I endeavour to estimate their respective Weights; and where I find two, one on each side, that seem equal, I strike them both out: If I find a Reason pro equal to some two Reasons con, I strike out the three. If I judge some two Reasons con equal to some three Reasons pro, I strike out the five; and thus proceeding I find at length where the Ballance lies; and if after a Day or two of farther Consideration nothing new that is of Importance occurs on either side, I come to a Determination accordingly.
Jared Dashoff writes:
Done after 17-A. That's what you get for growing up in Philadelphia.
Paul Coulter writes:

I happen to be writing a book about Ben Franklin. One of his earliest inventions that few know about was a version of Water Wings.
And, of course, the inevitable puns poured in. Crossword Beast:
Would you call your grid a "juice box"?
jeremiahsjohnson:
Watt else could it be?
Jonesy:
when i saw it was electricity-related, i thought… i conduit!
bhensley:
You know that he invented Christmas decorations too, right? Haven't you ever heard of a wreath of Franklin?
Vraal wonders:

Wire you using such revolting puns?!
And finally, Barbara Friedman sends along her theory about where my meta ideas come from: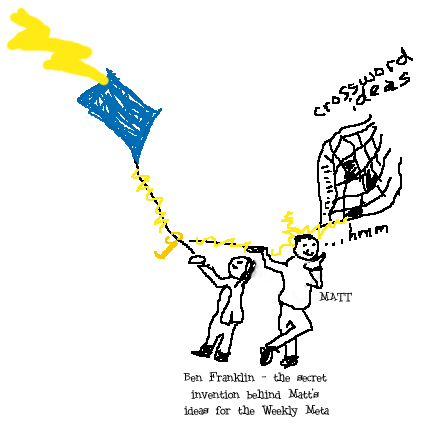 Oh wait, one more. Paul Stynsberg got the meta, with no help from his friend:
Thankfully, I was almost done before Ollie began working on it…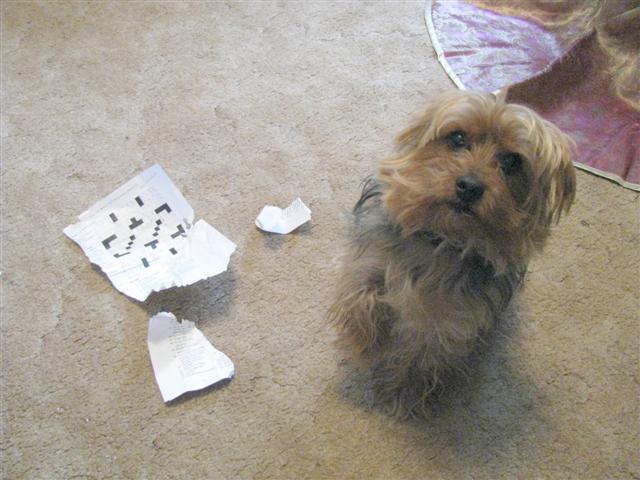 This week's winner, whose name was chosen randomly from the 685 correct entries received, is Andy Bouwman of Suzhou, China. In addition to a MGWCC pen, pencil and notepad set, Andy will also receive a copy of my new Kickstarter project, "Murder by Meta". Speaking of which…

KICKSTARTER UPDATE:
We're humming right along, closing in on $7,000 with two weeks to go. Get in on the meta-fun here.

A GOOGLE STORY:
You may have seen Google's entertaining Doodle this weekend, a crossword written by Merl Reagle to celebrate the puzzle's 100th anniversary. But did you know that I almost ruined the whole thing? Read here to see how. The puzzle of mine referenced in the article is here.
THIS WEEK'S INSTRUCTIONS:

This week's contest answer is a famous Brit with 10 letters in his name. Submit your answer in the form on the left sidebar by Wednesday at noon ET. Note: the submissions form disappears from the site promptly at noon on Wednesday.
To print the puzzle out, click on the image below and hit "print" on your browser. To solve using Across Lite either solve on the applet below or download the free software here, then join the Google Group (2,150 members now!) here.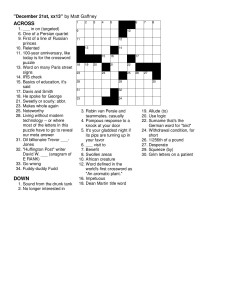 Solve well, and be not led astray by words intended to deceive.