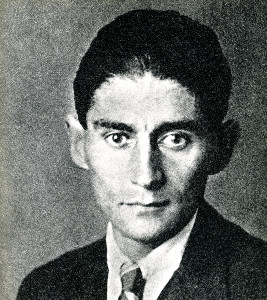 LAST WEEK'S RESULTS:
Straightforward, but not easy: solvers were tasked with finding a famous writer whose surname is five letters long. The five theme entries turned out to be:
17-A ["Cat on a Hot Tin Roof" actor] = BURL IVES
39-A ["Just play along"] = HUMOR ME
64-A [When the Caesars reigned] = ROMAN ERA
11-D [Oman and Yemen and so on] = ARAB NATIONS
25-D [Singer who ran for president of Panama in 1994] = RUBEN BLADES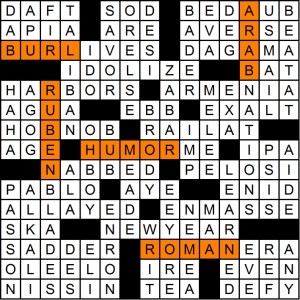 What ties these together? The first word of each theme entry can take the suffix -esque to form a familiar word: burlesque, humoresque, Romanesque, Arabesque, Rubenesque. Which five-letter author does this suggest? Meta answer FRANZ KAFKA, whose surname has entered English vocabulary as meaning "having a nightmarishly complex, bizarre, or illogical quality ."
Did you know? None of us ever would have heard of Kafka if it wasn't for this guy, who not only refused to burn all of Kafka's writings (as the little-known author had requested in his will), but went ahead and both published and publicized them all through the late-middle 20th century.
Bri Nebulae knew that:

Thought about burning the darn puzzle before I finally got it.
JanglerNPL says:
ZOLA being four letters, of course 🙂
Referencing the famous 2005 ACPT where ZOLAESQUE was 1-Across in the outstanding final puzzle written by Byron Walden.
And Jason T opines:

At first I thought this puzzle was grot, but once I figured out the trick, it seemed positively pictur!
This week's winner, whose name was chosen randomly from the 49 correct entries received, is Bob Johnson of Ambler, Penna. In addition to a MGWCC pen, pencil and notepad set, Bob will also receive a copy of Patrick Blindauer's forthcoming puzzle suite, "XWord University."
SPECIAL PRIZE THIS WEEK AND NEXT:
In addition to a MGWCC pen, pencil and notepad set, winner this week and next will also receive a 1-year subscription to Andrew Ries' recently-revived bi-weekly Rows Garden puzzle.
WHAT THE DEVIL:
New Indie puzzle site! Evan Birnholz writes on Facebook:

I'm immensely proud to announce the launch of my new crossword puzzle website, Devil Cross (http://devilcross.com/), a free, independent puzzle with an edge. I've just released my inaugural puzzle, a tricky, 70-word themeless, found at the link below. Check it out and let me know what you think!
I bet it'll be good; one of Evan's New York Times puzzles was recently nominated for Crossword of the Month at my blog. I've also added him as a link on the left sidebar of this site.
Looking forward to this, Evan! May a thousand independent crosswords bloom.

THIS WEEK'S INSTRUCTIONS:
This week's contest answer is a unit of measurement. Submit your answer in the form on the left sidebar by WEDNESDAY at noon ET. Note: the submissions form disappears from the site promptly at noon on WEDNESDAY. Note: if the submissions form appears to be closed on your browser on Tuesday at noon instead of Wednesday, just refresh your browser and that should fix it. CLUE UPDATE, 2/1, 7:05 PM ET: Dear Solver: in today's MGWCC (#296) I should have included a parenthetical tag on 61-Across.
The clue now reads: [Numbers below zero] but it should read:
[Numbers below zero (multiply this one by itself)]
I originally had this tag on the clue, then decided to remove it. But Jeffrey Harris, the one person who's gotten the meta right, has convinced me that the meta is more fair with it, so it's back now.
–Matt
To print the puzzle out, click on the image below and hit "print" on your browser. To solve using Across Lite, download the .puz file. (You may have to right-click the link and save to your Downloads folder.) You can download the free software here, then join the Google Group (2,194 members now!) here.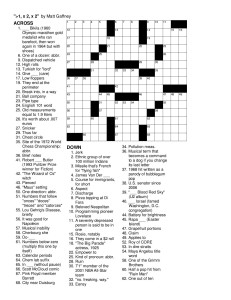 Solve well, and be not led astray by words intended to deceive.