LAST WEEK'S RESULTS: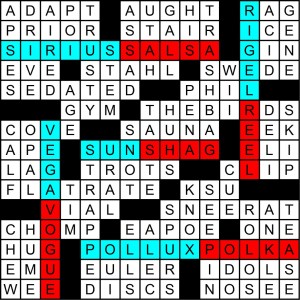 We were looking for a TV show last week, and here were our five theme entries:
17-A [Radio network's in-house condiment brand?] = SIRIUS SALSA
38-A [Carpet in the offices of a Baltimore newspaper?] = SUN SHAG
59-A [Decorative dots on a mythological twin's clothing?] = POLLUX POLKA
11-D [Film showing the dog that supposedly rescued people from the Titanic?] = RIGEL REEL
34-D [Magazine on singer Suzanne's coffee table?] = VEGA VOGUE
What's going on? The first word of each theme entry is a star in the sky, while the second word is a dance. Leading us to the meta answer, DANCING WITH THE STARS, found by 471 entrants.
Nice high total for a Week 2 of 4, but still a bit tricky. None of the ten words in the theme entry were clued as their star/dance, and there was a trap (unintended by me) with STAR SEARCH, which 39 entrants submitted. It doesn't quite reach the level of being an acceptable alt-answer (doesn't acknowledge the dances at all, and doesn't mesh convincingly with the title), but plausible to see the stars in the grid, come up with "Star Search," and think you were done. A skeptical second thought saved many solvers there.
Ian Livengood was one of them:
Man, I was *this* close to submitting STAR SEARCH because of the leading stars and alliterative title.
Gwinns stepped away from the edge at the last moment as well:
I came really close to putting STAR SEARCH, which seemed to fit the pattern of the theme entries. Luckily, just in time the second words clicked in as dances.

bhensley (an astrophysicist, so not fooled at all):

I wonder if any of the musical accompaniment is a capella?
drdans says:
…and I know Altair my hair out by week 4…

And finally, Vega writes:
I love the accidental shout-outs I get because my name is a star!
This week's winner, whose name was chosen randomly from the 471 correct entries received, is Christopher Krosche of Pelham, N.Y. In addition to a MGWCC pen, pencil and notepad set, Christopher will also receive a two-year subscription to Andrew Ries's new weekly crossword ($5 for one year, $10 for two).

THIS WEEK'S INSTRUCTIONS:

There are four starred clues in this puzzle, but a fifth should be starred as well. Which one is it? Submit your answer in the form on the left sidebar by Tuesday at noon ET. Note: the submissions form disappears from the site promptly at noon on Tuesday. [NOTE, 4/18/14, 12:40 PM: 35-Across's clue should read "Stood down," not "Stand down." Has nothing to do with the meta!]
To print the puzzle out, click on the image below and hit "print" on your browser. To solve using Across Lite either solve on the applet below or download the free software here, then join the Google Group (2,242 members now!) here. Or you can download the .puz file (you may have to right-click the link and save to your Downloads folder).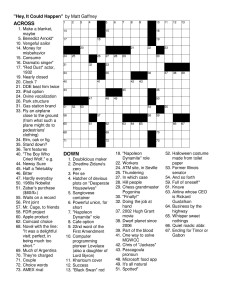 Solve well, and be not led astray by words intended to deceive.