IMPORTANT NOTE: As of January 2015 MGWCC is a subscribers-only crossword. The cost is $26 per year, and you can subscribe (or get a free trial month first) here:

www.mgwcc.com
LAST WEEK'S RESULTS: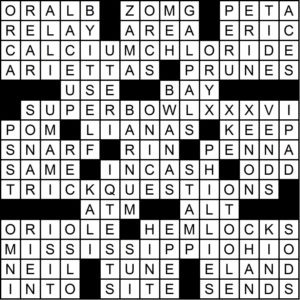 Simple…but only after you saw it! We had four theme entries, and instructions said only that the contest answer contained five syllables:
17-A [Road salt, sometimes] = CALCIUM CHLORIDE
24-A [First of a Brady bunch] = SUPER BOWL XXXVI
43-A ["What is the answer to 4-Across in this crossword?" et al.] = TRICK QUESTIONS. There is no 4-Across. Made you look.
57-A [Cairo convergers] = MISSISSIPPI-OHIO. That's Cairo, Illinois, which rhymes with "lay low."
What's the common bond? Each of these bears a relationship to the numbers 20-17, as in our new year:
Calcium and chlorine are elements #20 and #17
The final score of Super Bowl XXXVI was 20-17
"Trick Questions" starts with T and Q, the 20th and 17th letters
Mississippi and Ohio were the 20th and 17th states admitted to the Union.
Making 2017 our contest answer, found by 198 solvers.
Hunley B says:
Thanks for all the fun this year! Looking forward to new challenges in Garfield Johnson.
Jefe says:
Last AHA moment of the year!
And CanNibble just renewed his subscription:
Auld lang syne me up for another year of puzzles. Please and thank you.
Speaking of which: all renewal notices have gone out by now, and apologies if you didn't receive one. If that happened, please go ahead and renew at www.mgwcc.com; if you're having any trouble whatsoever, please e-mail me at crosswordcontest@gmail.com and I'll forward you today's puzzle while we figure it out.
This week's winner, whose name was chosen at random from among the 198 correct entries received, is Mike Buchanan of Palo Alto, Calif. In addition to a MGWCC pen, pencil, and notepad set, Mike will also receive a 1-year subscription to Matt Gaffney's Daily Crossword.
MONTHLY WINNERS:
Congratulations to the following ten December MGWCC winners, whose names were chosen at random from among the 139 people who sent in the correct contest answer to each of last month's five puzzles (SALT LAKE CITY, EQUATOR, TWEEN, BROADWAY DINER, 2017). Each will receive a MGWCC pen, pencil, and notepad set:
Evan Birnholz — Philadelphia, Penna.
ASB — Portland, Ore.
Jon Forsythe — Chicago, Ill.
L.G.
A.J.
Giovanni Pagano — Newark, Del.
Paul Rundle — Davis, Calif.
Matt Perez-Stable — Fairview Park, O.
Peter Washington — Chico, Calif.
Maggie Wittlin — Lincoln, Nebr.

Congratulations to our ten winners, and to everyone who went 5-for-5 in December.
YEARLY PRIZES:
Tons 'o' logistics involved in 2016's many yearly prizes (you people are smart!), so they will be announced in next week's post.
THIS WEEK'S INSTRUCTIONS:
This week's contest answer is a two-word phrase.
Solve well, and be not led astray by words intended to deceive.