IMPORTANT NOTE: As of January 2015 MGWCC is a subscribers-only crossword. The cost is $26 per year, and you can subscribe (or get a free trial month first) here:
LAST WEEK'S RESULTS:
You were promised a Week 1-level puzzle for Week 2, and look what happened:

Not only were there zero incorrect answers, but we blew past the old Subscription Era-record of 534 correct entries. Mission accomplished!
We were looking for an invasive species last week, an evocative 15-letter phrase I hated to waste outside the grid. Our five theme entries were: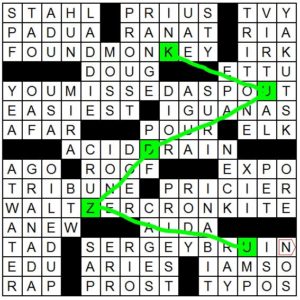 17-A [Happy end result of a zoo escape?] = FOUND MONKEY. From "found money."
22-A [Admonishment to someone cleaning leaves from your gutters?] = YOU MISSED A SPOUT. Not "You missed a spot."
34-A [Where corrosive substances in a lab go after the experiment?] = ACID DRAIN. From "acid rain."
52-A [Anchor who read the news at a 1-2-3 tempo?] = WALTZER CRONKITE. I wanted a doozy for the Z and when I found this 15-letter entry I knew it had to go in. I'm not really a pun guy but I dare say Merl would've approved. A companion entry to JOHN CAMEROON SWAZI, which he used in his puns-on-African-countries puzzle.
57-A [Google co-founder, while studying at UCLA?] = SERGEY BRUIN. Not Sergey Brin, who actually studied at Stanford.
Those five extra letters spell contest answer KUDZU, which invaded our five theme entries to form a vine snaking through the grid. Kudzu kudzu kudzu! As fun to type as it is to say.
Kaille exults:
For once, I'm not in the weeds!
Jerry Marshall says:
Answer was obvious to me, a landowner in West Tennessee, where kudzu is like Godzilla roaming the region!
And jagoandlitefoot writes:
My first entry! Hopefully there will be many more to come.
May your MGWCC Overall total grow like the kudzu vine.
This week's winner, whose name was chosen at random from among the 566 correct entries received, is Steve M. of Highland, Ill. In addition to a MGWCC pen, pencil, and notepad set, Steve will also receive a 1-year subscription to Matt Gaffney's Daily Crossword.
THIS WEEK'S INSTRUCTIONS:
This week's contest answer is something you may (or may not) see a doctor about.
Solve well, and be not led astray by words intended to deceive.