IMPORTANT NOTE: As of January 2015 MGWCC is a subscribers-only crossword. The cost is $26 per year, and you can subscribe (or get a free trial month first) here:
LAST WEEK'S RESULTS: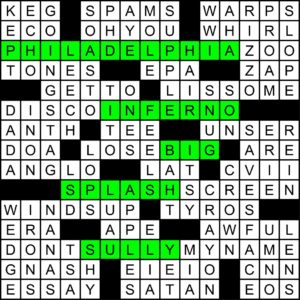 578 correct entries last week, a new Subuscription-Era record. And zero incorrect, so precisely zero solvers were fooled!
We were looking for a famous actor, and our five theme entries were:
17-A [42-acre Pennsylvania attraction since 1874] = PHILADELPHIA ZOO. The nation's first, in fact.
29-A [Hit from the soundtrack to "Saturday Night Fever"] = DISCO INFERNO. Great song.
39-A [Have an unpleasant trip to Vegas] = LOSE BIG
47-A [Video game opener] = SPLASH SCREEN
61-A [Words to a slanderer] = DON'T SULLY MY NAME
"Philadelphia," "Inferno," "Big," "Splash," and "Sully" are all TOM HANKS movies, making him our contest answer.
I was sure that solvers this week would try to sneak a bunch of Tom Hanks movie titles into their e-mails, but thankfully that didn't happen. I like to keep the level of conversation somewhat elevated here, and amateur-hour nonsense like that just isn't going to fly at my website.
Flyingdisc says:
Keep doing that thing you do!
Glad you like the puzzles! As long as you all keep solving these, I'll keep writing them.
OSXpert asks:
Do you need any volunteers to do more test solving?
Appreciate the offer, but I'm covered for now.
Pomona47 writes:
This puzzle was in a league of its own.
Wow! High praise indeed.
Imfromjersey was a little absentminded:
I almost cast away my answer while waiting for the punchline.
Good move — since you only get one entry each week, it's important to make sure you have it right before submitting your answer.
And finally, thepiranha writes:
These crosswords are like a box of chocolates…You never know what you're going to get.
Great to hear! I aim for variety in my meta mechanisms, and it's helpful for me to get feedback like this showing that solvers appreciate it.
This week's winner, whose name was chosen at random from among the 578 correct entries received, is Andrew Foerster of Raleigh, N.C. In addition to a MGWCC pen, pencil, and notepad set, Andrew will also receive a 1-year subscription to Matt Gaffney's Daily Crossword.
INDIE 500 REGISTRATION IS NOW OPEN:
The 3rd annual edition of the Indie 500 Crossword Tournament will be held on Saturday, June 3rd, on the GW campus in Washington, D.C. Sweet website here, where registration is now open. I've been to the first two and had a complete blast and will be there for #3 as well. Hope to see you!
THIS WEEK'S INSTRUCTIONS:
This week's contest answer is a four-letter mode of transportation.
Solve well, and be not led astray by words intended to deceive.