IMPORTANT NOTE: As of January 2015 MGWCC is a subscribers-only crossword. The cost is $26 per year, and you can subscribe (or get a free trial month first) here:
LAST WEEK'S RESULTS: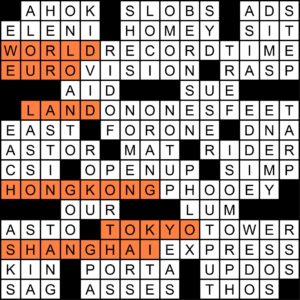 Six long theme entries crammed into a 15×15 grid? Hey, I was a fan of this guy as a kid.
We were looking for a major American corporation, and those six themers were:
16-A [2:02:57 for the marathon, e.g.] = WORLD RECORD TIME
19-A [Competition won in 1974 by ABBA [meta alert: original name]] = EUROVISION
24-A [Escape unscathed] = LAND ON ONE'S FEET
45-A [Secret identity of police dog Penrod Pooch] = HONG KONG PHOOEY
53-A [Japan's second-tallest structure] = TOKYO TOWER. I was in it in 2003, terrifying. Watched a 2-year-old kid jump up and down on the square meter of glass you can look down at the street through.
60-A [Marlene Dietrich drama that was the highest-grossing movie of 1932] = SHANGHAI EXPRESS.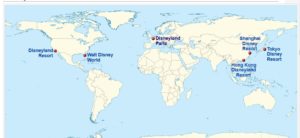 The first words of those suggest the six worldwide resorts of the DISNEY corporation: Disneyworld, Disneyland, Euro Disney, Hong Kong Disneyland Resort, Tokyo Disney, and Shanghai Disney Resort.
Michael Eisner's explanation for the renaming of Euro Disney is interesting:
As Americans, the word 'Euro' is believed to mean glamorous or exciting. For Europeans it turned out to be a term they associated with business, currency, and commerce. Renaming the park 'Disneyland Paris' was a way of identifying it with one of the most romantic and exciting cities in the world.
J Bowzer says:

It helped that I was just at Disneyland yesterday!
DIS liked it:
You hit that one out of the park.

EliSelzer writes:
I am currently solving and writing this from my desk at The Walt Disney Company in Burbank, CA. Please don't tell my boss.
johnstonteacher says:
xwordcontest.com — The most puzzling place on Earth
pgw haaaaated it:

What kind of Mickey Mouse metapuzzle are you trying to peddle here?
Meta – World Peace asks:

You just solved MGWCC CDLXVII! What are you going to do next?
And finally, Dele writes:
Matt, just wanted to share my latest MGWCC solving experience.
While sitting around the other night during a nearly four-hour neighborhood-wide power outage, I turned my attention to this week's puzzle. I may not have had power for my computer, printer, or WiFi, but I had just enough cellphone data reception (and battery life) to access my e-mail and view the PDF. After grabbing a scrap of paper and drawing a rather crude imitation of the grid, I was soon filling in entries, glancing back and forth from paper to phone to check the clues and the positions of the grid numbers. The photo (taken after the lights came back on) shows my completed puzzle, the first one I've ever solved by the light of a candle (and a dimmed phone screen on low-power mode).
Thanks for helping me fill part of a long, frustrating evening!
You're quite welcome.
This week's winner, whose name was chosen at random from among the 526 correct entries received, is John Owens of Berkeley, Calif. In addition to a MGWCC pen, pencil, and notepad set, John will also receive a 1-year subscription to Matt Gaffney's Daily Crossword.
THIS WEEK'S INSTRUCTIONS:
This week's contest answer is a word suggesting versatility.
Solve well, and be not led astray by words intended to deceive.