IMPORTANT NOTE: As of January 2015 MGWCC is a subscribers-only crossword. The cost is $26 per year, and you can subscribe (or get a free trial month first) here:
LAST WEEK'S RESULTS: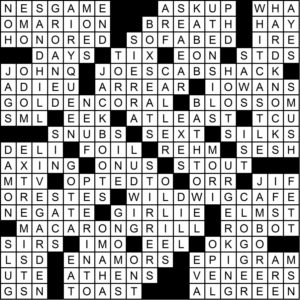 Amusing and curious instructions for last week's puzzle: Someone's been pilfering letters from local restaurant signs! As managers struggle to adapt, it's up to you to solve this heinous crime. The meta answer is the culprit. Legit LOL on the "as managers struggle to adapt" line. Is this a crossword theme or did this really happen?
Anyway, our eight theme entries, in order of the parenthetical numbers ending their clues, are:
28-A ["Yellow paint, fuzzy dice, fare meter… anything else we need to stock?" (1)] = JOE'S CAB SHACK
13-D ["Great, now it looks like we sell miniatures" (2)] = WHIT CASTLE
5-D ["Where do we put the inflatable mattresses?" (3)] = AIRY QUEEN
35-A ["How's the market for expensive aquarium decorations?" (4)] = GOLDEN CORAL
50-D ["Restaurant to outdoor concert venue is quite the pivot" (5)] = LIVE GARDEN
61-D ["What would we even sell? Alarm clocks? Cattle prods?" (6)] = URGER KING
78-A ["Savory to sweet, at least it's still food" (7)] = MACARON GRILL
72-A ["Happy Hour Special – half off for crazy hair-dos" (8)] = WILD WIG CAFE
Each of these is one letter off from a restaurant chain:
JOE'S CRAB SHACK
WHITE CASTLE
DAIRY QUEEN
GOLDEN CORRAL
OLIVE GARDEN
BURGER KING
MACARONI GRILL
WILD WING CAFE
Put those stolen letters together and you've got RED ROBIN, also a restaurant chain, and our culprit in this dastardly crime. The precise stolen letters arranged below by Fiend commenter/MGWCC solver Sharkcicles:

Everybody loved this meta. The humor was hard to resist: the eponymous Red Robin flying around to its competitors' restaurants, stealing one letter from each sign to give potential customers the impression that they're not restaurants anymore but rather some other type of store. And then the managers, instead of just replacing the missing letters, overhaul the entire business to accommodate the new signage. I'm laughing at it now as I type this. The URGER KING clue is especially amusing.
GabeLuis writes:
Rockin' puzzle. 
hipokrit says:
The early bird gets the worm shaped letters. 
Tyler Hinman says:
67A's clue is wildly inaccurate. Fight me. Also, I didn't notice the numbers until after I took five minutes anagramming to the answer. Go me.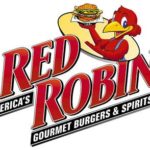 FearlessKim will fight you, sir:
Loved the clue for 67A; thanks! 
Thurman8er picked a good time to subscribe:
My first puzzle! Looking forward to many more. 
And finally, Pomona47 says:
The puzzle is a good sign for the rest of the month! 
I couldn't agree more. Big thanks to Karl, Amanda, and Erik for a funny and fun start to Guest Constructor Month!
This week's winner, whose name was chosen at random from among the 531 correct entries received, is Rachel Melman of San Francisco, Calif. In addition to a MGWCC pen, pencil, and notepad set, Rachel will also receive a 1-year subscription to Matt Gaffney's Daily Crossword.
GUEST CONSTRUCTOR MONTH, PUZZLE #2: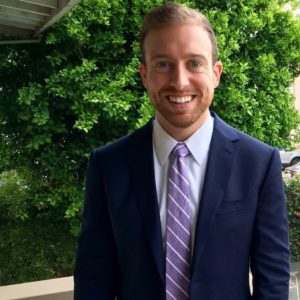 Batting second during Guest Constructor Month 2017 we have Nate Cardin. Nate is a high school chemistry teacher by day and novice meta constructor by night (when he's not grading papers, obviously). During the academic year, he lives in Studio City, CA, with his husband, Ben. During the summers, he teaches up in the Bay Area at Stanford, where he previously earned his PhD in organic chemistry.  His scientific background can't help but sneak into his puzzles from time to time (the current one being no exception), but he promises not to scare away any solvers with future metas requiring proper organic chemistry know-how to solve!
Without further ado, here's Nate's Week 2…
THIS WEEK'S INSTRUCTIONS:
This week's contest answer is a two-word phrase.
Solve well, and be not led astray by words intended to deceive.