IMPORTANT NOTE: As of January 2015 MGWCC is a subscribers-only crossword. The cost is $26 per year, and you can subscribe (or get a free trial month first) here:
LAST WEEK'S RESULTS: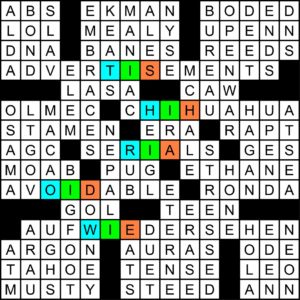 For Week 2 of Guest Constructor Month, Nate Cardin's "Side-Eye" asked us to find a two-word phrase.
Four of the five theme entries were clear due to their lengths, but the central across also turned out to be theme:
20-A [Public promotions of products] = ADVERTISEMENTS
28-A [Largest state in Mexico, or the smallest breed of dog] = CHIHUAHUA. I did not know either of those two facts before editing this crossword. Both good to know.
39-A [Works published sequentially] = SERIALS
48-A [Like careless mistakes] = AVOIDABLE
55-A [Heidi Klum's departing words to contestants kicked off "Project Runway"] = AUF WIEDERSEHEN
Those each have exactly one letter I in them, which would be unremarkable except for the fact that they're the only five I's in the grid. Taking a cue from our title, look at the letters to the left and then the right side of those I's, and they'll spell out contest answer THROW SHADE, found by 391 solvers.
Laurabrarian says:
yay Nate! loved this, and congrats on the debut 
Thurman8er writes:
I should have known Nate was a high school teacher like me. We have to stay up to date with all the groovy lingo. 
Gwinns gripes:
I'm on a 89 degree campground. Someone please throw me some shade.  
JanglerNPL notes:
The constructor is an anagram of INCARNATED, FWIW. 
And finally, ASB writes:
brilliant. if this is a week 2, I'm scared for the rest of the month. guest constructors saving up their puzzles of a lifetime for you is terrifying. 
This week's winner, whose name was chosen at random from among the 391 correct entries received, is Martin Davis of Oyster Bay, N.Y. In addition to a MGWCC pen, pencil, and notepad set, Martin will also receive a 1-year subscription to Matt Gaffney's Daily Crossword.
Thanks for an outstanding Week 2, Nate!
Next up…
GUEST CONSTRUCTOR MONTH, PUZZLE #3: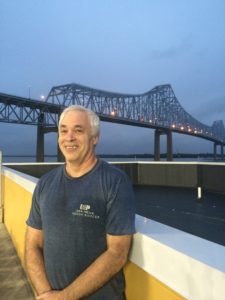 Our Week 3 constructor is Paul Coulter. Paul is a retired Biology professor. I know his crosswords, but did not know until this week that he also writes historical fiction, completing approximately one book each year since the late 1970s (here is one of them). Some of his favorites have concerned construction of the Hagia Sophia (A Pagan in Byzantium) and and a collaboration between Homer and his neighbor's female slave as he struggles to write the Odyssey. 
Paul is an alumnus of MIT where, early in his career, he was head coach of the women's soccer team. A lifelong soccer fanatic, Paul supports Barcelona. He adds that he lives in the Philadelphia area, "where, regrettably, the local teams have been woeful for some time."
And it's a sports-themed puzzle, so let's get to it!
THIS WEEK'S INSTRUCTIONS:
This week's contest answer is a sport.
Solve well, and be not led astray by words intended to deceive.