IMPORTANT NOTE: As of January 2015 MGWCC is a subscribers-only crossword. The cost is $26 per year, and you can subscribe (or get a free trial month first) here:
LAST WEEK'S RESULTS: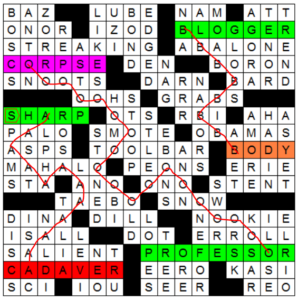 Tricky and clever murder mystery from Craig Mazin and David Kwong last week! First thing to notice was the presence of three poor souls in the grid: CORPSE, BODY, and CADAVER. This had to be the work of the Crossword Killer. That heartless monster! We must unravel this crime before another innocent victim is lost.
Second insight: each of those three bodies has a long trail of the same letter leading from it: the O in CORPSE starts a line of O's, the B in BODY a line of B's, and the first A in CADAVER a line of A's. See grid at right and marvel at my Paint skills.
Third insight: those are all blood types, so we're looking at trails of blood. The trails end at the words PROFESSOR, BLOGGER, and SHARP. This makes our killer the noted, loved, and feared crossword critic REX PARKER, who is a college professor by day, a crossword blogger by night, and whose real name is Michael Sharp. If you didn't know all that, entering PROFESSOR BLOGGER SHARP into Google reveals it as well.
Gwinns says:
I knew he'd snap one of these days… 
Andy Kravis asks:
Was the murder committed via strangling with a BOA? 
Jrodrippe says:
Can't wait to see his review of this. Love or loathe? 
Love:
I was the ANSWER to a @metabymatt meta crossword. Thanks, @clmazin & @davidkwong. THIS IS MY OSCAR! https://t.co/ShNRe3CFQU pic.twitter.com/dryihjS56O

— Rex Parker (@rexparker) July 4, 2017
A milestone for hipokrit:
Woot! My first official full month! 
And finally, Brian Cross writes:

Wow. I just met Rex at the Indie500 a few weeks ago and had no idea he was a dastardly killer (except of lame Tuesday NYT puzzles). 
This week's winner, whose name was chosen at random from among the 174 correct entries received, is David Bael of Minneapolis, Minn. In addition to a MGWCC pen, pencil, and notepad set, David will also receive a signed copy of David Kwong's new magic/business (!) book Spellbound.
MONTHLY PRIZES:
Ack, I blanked again on choosing monthly prizewinners. It always sneaks up on me! But I'll do the usual penance and select 12 winners instead of the usual 10. They'll be announced with next week's post.
Big thanks to Craig and David for this awesome grand finale to an outstanding Guest Constructor Month! Big thanks also to Erik Agard, Amanda Chung, Karl Ni, Nate Cardin, Paul Coulter, and Mike Grier for their contributions. A June to remember for sure! And now we move along to July…
THIS WEEK'S INSTRUCTIONS:
This week's contest answer is a well-known company.
Solve well, and be not led astray by words intended to deceive.