IMPORTANT NOTE: As of January 2015 MGWCC is a subscribers-only crossword. The cost is $26 per year, and you can subscribe (or get a free trial month first) here:
LAST WEEK'S RESULTS: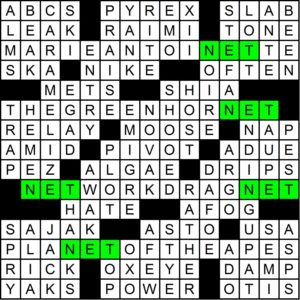 A little tricky for a week one! Five movie titles each had the word NET in them: MARIE ANTOINETTE,
THE GREEN HORNET, NETWORK / DRAGNET, and PLANET OF THE APES. This led to contest answer NETFLIX, found by 475 solvers, though with quite a few "This took me a lot longer than it should have" comments.
Just one comment to share this week, from Scott at Crossword Fiend:
I was stuck on this one for too long. So I asked my wife to help. She was driving so I spoke the five movies to her and she heard the word NET in each one and got the answer instantly.
I dig these spouse/partner/relative/friend-who-never-solves-metas gets it right away stories. Sort of a mirror to how often my wife comes up with a theme fix I hadn't seen myself. Secret weapon humans for the win.
This week's winner, whose name was chosen at random from among the 475 correct entries received, is James Layland of Blue Springs, Mo. In addition to a MGWCC pen, pencil, and notepad set, James will also receive a one-year subscription to Matt Gaffney's Daily Crossword.
MONTHLY PRIZES:
Congratulations to the following twelve June MGWCC winners, whose names were chosen at random from among the 149 people who sent in the correct contest answer to each of Guest Constructor Month's five challenges (RED ROBIN, THROW SHADE, RUGBY, PROXY, REX PARKER). Each will also receive a MGWCC pen, pencil, and notepad set:
Gladys Cassidy — Staten Island, N.Y.
Meg Duvall — St. Petersburg, Fla.
Jon Forsythe — Chicago, Ill.
G.H.
Ray Hunley — Manassas, Va.
J.M.
Kyle Osborne — West Chester, O.
Paul Rundle — Davis, Calif.
Jim Skinnell — East Greenwich, R.I.
Steve Smith — Winchester, Mass.
Tom Tabanao — San Jose, Calif.
Leonard Williams — Ft. Wayne, Ind.
Congratulations to our twelve winners, and to everyone who went 5-for-5 in June.
THIS WEEK'S INSTRUCTIONS:
This week's contest answer is a famous song with a six-word title.
Solve well, and be not led astray by words intended to deceive.