IMPORTANT NOTE: As of January 2015 MGWCC is a subscribers-only crossword. The cost is $26 per year, and you can subscribe (or get a free trial month first) here:
LAST WEEK'S RESULTS: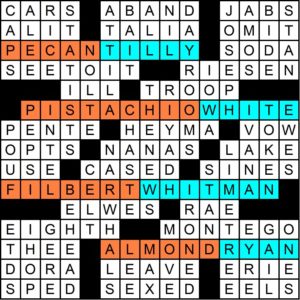 A true Week 1 — not only did a Susbscription-Era record 592 solvers submit the correct answer, but precisely zero solvers sent in an incorrect answer! Our brains have melded into one, all 593 of us. OK, that sounds gross on the re-read, but you know how I meant it.
We were looking for a spice, and our four theme entries were:
17-A [Actress in 1983's "The Big Chilled Pie"?] = PECAN TILLY. Referencing Meg Tilly in "The Big Chill," and pecan pie.
26-A [Drummer on "Baklava for a Seven Nation Army"?] = PISTACHIO WHITE. Referencing the pistachios in Baklava, and White Stripes drummer Meg White.
41-A [Tech CEO who includes a jar of Nutella with each new computer?] = FILBERT WHITMAN, referencing hazelnut a.k.a. filbert-flavored Nutella and former eBay and Hewlett-Packard CEO Meg Whitman. Yes I saw that Nutella has NUT in it but I didn't want to pass up a good Nutella reference and it's pretty hidden. Did you know that the guy who created Nutella became the richest person in Italy because of it? 100% deserved IMHO.
54-A [Star of "When Harry Met Sally and They Ate a Mars Bar Together…"?] = ALMOND RYAN, referencing the almonds in a Mars bar and Meg Ryan, whose name anagrams to "Germany." "Ina Garten" also anagrams to Argentina, while we're at it.
So we've got a NUT and a MEG in each entry, giving us contest answer NUTMEG.
Longtime MGWCC solver Meg writes:
What a joy to be the unintended theme, even if all the Megs in the puzzle hang out with nuts.
Docison says:

Hope everyone from Connecticut gets this one right!
They did!
Ertchin writes:

Nutrageous as always!
pgw says:

At my next cocktail party I'm putting out some cashew bowles
Steve Blais knows a Nutmeg:
This is what I named my mom's cat, after a pseudonym of one of the Guardian's cryptic crossword constructors.
CoolPsych picked an easy one to rejoin us on:
Back from possibly a 2 year absence, woohoo! Dropped out of the fun when a broken ipad and no printer made it too difficult to keep up!
And CARDINALJJ picked an easy one to join us for the first time:
1st time Gaffney entrant, looking forward to next week.
And finally, renowned redhead Tyler Hinman was not happy with our spice of choice:

Should've been ginger.
This week's winner, whose name was chosen at random from among the 592 correct entries received, is Cheryl Beck of New Windsor, N.Y. In addition to a MGWCC pen, pencil, and notepad set, Cheryl will also receive a one-year subscription to Matt Gaffney's Daily Crossword.
MGWCC — BRINGING FAMILIES TOGETHER!
Great e-mail from MGWCC solver Steve Brady last week, which he's allowed me to share:
Hi Matt,
I'm really enjoying MGWCC so I recently sent a brief description (with a couple of before & after-meta screenshots from June) in an email to some crossword-puzzle-loving siblings and four of them (there's nine of us total) said they are excited to jump on board. We are mostly middle-aged and have been sort of out of touch for several years — not estranged but just not really in touch. But since my email, there's already been some talk of occasional group phone calls to share our collective "oohs" & "aahs" about your puzzles. So a family reconnecting. Chalk up another great lagniappe from MGWCC!
That's awesome, Steve! Update us in a few months how it's going.
THIS WEEK'S INSTRUCTIONS:
This week's contest answer is U.S. state capital.
Solve well, and be not led astray by words intended to deceive.