IMPORTANT NOTE: As of January 2015 MGWCC is a subscribers-only crossword. The cost is $26 per year, and you can subscribe (or get a free trial month first) here:
LAST WEEK'S RESULTS: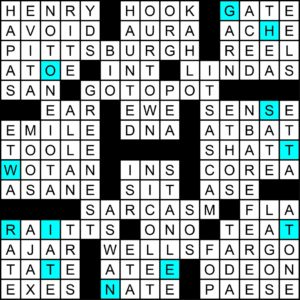 Last week's puzzle was a huge pain to arrange. Seances aren't cheap — nothing happened during the first three, and then 30 seconds into the fourth one there's this thundering "I heard you the first time! I'm busy up here!" And then Henry wanted $800 for the puzzle, which is way more than a guest constructor usually gets here. I gave him $400 but he didn't seem happy about it.
But he still did a nice job on the puzzle, so that's good. We were looking for a word describing this crossword puzzle, and Henry said he was sending us "A Letter from Beyond" in the title. He stuck his own name in there at 1-A and 6-A, and then loaded the clue up there with a bunch of his cheesy-but-still-kinda-funny jokes. And then he put a huge H formed by black squares in the middle of the grid, a trick he once used in one of his "Hooked on Puzzles" books.
But there was a twist: that H in the middle isn't an H, it's a Greek eta! That's our "letter"! And then there are twelve four-letter grid entries that contain ETA + one other letter; shade those twelve extra letters in in the grid and you get GHOSTWRITTEN, apropos since Henry is technically a ghost now. Cute!
The fill definitely suffered from the trick. I sheepishly mentioned some of the weaker entries to Henry (ETWA, ATOE, IATE) but he demanded overtime pay to fix those (!!!) so I let it go there. Boy is that guy ornery, even in the afterlife!
This week's winner, whose name was chosen at random from among the 188 correct entries received, is Alexander Miller of Grand Rapids, Mich. In addition to a MGWCC pen, pencil, and notepad set, Alexander will also receive a 1-year subscription to Joon Pahk's Outside the Box Puzzles. Next week's winner will receive the same.
OCTOBER WINNERS:
Congratulations to the following ten October MGWCC winners, whose names were chosen at random from among the 124 people who sent in the correct contest answer to each of last month's four (SLEEP, THE TELL-TALE HEART, N, GHOSTWRITTEN). Each will receive a MGWCC pen, pencil, and notepad set:
Steve Blais — Windsor, Ont.
Ed Davisson — San Francisco, Calif.
Ben Jones — Yorktown Heights, N.Y.
Bob Kin — North Chesterfield, Va.
Joshua Kosman — San Francisco, Calif.
Jeff Louie — Providence, R.I.
Alex Sisti — Whitesboro, N.Y.
David Squire — Flagstaff, Ariz.
Dave Sullivan — South Woodstock, Vt.
Tom Tabanao — San Jose, Calif.
Congratulations to our ten winners, and to everyone who went 4-for-4 in October.
THIS WEEK'S INSTRUCTIONS:
This week's contest answer is a U.S. city.
Solve well, and be not led astray by words intended to deceive.