IMPORTANT NOTE: As of January 2015 MGWCC is a subscribers-only crossword. The cost is $26 per year, and you can subscribe (or get a free trial month first) here:
LAST WEEK'S RESULTS: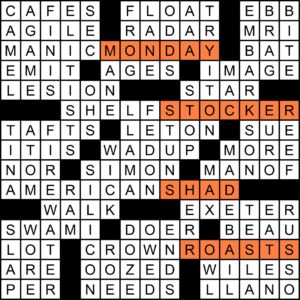 Houston, we have a crossword! Sorry, just had to join in with all the cheesy "Houston, We Have a…" headlines celebrating contest answer the ASTROS' World Series win. It was quite a memorable series! Super-blogger (and puzzler) Joon Pahk had kid duty on election Tuesday so I self-blogged the puzzle here.
This week's winner, whose name was chosen at random from among the 493 correct entries received, is David Stein of Silver Spring, Md. In addition to a MGWCC pen, pencil, and notepad set, David will also receive a 1-year subscription to Joon Pahk's Outside the Box Puzzles. Next week we return to regular prizes.

NEW YORK, NEW YORK:
Exciting news! Beginning with the issue that goes on sale this Monday, I will be succeeding the great Cathy Allis as crossword writer for New York magazine. Cathy has written the New York puzzle for the past six years, and of course she herself succeeded the great Maura Jacobson, who wrote the puzzle for thirty years (!) ending in 2011.
As you might imagine, I'm both honored and thrilled to be the third link in this venerable chain. Brava to Cathy on her stellar run at New York, and I think she'll especially like my first puzzle there, which is a tip of the hat in her direction.
FYI: The magazine is published fortnightly, and you can subscribe here. (Not sure yet if it will be available online, but I'll update here when I find out).
THIS WEEK'S INSTRUCTIONS:
This week's contest answer is something people do a lot in Canada.
Solve well, and be not led astray by words intended to deceive.