IMPORTANT NOTE: As of January 2015 MGWCC is a subscribers-only crossword. The cost is $26 per year, and you can subscribe (or get a free trial month first) here:
LAST WEEK'S RESULTS: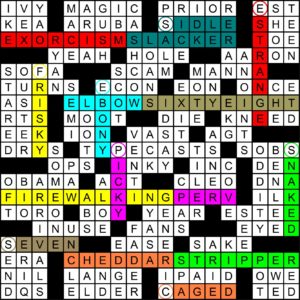 Tough, polarizing meta last week — just 85 correct entries came in. That's the tough part. 38 5-star votes at Crossword Fiend, but then 14 votes of 2 stars or less. That's the polarizing part.
We were looking for a five-letter country, and each of the eight words in theme entries could be described by an adjective in the grid, formed by removing the first letter of an entry. So an EXORCISM is (E)STRANGE, a SLACKER is (S)IDLE, an ELBOW is (E)BONY, SIXTY-EIGHT is (S)EVEN, FIREWALKING is (F)RISKY, a PERV is (P)ICKY, CHEDDAR is (C)AGED, and a STRIPPER is (S)NAKED. Note that each removed letter is also the first letter of the theme word being described. The first letter of each adjective spells SIBERIAN, which gets the theme treatment as (S)IBERIAN, leading to contest answer SPAIN.
This was an exhausting meta to write and, anecdotally, to solve. The idea was not super-complex, but well camouflaged even when solvers realized there must be fill at play since a 19×19 grid isn't normally needed for a quartet of 15-letter theme entries.
So after this experience I'm guessing not many solvers want a Week 4, and I'm down with punting this week as well. So here's a gentle Week 2 that I think you'll enjoy. Also don't miss my WSJ meta this weekend which is also a Week 2 and is rather amusing.
https://blogs.wsj.com/puzzle/2017/11/23/its-whats-inside-that-counts-crossword-contest-friday-nov-24/
Also just realized I forgot to pick a winner! Oops…very busy week — I'll announce this week's winner in my next post.
THIS WEEK'S INSTRUCTIONS:
This week's contest answer is a two-word piece of clothing.
Solve well, and be not led astray by words intended to deceive.