IMPORTANT NOTE: As of January 2015 MGWCC is a subscribers-only crossword. The cost is $26 per year, and you can subscribe (or get a free trial month first) here:
LAST WEEK'S RESULTS: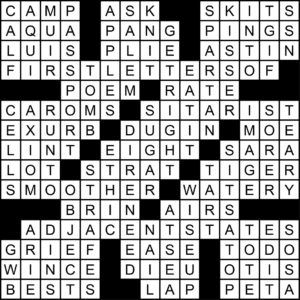 We needed a two-word piece of clothing last week, and our task was spelled out in the grid. We'd find the clothing from:
FIRST LETTERS OF / EIGHT / ADJACENT STATES
Stealing Joon's sweet graphic from Crossword Fiend, we see that there's a MINK COAT sitting in the center of the country: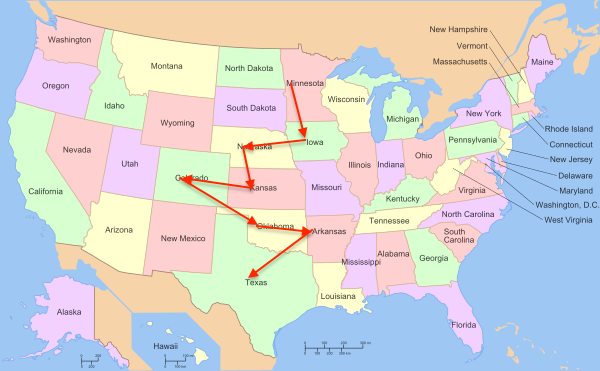 You can also swap out Missouri for Minnesota at the beginning, and Tennessee for Texas at the end. And yes, I put PETA in on purpose at the last across to show I'm no mink coat fan! Leave those little critters alone!
This week's winner, whose name was chosen at random from among the 426 correct entries received, is Frank Pallo of Spring Hill, Fla. In addition to a MGWCC pen, pencil, and notepad set, Frank will also receive a 1-year subscription to Matt Gaffney's Daily Crossword.
NOVEMBER WINNERS:
Congratulations to the following ten November MGWCC winners, whose names were chosen at random from among the 80 people who sent in the correct contest answer to each of last month's four challenges (HOUSTON, SHIVER, SPAIN, MINK COAT). Each will receive a MGWCC pen, pencil, and notepad set:
Evan Birnholz — Philadelphia, Penna.
Ameet Brahmavar — Portland, Ore.
Joe Fendel — Berkeley, Calif.
Sean Forbes — Crest Hill, Ill.
Jeffrey Harris — Nashville, Tenn.
Grayson Holmes — Shoreline, Wash.
Alex Jeffrey — Columbia, Md.
Kyle Osborne — West Chester, O.
Matt Printz — Austin, Tex.
Scott Weiss — Walkersville, Md.
Congratulations to our ten winners, and to everyone who went 4-for-4 in November.
A DECEMBER TO DISMEMBER:
A bit of a conundrum here at MGWCC lately: more and more solvers appear to be collaborating with other solvers on the puzzles, especially later in the month. Co-solving is fun and not something I want to discourage: I know of a pair of sisters in their 80s who solve together each week, a few husband-and-wife pairs, and even an entire family. That's a good thing, and those who team-solve regularly fully have my blessing to continue.
On the other hand, it does lead to some issues with streaks, especially with prizes on the line. A long streak is almost impossible to lose if several solvers work together; A few solvers who lost their streak on MGWCC #494 while solving solo feel a bit cheated here, since they could have kept things going if they'd collaborated. And with 35 perfect scores going into the final month (compared to just 11 last year), it's clear that I need to do something to address the issue.
Which leads us to our solution: A DECEMBER TO DISMEMBER. Special rules here during this month only:
1) If you're not in the running for a year-end prize (i.e., a threat to have solved 48+ metas this year), then disregard the following rule and do as you please.
2) If you are in the running for a yearly prize, you must solve all five metas this month alone, with no outside help from any person. Of course you can still Google/Bing/Yahoo! to your heart's delight, but no human help.
If you have any questions, e-mail me and I'll address them in next week's post (today's puzzle is unlikely to trip anyone up). So get ready for a tough month — going to dismember your brains, your groups, and your streaks! Game on! Challenge accepted! Go big or go home! No quarter asked, no quarter given! Yeah! That's what I'm talking about! OK, I'll stop now.
And here is the first puzzle in A December to Dismember, or AD2D for short…
THIS WEEK'S INSTRUCTIONS:
This week's contest answer is a seven-letter noun.
Solve well, and be not led astray by words intended to deceive.