IMPORTANT NOTE: As of January 2015 MGWCC is a subscribers-only crossword. The cost is $26 per year, and you can subscribe (or get a free trial month first) here:
LAST WEEK'S RESULTS: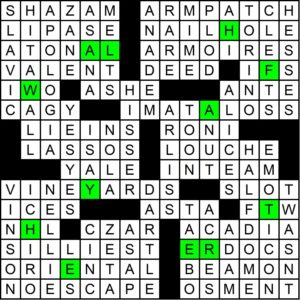 Simple, but certainly not easy: we were looking for a twelve-letter phrase last week, and our puzzle was ominously titled "Don't Even Think About It."
The super-suspicious might have started wondering about odd numbers right there, since if a Week 5 puzzle is "Don't Even Think About It," then one way to parse it might be "Don't even think about it, odd think about it."
Alternatively, a solver may have instead noticed the strange feature of this grid, which is its very low number of odd-lettered entries. There are just twelve, and the salient feature of odd-lettered words is that they have a middle letter. Highlighting those middle letters — logical since #500 puts us at the midpoint of MGWCC — reveals the secret message HALFWAY THERE. And indeed we are.
Icdogg says:
500 more to go!
mnemonica writes:
10 more years? That's comforting … for now.
Hunley B says:

Wish I had been there for the whole first half!
Similarly, Jason T:
Been with you since #228… and I'll be with you till #1000! And if you're thinking of quitting early… don't even think about it!
I won't!
And finally, Tyler Hinman says:

I'm setting the over/under of Bon Jovi references you get at 10.
Exactly correct! One of those ten solvers even sent a link to the video.
This week's winner, whose name was chosen at random from among the 121 correct entries received, is Clay Thomas of Chattanooga, Tenn. In addition to a MGWCC pen, pencil, and notepad set, Clay will also receive a 1-year subscription to Matt Gaffney's Daily Crossword.
500 REMINISCENCES:
You know, I started to type this out this morning but I want to think about it more, so let me do my "Looking back on 500 Metas" reflections next week. I'll try not to make it too sappy but in short: I LOVE YOU ALL! EVERY SINGLE ONE OF YOU!
Ok, I'll tone it down for next week…
DECEMBER WINNERS:
Congratulations to the following ten December MGWCC winners, whose names were chosen at random from among the 71 solvers who sent in the correct contest answer to each of last month's five challenges (SELLOUT, JULIUS CAESAR, UNIQUE, DIAMONDS/GRAPHITE, HALFWAY THERE). Each will receive a MGWCC pen, pencil, and notepad set:
Rich Bragg — Los Altos, Calif.
Jeremy Conner — Duarte, Calif.
Meg Duvall — St. Petersburg, Fla.
Mark Goodliffe — London, U.K.
Carl Holzman — Chicago, Ill.
Bill Katz — San Rafael, Calif.
Eric LeVasseur — Seal Beach, Calif.
Paul Melamud — Milford, N.J.
Erich Prestemon — Woodside, Calif.
Alex Sisti — Whitesboro, N.Y.
Congratulations to our ten winners, and to everyone who went 5-for-5 in December.
YEARLY PRIZES FOR 2017:
I'll be announcing these next week (there are a lot, and it takes a while to calculate them all, especially with AD2D).
THIS WEEK'S INSTRUCTIONS:
This week's contest answer is a movie in theaters now.
Solve well, and be not led astray by words intended to deceive.