IMPORTANT NOTE: As of January 2015 MGWCC is a subscribers-only crossword. The cost is $26 per year, and you can subscribe (or get a free trial month first) here:
LAST WEEK'S RESULTS: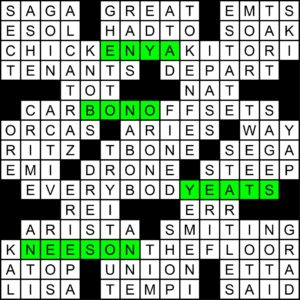 Slightly tricky opener to Share the Love month. We were looking for a brand of soap, our title was "Bar Exam," and our theme entries were:
17-A [Food eaten in an izakaya restaurant (born May 17th)] = CHICKEN YAKITORI
24-A [Tactical reductions in greenhouse gases (born May 10th)] = CARBON OFFSETS
41-A [Classic "Sesame Street" song about food (born June 13th)] = EVERYBODY EATS
53-A [Easy position in which to do push-ups (born June 7th)] = KNEES ON THE FLOOR
Eagle-eyed solvers noticed that each of these conceals the name of a famous Irish person: singers ENYA and BONO, writer William Butler YEATS, and actor Liam NEESON. Why are their birthdays included? To show that each was born in the spring, suggesting contest answer IRISH SPRING, found by 580 solvers.
CraigMazin says:

Top o' the month to you.
And the rest of the season to yourself.
pannonica writes:
(whistles) Thanks, as always!
Back atcha, like in the ads:
Pundog notes:
Lots of clean fill.
Dele had no trouble:
That was pretty Wilde. Swift solve nonetheless.
pgw notes the publication date:
It's not yet spring but it is February 2nd so you can ENJOY CELEBRATING another famous Irish birthday …
And finally, Jed sends along this not-creepy animated gif that will in no way haunt your dreams and/or showers: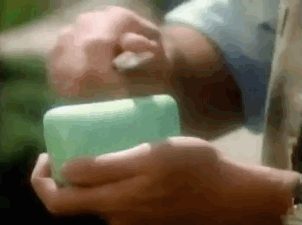 This week's three winners, whose names were chosen at random from among the 580 correct entries received, are:
Daniel Simoncini — Northampton, Mass.
Jim Skinnell — East Greenwich, R.I.
Jean Stoner — Belmont, Calif.

Each will receive a MGWCC pen, pencil, and notepad set, plus a 1-year subscription to Matt Gaffney's Daily Crossword.
THIS WEEK'S INSTRUCTIONS:
What six-letter word, found somewhere in this puzzle's clues, characterizes its theme entries?
Solve well, and be not led astray by words intended to deceive.