IMPORTANT NOTE: As of January 2015 MGWCC is a subscribers-only crossword. The cost is $26 per year, and you can subscribe (or get a free trial month first) here:
LAST WEEK'S RESULTS: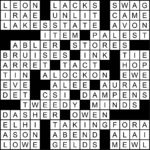 What did you need to solve last week's meta? The first thing to notice was that something was up with the fill-in-the-blank clues. Usually a FITB clue has a three-character-long blank no matter how long or short the grid entry is, but the lengths of these were all over the map, from a very short blank at 28-D to a very long one at 11-D.
Taking the letter in a FITB entry that corresponds with the number of blanks in the clue, we get contest answer BLANK STARE, which you certainly had to employ to suss out the different lengths.
Phil Bourland writes:
My eyes were going a little screwy trying to mentally order the 'lined' clues so I copy pasted everything into Notepad to reorder them by hand. It made a very satisfying looking bit of text.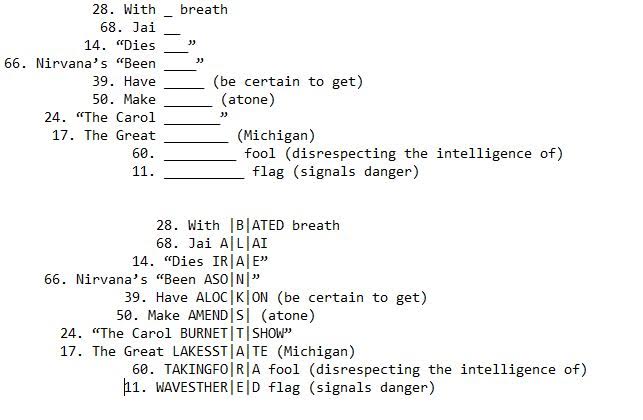 This week's three winners, whose names were chosen at random from among the 284 correct entries received, are:
Eric LeVasseur — Seal Beach, Calif.
R.R.
Vic Vaughn — Clinton Township, Mich.
Each will receive a MGWCC pen, pencil, and notepad set, plus a 1-year subscription to Matt Gaffney's Daily Crossword.
THIS WEEK'S INSTRUCTIONS:
This week's contest answer is a 5-letter capitalized word.
Solve well, and be not led astray by words intended to deceive.