IMPORTANT NOTE: As of January 2nd, MGWCC is now a subscribers-only crossword. The cost is $26 per year, and you can subscribe (or get a free trial month first) here:

www.mgwcc.com
LAST WEEK'S RESULTS: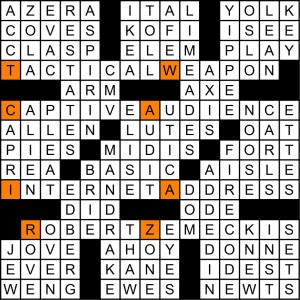 A simple meta, but not an easy one, and with curious instructions: solvers were told: This week's contest answer is a Renee Zellweger motion picture. Well, that's stilted; why not "movie" or "film"?
Answer: because those two words were critical to the meta. The four theme entries, starred (perhaps unnecessarily, or even counterproductively) for clarity, were:
20-A [Hostage rescue team's tool*] = TACTICAL WEAPON
25-A [They have to listen*] = CAPTIVE AUDIENCE
43-A [http://chriswords.com/, e.g.*] = INTERNET ADDRESS
48-A [Best Director winner for "Forrest Gump"*] = ROBERT ZEMECKIS
The two nudges towards the title were the R.Z. initials of both Renee Zellweger and Robert Zemeckis, plus that "motion picture" thing. Wasn't quite enough with my original title ("Hollywood Ending"), but the second title I sent, "Be Sure to Look at the Instructions," did the trick: 109 solvers saw that the first eight words of the instructions have the same initials as the four theme entries:
THIS / TACTICAL
WEEK'S / WEAPON
CONTEST / CAPTIVE
ANSWER / AUDIENCE
IS / INTERNET
A / ADDRESS
RENEE / ROBERT
ZELLWEGER / ZEMECKIS
The last two words of the instructions are MOTION PICTURE, so it would be fitting if there were a Zellweger movie with the initial M.P. And so there is: 2006′s Beatrix Potter tribute MISS POTTER, which also served as our meta answer.
Dueling comments! aoboboa says:
Major Props for the extra hint!
While Sexy Beast counters:
Boo on the extra clue
And Jason Shapiro stakes out the middle ground:
i want to think i'd have eventually gotten it without the hint, but hard to say…
Maggie W. writes:
It's amazing how long one can sit around saying, "Hm, it must be significant that he used the phrase 'motion picture' and that one of the theme answers has the initials RZ" before actually getting the meta.

classicalguy says:
I was Dazed and Confused for a moment. Reality Bites.

cyn liked it:
That was cool and in a really zany manner: priceless!
And finally, ASB suggests formatting the instructions like so: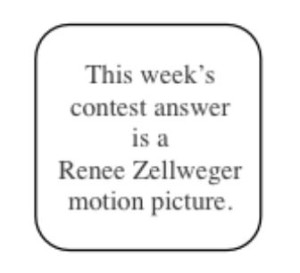 This week's winner, whose name was chosen randomly from the 109 correct entries received, is Adam Levine of Princeton, N.J. In addition to a MGWCC pen, pencil and notepad set, Adam will also receive a signed copy of William Bernhardt's new game/puzzle-based novel The Game Master. Next week's winner will receive the same.
WEEK 352 WINNER:
When I was sick a few weeks ago I neglected to mention the winner for MGWCC #352. It was Anne Recht of Piwaukee, Wisc. Sorry about that, Anne, and belated congratulations.

CALEBRITY BUZZ:
Congratulations to Caleb Madison, who's just been named as the editor of the new BuzzFeed crossword:
Super excited to be editing the new @BuzzFeed #crossword starting this Summer!!! Get ready for sum puzzles that make you both OMGLOL and WTF

— Caleb Madison (@calmad9) March 27, 2015
More details in weeks to follow. An exciting development for crossword solvers!
FOR PETER'S SAKE:
Consider giving a little love to Peter Gordon's Kickstarter campaign, which ends next week. 20 current events crosswords for as little as $6, more if you want some cool swag.
ACPT EXTRA DAY:
The deadline for this week's puzzle is noon ET on WEDNESDAY, APRIL 1ST. I'm giving an extra day because many solvers will be at the ACPT this weekend. I won't be attending, but good luck if you are! It will be exciting as Dan Feyer goes for an unprecedented sixth win in a row.
THIS WEEK'S INSTRUCTIONS:
To solve this meta, do as I will instruct you — or else you will fail!
IMPORTANT NOTE: As of January 2nd, MGWCC is now a subscribers-only crossword. The cost is $26 per year, and you can subscribe (or get a free trial month first) here:

www.mgwcc.com
Solve well, and be not led astray by words intended to deceive.