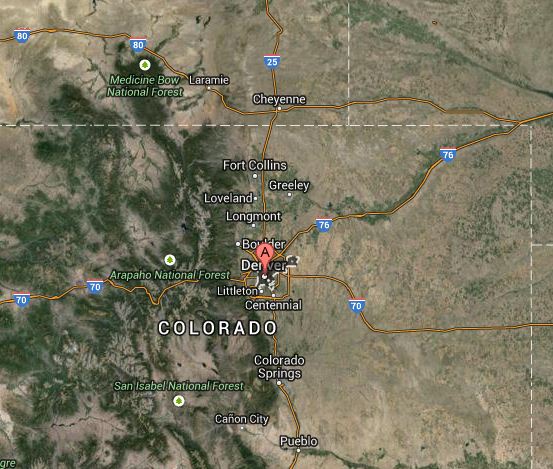 LAST WEEK'S RESULTS: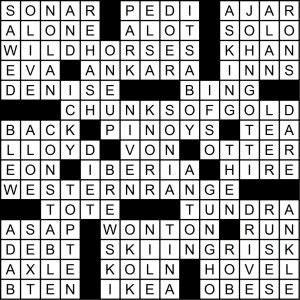 What American city concealed itself in last week's grid? The four theme entries, all of which were clues simply as [TEAM], were:
17-A = WILD HORSES
27-A = CHUNKS OF GOLD
48-A = WESTERN RANGE
64-A = SKIING RISK
What's going on here? Well, "wild horses" are Broncos, "chunks of gold" are Nuggets, "Western range" is the Rockies, and a "skiing risk" is an Avalanche. And those are the four major sports teams (NFL, NBA, MLB and NHL) based in DENVER, making that city our meta answer.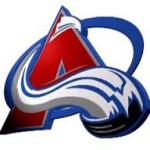 Coloradan and hockey fan Al writes:
Go "Skiing Risk"!!
Susan H says:

my son's new home town, so I'd better get this right.
Math Teacher Dave says:

YES!!!! I'm the guy on the right.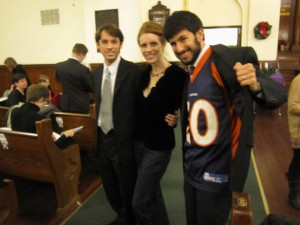 FW Batman wonders:

What? No Gilligan clue?
e.a. points out:
change a letter in last week's answer and you have two johns so far this month

DIS says the MGWCC is:
The high point of my week.

Lee Sammons says:
Could hardly miss my home town; although briefly wondered who the Mustangs were.

Seth C had no trouble:
This was a Rapid solve.
And finally, Evad missed all the teams, but got the meta anyway:
The Mustangs, The Ingots, The Tetons and The Moguls.
This week's winner, whose name was chosen randomly from the 610 correct entries received, is Jim Schooler of Laguna Beach, Calif. In addition to a MGWCC pen, pencil and notepad set, Jim will also receive a copy of Patrick Blindauer's forthcoming Outer Space Puzzlefest. Next week's winner will receive the same.

THIS WEEK'S INSTRUCTIONS:
This week's contest answer is a part of the human body. Submit your answer in the form on the left sidebar by Tuesday at noon ET. Note: the submissions form disappears from the site promptly at noon on Tuesday.
To print the puzzle out, click on the image below and hit "print" on your browser. To solve using Across Lite either solve on the applet below or download the free software here, then join the Google Group (2,334 members now!) here. Or you can download the .puz file (you may have to right-click the link and save to your Downloads folder).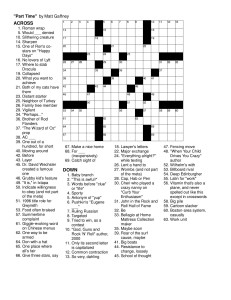 Solve well, and be not led astray by words intended to deceive.