IMPORTANT NOTE: As of January 2015 MGWCC is a subscribers-only crossword. The cost is $26 per year, and you can subscribe (or get a free trial month first) here:
LAST WEEK'S RESULTS: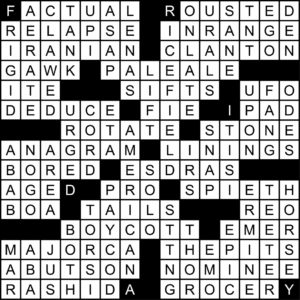 Last Friday was BLACK FRIDAY, and that was our contest answer! 234(!) solvers got there by noticing that six white squares in the grid could be turned black and still work with their Across and Down clues. For instance, 1-A was ACTUAL clued as [Based in reality] and 1-D was FRIGID clued as [Stiffly formal]. But blacken the 1 box and you're left with ACTUAL and RIGID, which still work for the original clues.
Those six blackenable boxes spell out, symmetrically and in order, FRIDAY, leading to BLACK FRIDAY.
Magoo says:
This puzzle is brought to you by various retailers
DIS suggests:
In the true spirit of the day, you should have sent this one out at 12:01 a.m.
Wish I'd thought of that!
And Jason T complains:
That's not much of a sale – you only took 3% off!
This week's winner, whose name was chosen at random from among the 234 correct entries received, is J.S. In addition to a MGWCC pen, pencil, and notepad set, J.S. will also receive a 1-year subscription to Matt Gaffney's Daily Crossword.
MONTHLY WINNERS:
Here are our 10 monthly winners for November, chosen randomly from among the 133 (!) solvers who got all four of that month's contest answers:
David Bael — Minneapolis, Minn.
Mark Diehl — San Jose, Calif.
Joe Fendel — Berkeley, Calif.
Ben Gutman — Portland, Ore.
George Herz — Boston, Mass.
Matthew Grieco — Brooklyn, N.Y.
Monica Krausse — El Paso, Tex.
Ned Robert — Los Gatos, Calif.
Shuka Schwarz — Boulder, Colo.
John L. Wilson — Shoreview, Minn.
Congratulations to our 10 winners, and to everyone who went 4-for-4 in November.

SPECIAL PRIZE THIS WEEK AND NEXT:
Winners this week and next will receive a copy of this.
THIS WEEK'S INSTRUCTIONS:
This week's contest answer is a U.S. state capital that would have made a good theme entry in this puzzle.
Solve well, and be not led astray by words intended to deceive.