LAST WEEK'S RESULTS: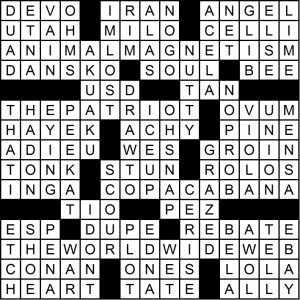 What world capital concealed itself in last week's puzzle? It was pretty hidden: there were five asterisked theme entries, each with a parenthetical at the end:
1-A [Band who did "Whip It" (prairie dog's cousin)*] = DEVO
17-A [18th-century belief that living things project an invisible force (optometrist's supply)*] = ANIMAL MAGNETISM
27-A [2000 Mel Gibson movie set in South Carolina (got better)*] = THE PATRIOT
47-A [Top 10 hit song of 1978 (tavern keeper)*]
63-A [You used it to get this crossword (shout in a forest)*] THE WORLD WIDE WEB
In addition, there was a double-asterisked entry as well, split between 9-A and 69-A:
[With 69-Across, 1987 movie where Robert De Niro plays the devil**]
What was going on? Each of the five starred entries suggests a famous person:
DEVO's lead singer is Mark Mothersbaugh
ANIMAL MAGNETISM was a theory of physician Franz Mesmer (from whose name we get "mesmerize")
THE PATRIOT also starred the late Heath Ledger
COPACABANA was an incredibly cheesy hit for Barry Manilow
THE WORLD WIDE WEB was invented by Tim Berners-Lee
As you can see from the emboldened letters above, the first three letters of these people's first and last names is the answer to their clue's parenthetical: a MARMOT is a prairie dog's cousin, FRAMES are an optometrist's supply, HEALED is got better, a BARMAN is a tavern keeper, and TIMBER is a shout in a forest.
Now what? Go back to that double-asterisked clue, the answer to which is ANGEL HEART. Lo and behold, one of the stars of that movie is former Cosby kid LISA BONET, the first three letters of whose names spell out meta answer LISBON.
This week's winner, whose name was chosen randomly from the 103 correct entries received, is Jason Gladdens of McKinney, Tex. In addition to a MGWCC pen, pencil and notepad set, Jason will also receive a copy of my new(ish) book Crunchy Crosswords.

THIS WEEK'S INSTRUCTIONS:
This week's contest answer is a whole number between 1 and 9 (inclusive of 1 and 9). Submit your answer in the form on the left sidebar by Tuesday at 4 PM ET. (Note extra time due to today's delay). Note: the submissions form disappears from the site promptly at 4 PM ET on Tuesday.
To print the puzzle out, click on the image below and hit "print" on your browser. To solve using Across Lite either solve on the applet below or download the free software here, then join the Google Group (2,282 members now!) here. Or you can download the .puz file (you may have to right-click the link and save to your Downloads folder).
Solve well, and be not led astray by words intended to deceive.