LAST WEEK'S RESULTS: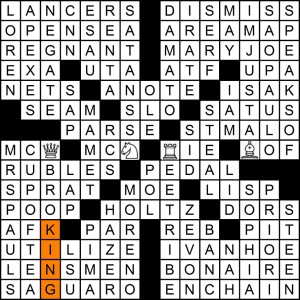 What happens to a pawn when it reaches the eighth rank in chess? It gets to promote to any of four other pieces: in order of how commonly it happens, a queen (vast majority of the time), knight (occasionally), rook (very rarely) or bishop (almost never). Sorry, can't become a king!
In last week's puzzle we had four pawns on the eighth rank, a.k.a. the middle row of a standard 15×15 crossword. They were pawns in one incarnation — moving up or down the board/grid — but promoted to those four pieces along the eighth rank. Those two way-answers were:
35-a ["Papillon" actor Steve] = MC(QUEEN); and at 37-down [Dealing with collateral, perhaps] = (PAWN)BROKING
38-a [Brian of R&B hits like "Back at One" and "Love Is"] = MC(KNIGHT); and at 7-down [Horribly behaved child, in slang] = SATAN'S S(PAWN)
39-a [First-year player] = (ROOK)IE; and at 39-d [Namesake of the town in which "Parks and Recreation" is set] = (PAWN)EE TRIBE (the town's name in the show is Pawnee, Indiana)
40-a [___ Rome (pope's title)] = (BISHOP)OF; and at 12-d ["It wasn't my decision!"] = I'm JUST A (PAWN). About 30 solvers went astray here by submitting BISHOP as their contest answer, thinking the Pope's title was King of Rome instead of the correct Bishop of Rome.
Contest instructions read: All six chess pieces are in this grid, but one never made it to the eighth rank. Which one is it? Well you've got four pawns reaching the eighth rank and then the queen, knight, rook and bishop. So the meta answer must be the KING, which 473 solvers found. And where in the grid is he? In (PAWN)BRO(KING) at 37-d, just chilling out on the side of the board like a good king. Pawn can't promote to him anyway, so he might as well just relax.
Didn't have anything to do with the meta, but a handful of solvers noticed that LANCERS at 1-a and ENCHAIN at 67-a anagram to CARLSEN and CHENNAI (where, 10 minutes before I'm typing these words, he became the new world chess champion). And I wasn't worried about repeating MC twice along the middle row, since those are some important chess initials today.
MJMA writes:

As a resident of Tucson, AZ, I thank you for the PIMA/SAGUARO crossing.
This week's winner, whose name was chosen randomly from the 473 correct entries received, is Eric LeVasseur of Seal Beach, Calif. In addition to a MGWCC pen, pencil and notepad set, Eric will also receive a signed copy of Ben Tausig's new book The Curious History of the Crossword.

ON THE RADIO:
I was on our local NPR station yesterday (WMRA Harrisonburg) talking with Martha Woodroof about crosswords. Listen to it here (interview is about nine minutes long).
THIS WEEK'S INSTRUCTIONS:
Last week of chess metas! As of this morning we have a new world chess champion, Norway's Magnus Carlsen. This week's contest answer is one of Carlsen's predecessors. If you're not up on your world chess champions, then use this handy list for reference. And champions under both "Classical" and "FIDE" at that link are legit for this meta. Submit your answer in the form on the left sidebar by Tuesday at noon ET. Note: the submissions form disappears from the site promptly at noon on Tuesday.
To print the puzzle out, click on the image below and hit "print" on your browser. To solve using Across Lite either solve on the applet below or download the free software here, then join the Google Group (2,122 members now!) here.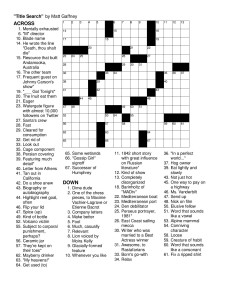 Solve well, and be not led astray by words intended to deceive.