IMPORTANT NOTE: As of January 2nd, MGWCC is now a subscribers-only crossword. The cost is $26 per year, and you can subscribe here:
LAST WEEK'S RESULTS: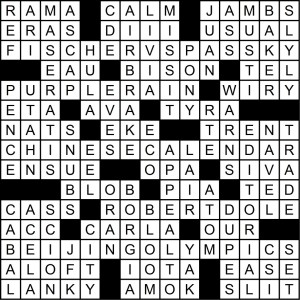 What animal did you find in the grid last week? Our five theme entries were:
17-A [Chess's "Match of the Century"] = FISCHER V. SPASSKY. You know who won! 1972.
23-A [Prince movie/album with "When Doves Cry"] = PURPLE RAIN. Why do we scream at each other? 1984.
39-A [It references a dozen animals] = CHINESE CALENDAR. The longest theme entry, and it references animals. Hmmm.
55-A [He lost to Bill Clinton] = ROBERT DOLE. This happened in 1996.
61-A [Where Michael Phelps won eight golds] = BEIJING OLYMPICS. 2008.
1972, 1984, 1996, 2008 + CHINESE CALENDAR has to make our meta answer RAT, since each of those four is a Year of the Rat. A sentimental favorite of mine, since both I (1972) and this website (2008) were born in a YotR.
Ian Livengood asks:

Is the 1D clue an easter egg?
What, just because it's 3 letters long, starts with R and gets the clue [Whistle blower, for short]? Unintentional.
Pete Mitchell stumbled upon the same RAT:
I had RAT at 1-Down until the end when it didn't fit with Fischer.

DIS says:

I remember following the Fischer-Spassky match. Hard to believe that was four rats ago.
Gogingerale writes:
My first meta! It must be too easy this week…

Ertchin gushes:
Really acceptable theme.
Scarab says:
Please tell me it was just luck that Lucrezia BORGIA was born in the year of the rat.

Dave C's journey:
a not altogether uncommon method of solve for me. Go out to dinner, have a few drinks. Come home, complete puzzle. Stare at finished grid for 15 minutes or so, fall asleep on couch. Wake up hours later, should get up to go to bed. But noooo, gotta look one more time at the meta! Meta solved, two seconds later (obviously with a look at a Chinese calendar!).
Dary Merckens is no RAT!
Where my Pigs at? Throw your feet up!
And finally, spielekatze writes:

Happy New Year to you!
That's right — yesterday was the start of the lunar year. Happy 4711!
This week's winner, whose name was chosen randomly from the 329 correct entries received, is Wayne Mabey of Moncton, N.B. In addition to a MGWCC pen, pencil and notepad set, Wayne will also receive a 1-year subscription to the AVCX.
SPECIAL PRIZES THIS WEEK AND NEXT:
Winners this week and next will receive a 1-year subscription to Andrew Ries's weekly Aries Xword. He's on Week 3 of a 5-week meta suite right now, so he'll throw that into the prize-winners' mix as well! $12 for one year, and very good.

THIS WEEK'S INSTRUCTIONS:
This week's contest answer is the four-letter answer to the clue: "In politics, he succeeded".
IMPORTANT NOTE: As of January 2nd, MGWCC is now a subscribers-only crossword. The cost is $26 per year, and you can subscribe here: