LAST WEEK'S RESULTS: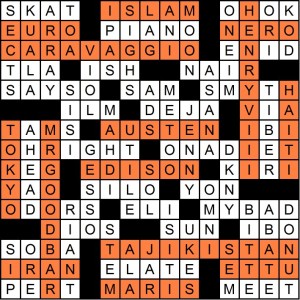 We were looking for a famous 14-letter novel last week, so it was no coincidence that 14 specific historical events were referenced in clues (to symmetrically-placed entries, too). In reverse ("Backsolve") chronological order, they were:
37-D [City that will host the XXXII Summer Olympics] = TOKYO (2020)
31-A [Nation hit with a horrific earthquake whose epicenter was near the town of Léogâne] = HAITI (2010)
14-A [Currency whose introduction got rid of the mark, guilder and drachma] = EURO (2002)
70-A [It became an independent nation after the breakup of the Soviet Union] = TAJIKISTAN (1991)
74-A [Country that deposed their U.S.-backed leader Reza Pahlavi] = IRAN (1979)
78-A [He was the first person to hit more than 60 home runs in an MLB season] = MARIS (1961)
48-A [He died in West Orange, New Jersey] = EDISON (1931)
39-D [Candy bar introduced without the Hershey name because Milton Hershey didn't want his brand associated with peanuts] = MR. GOODBAR (1925)
40-A [She published "Emma" to critical and commercial success] = AUSTEN (1815)
17-A [He first garnered wide acclaim when he painted "The Martyrdom of Saint Matthew"] = CARAVAGGIO (1600)
11-D [He had Anne Boleyn executed] = HENRY VIII (1536)
5-A [Religion whose history includes "The Flight of Muhammad"] = ISLAM (622)
16-A [His death led to the Year of the Four Emperors] = NERO (68 A.D.)
76-A [Words supposedly heard at Julius Caesar's assassination] = ET TU? (44 B.C.)
The first letters of these fourteen entries spell out meta answer THE TIME MACHINE, H.G. Wells' time travel classic that most often appears in crosswords with an ELOI reference. Hopefully they can get Esai Morales to star in the next film version of it.
This was right in Evan's wheelhouse:
History PhD student….for the win.
Bob J. made full use of the instructions:
The '14-letter' hint helped – perhaps this is a Week 5 without it?
gifo chides:
Matt, you are regressing…
While David Stein had the aha moment away from the puzzle grid:
after two days of staring, the whole thing just popped in my mind on the treadmill. I knew there was a point in exercising.
This week's winner, whose name was chosen randomly from the 74 correct entries received, is Peter Gwinn of Chicago, Ill. In addition to a MGWCC pen, pencil and notepad set, Peter will also receive a copy of my forthcoming book Crunchy Crosswords.
MONTHLY WINNERS:
67 solvers submitted the correct contest answer to all four of March's challenges (NANCY SCHUSTER, OTHELLO, FLORIST, THE TIME MACHINE). The following fifteen lucky and skillful winners, chosen randomly from that group, will receive a MGWCC pen, pencil and notepad set:
Joel Alderson — Andover, Kan.
Jason Chan — West Mifflin, Penna.
Todd Dashoff — Philadelphia, Penna.
Joshua Davey — Eugene, Ore.
Anne Erdmann — Champaign, Ill.
Brent Holman — San Francisco, Calif.
Kristen Jones — Cuyahoga Falls, O.
Julian Lim — Singapore, Singapore
Todd McClary — Aurora, Colo.
Paul Melamud — Milford, N.J.
Jason Rau — Carlsbad, Calif.
Jason Shapiro — New York City, N.Y.
Jason Taniguchi — Toronto, Ont.
Michael Utkus — Bala Cynwyd, Penna.
James Wentworth — Sydney, Australia
(So many Jasons!)
Congratulations to our fifteen winners, and to everyone who went 4-for-4 in March. Next month we go back to 10 winners.
MULLER MONSTER META:
The first three Muller Monthly Music Metas of the year were easy, but the fourth is a bear. Only seven solvers have gotten it and I'm not one of them, though 2013 Constructor of the Year Francis Heaney is. Crush it here. Deadline is Sunday night.
THIS WEEK'S INSTRUCTIONS:

This week's contest answer is a well-known body of water. Submit your answer in the form on the left sidebar by Tuesday at noon ET. Note: the submissions form disappears from the site promptly at noon on Tuesday.
To print the puzzle out, click on the image below and hit "print" on your browser. To solve using Across Lite either solve on the applet below or download the free software here, then join the Google Group (2,241 members now!) here. Or you can download the .puz file (you may have to right-click the link and save to your Downloads folder).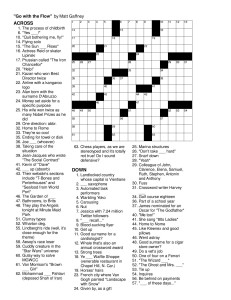 Solve well, and be not led astray by words intended to deceive.