LAST WEEK'S RESULTS:
We had an excellent puzzle to start off Guest Constructor Month last week. 655 solvers found Jeffrey Harris's favorite Robin Williams movie: ALADDIN, parsed as AL ADD-IN. Indeed, an AL had been added to other Williams movies to make wacky new movie titles: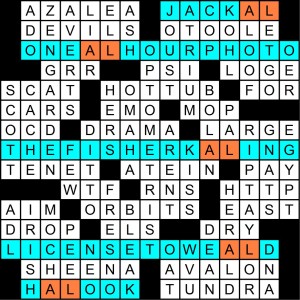 7-A [Robin Williams movie about ... a wild canine?] = JACKAL (from "Jack")
15-A [... how long it takes to get a picture with Shaq?] = O'NEAL HOUR PHOTO (from "One Hour Photo")
38-A [... Mindy, after she decided to quit acting and take up angling?] = THE FISHER KALING (from "The Fisher King"). That's comic actress Mindy Kaling.
58-A [... a document granting filming rights in a wooded area?] = LICENSE TO WEALD (from "License to Wed"). Weald is a tough word, yes.
65-A [... pointing and laughing?] = HA! LOOK, from "Hook."
All of which leads to meta answer ALADDIN.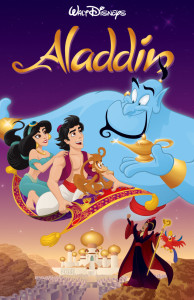 Norm Hurlbut says:
JanglerNPL [i.e., Jeffrey Harris] is a meta Genie-us!
Picking up on that vibe, katja603 writes:
For my first wish, I would like to solve more than just the first meta of the month!
Cole submitted ALADDIN:
…though I was trying to get THE FINAL CUT to work.

Archie wonders:
… and 64 across is, of course, the car of choice of cosmetics salespersons?
Coyote Creed writes:
I'll celebrate by going to my favorite Indian restaurant, House of Dal.

Similarly, marpocky:
I'm partial to Mr. Sal Doubtfire myself.

Maggie W. punctuated it differently:
I prefer this one with a space and an apostrophe: "AL addin'.

Bernie writes:
Clever way to break Jeffrey's streak! Make him compose the puzzle and then he can't solve it…
You give me too much credit! But no, a Guest Constructor Month writer certainly gets credit for that week's puzzle. If they can write the meta, they can solve it.
And finally, echoing several other solvers, gifo says:
Maybe I will now finally remember it's double D, not double L.
This week's winner, whose name was chosen randomly from the 655 correct entries received, is N.F. In addition to a MGWCC pen, pencil and notepad set, N.F. will also receive a signed copy of my new book Munchkin Crosswords #2.
MENTAL BREAK:
I wrote an article this week for Mental Floss detailing how a crossword constructor writes a puzzle. Check it out here:
http://mentalfloss.com/article/58828/how-crossword-puzzles-are-made

META ROUNDUP:
A few metas from around the continent:
KENTUCKY: Neville Fogarty's meta from last week. The deadline has passed, but solve it anyway because Fogarty meta.
MINNESOTA: Andrew Ries has a Rows Garden meta, a blend of puzzle forms I'm not sure anyone has done before.
MANITOBA: Peter Broda has a meta in Fireball Crosswords that I am going to solve this weekend. But it's getting an awful lot of buzz on social media, so consider subscribing to Fireball just for this alone.
GUEST CONSTRUCTOR MONTH, PUZZLE #2: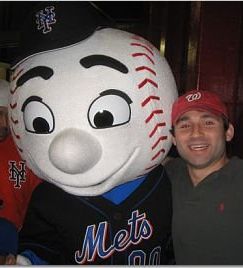 Our guest constructor this week is Ian Livengood, author of many fine puzzles such as this and the 2012 Fireball Crossword "Instance Messages," which he co-wrote with Week 1 constructor Jeffrey Harris, and which was one of the 10 crosswords nominated for 2012′s Puzzle of the Year.
Ian has also been working full-time at puzzle publisher Penny Press for the past three years, and recently moved to Philadelphia to pursue an M.B.A. When he's not buying nautical maps, stuffed moose heads and brandy snifters, Ian is busy getting the Philadelphia Pennsylvania Puzzle Pizza Pastries and Pabst Society (PPPPPPS) off the ground. If you're interested in joining (and creating a better acronym), hit him up at ian.livengood@gmail.com.
So let's do it! For this week's meta, Ian asks: What two grid entries totaling 10 letters would make an appropriate fifth theme entry?
Submit your answer in the form on the left sidebar by Tuesday at noon ET. Note: the submissions form disappears from the site promptly at noon on Tuesday.
To print the puzzle out, click on the image below and hit "print" on your browser. To solve using Across Lite either solve on the applet below or download the free software here, then join the Google Group (2,302 members now!) here. Or you can download the .puz file (you may have to right-click the link and save to your Downloads folder).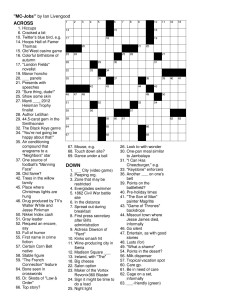 Solve well, and be not led astray by words intended to deceive.