IMPORTANT NOTE: As of January 2nd, MGWCC is now a subscribers-only crossword. The cost is $26 per year, and you can subscribe (or get a free trial month first) here:

www.mgwcc.com
LAST WEEK'S RESULTS: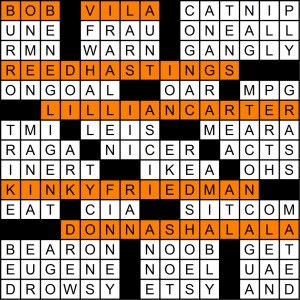 Five seemingly randomly-chosen celebrities populated last week's grid, clued along with a seemingly randomly-chosen country and date range:
1-A/4-A [Original "This Old House" host (Panama, 1971-73)] = BOB VILA
20-A [Billionaire co-founder and CEO of Netflix (Swaziland, 1983-85)] = REED HASTINGS
28-A [Nurse who was the mother of the 39th U.S. president (India, 1966-68)] = LILLIAN CARTER
47-A [Country singer who got 12% of the vote in the 2006 Texas governor's race (Malaysia, 1967-69)] = KINKY FRIEDMAN
56-A [Clinton Cabinet member (Iran, 1962-64)] = DONNA SHALALA
What's the connection? Each of these individuals, in the country and years specified, served in the PEACE CORPS, our meta answer, found by 425 solvers. This theme was provided by my wife, Kristin, who was a volunteer in Senegal from 2006-08, and who hipped me to the fact that Peace Corps Week began on March 1st, which made this meta more timely than it may have looked. There she is at right.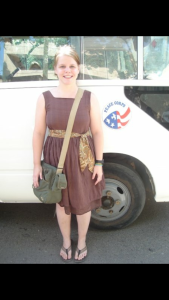 Jmbrow29 was also hip to that fact:
And it's Peace Corps Week! So perfect! Jonathon, RPCV Mozambique 2010-2013
You may recall that Jmbrow29 was, during his time in Mozambique, unable to enter this contest the week that MOZAMBIQUE was a theme entry — not because he didn't know the answer, but because his internet connection was down that week!
Osexpert wonders:
Why wasn't my name in the puzzle?! (Burkina Faso 2010-2012)

BobJas goes back further:
Jamaica 91-93 … where does the time go?
But Archie has everyone beat:

Ecuador, 1962-64
And he and his wife, whom he met there, just celebrated their 50th wedding anniversary. Awesome.
Mikey says:
You missed your chance to get on Hardball with Chris Matthews (Swaziland 1968-70)
I saw him on the lists, but didn't want two Swazilands in there.
Tahnan wonders if this is:

The toughest crossword you'll ever love?
And finally, Math Teacher Dave takes the right attitude:
Ask not what your puzzlemaker can do for you; ask what you can do for your puzzlemaker.
This week's winner, whose name was chosen randomly from the 425 correct entries received, is e.a. In addition to a MGWCC pen, pencil and notepad set, e.a. will also receive a signed copy of my book Munchkin Crosswords #2.
MONTHLY WINNERS, FEBRUARY:
80 solvers submitted the correct contest answer to all four of February's challenges (TAJ MAHAL, RAT, OTHO, I FIGURED). The following ten skillful and lucky winners, chosen randomly from that group, will receive a MGWCC pen, pencil and notepad set:
Meg Duvall — St. Petersburg, Fla.
Jay Giess — Rochester, N.Y.
Craig Harman — Washington, D.C.
Carl Holzman — Chicago, Ill.
Andy Keller — Apple Valley, Minn.
Bob Klahn — Wilmington, Del.
Patricia Miga — Colleyville, Tex.
Eric Prestemon — Woodside, Calif.
Jed Scott — Rockford, Mich.
David Stein — Silver Spring, Md.
Congratulations to our ten winners, and to everyone who went 4-for-4 in February.
INDIE 500: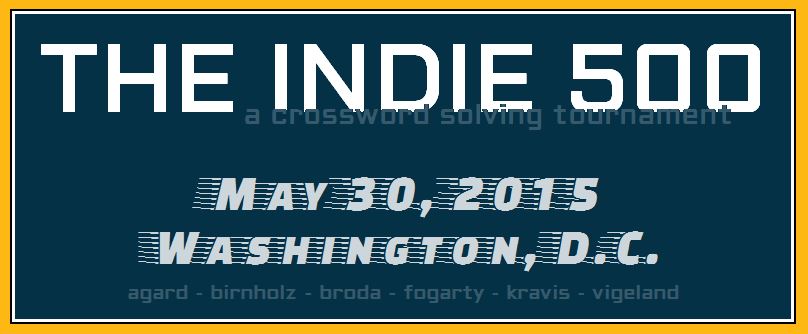 I will be attending the Indie 500 as a competitor, and hope to see you there! This is the inaugural edition of a crossword puzzle tournament that focuses on Indie (i.e., affiliated with no outside publication) crossword writers, five of whom are hosting/writing puzzles for it. Hyperlinked to their independent sites, they are:
Erik Agard * Evan Birnholz * Peter Broda * Neville Fogarty * Andy Kravis
And the sixth tournament puzzle is written by Finn Vigeland, who won a blind competition for the slot.
The one-day tournament will be held on the campus of George Washington University in Washington, D.C. on May 30th. Hope to see you there!
THIS WEEK'S INSTRUCTIONS:

This week's contest answer is a profession.
IMPORTANT NOTE: As of January 2nd, MGWCC is now a subscribers-only crossword. The cost is $26 per year, and you can subscribe (or get a free trial month first) here:

www.mgwcc.com
Solve well, and be not led astray by words intended to deceive.