LAST WEEK'S RESULTS: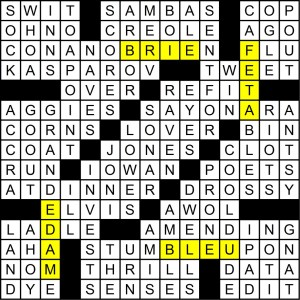 We were looking for a kind of food last week, and the four theme entries were:
17-A [Comedian who traveled to Finland because he resembles its former president Tarja Halonen (France)] = CONAN O'BRIEN
11-D [Where some bottles of Perrier rest (Greece)] = CAFE TABLES
53-A [Find serendipitously (France et al.)] = STUMBLE UPON
28-D [Margaret Farrar or Meryl Streep (the Netherlands)] = GRANDE DAME
Each of those contains a variety of meta answer CHEESE, emboldened above: brie, feta, bleu and edam. Each cheese's country of original was included parenthetically a nudge.
JustinW says:
Next Friday is going to be terrible with cheesy puns.
Correct. Ale M asks:
Are those the best grid entries that o-curd to you?

Katja603 says:
I hope my answer is Gouda-nuff this week!

CoyoteCreed claims:

I searched darn hard for this pun.
OSXpert boasts:

I didn't lose my whey this week!
And finally, Jason T wonders:
Shouldn't you take a picture of us all now?
This week's winner, whose name was chosen randomly from the 659 correct entries received, is David Rosenberg of Sherman Oaks, Calif. In addition to a MGWCC pen, pencil and notepad set, David will also receive a signed copy of my new book Pocket Posh Easy Crosswords.
MONTHLY WINNERS:
91 solvers submitted the correct contest answer to all five of October's challenges (C-D-B-A, BELT, BANANAGRAMS, TURNED, WALLY/GOBLIN). The following twelve lucky and skillful winners, chosen randomly from that group, will receive a MGWCC pen, pencil and notepad set:
Joel Berghoff — San Rafael, Calif.
Rich Bragg — Los Altos, Calif.
Rich Dobkin — Chatsworth, Calif.
Peter Gordon — Great Neck, N.Y.
Ben Gutman — Bay Area, Calif.
Bob Johnson — Ambler, Penna.
Julian Lim — Singapore, Singapore
Chris Marin — Riverside, Calif.
Paul Matwychuk — Edmonton, Alta.
J.S.
Brett S. — Somerville, Mass.
Zach Wolske — Toronto, Ont.
Congratulations to our twelve winners, and to everyone who went five-for-five in October.
SPECIAL PRIZE THIS WEEK AND NEXT:
MGWCC winners this week and next will receive a copy of Patrick Blindauer's forthcoming outer space-themed meta suite, Space Puzzlefest. Sounds far out!
THIS WEEK'S INSTRUCTIONS:
This week's contest answer is an American city. Submit your answer in the form on the left sidebar by Tuesday at noon ET. Note: the submissions form disappears from the site promptly at noon on Tuesday.
To print the puzzle out, click on the image below and hit "print" on your browser. To solve using Across Lite either solve on the applet below or download the free software here, then join the Google Group (2,334 members now!) here. Or you can download the .puz file (you may have to right-click the link and save to your Downloads folder).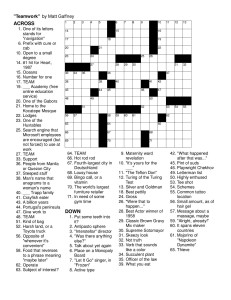 Solve well, and be not led astray by words intended to deceive.