IMPORTANT NOTE: As of January 2015 MGWCC is a subscribers-only crossword. The cost is $26 per year, and you can subscribe (or get a free trial month first) here:
LAST WEEK'S RESULTS: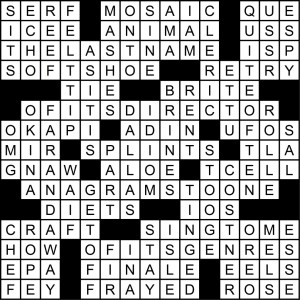 We were looking for a Best Picture-winning movie of the past 25 years, and the four theme entries told you how to identify that film:
THE LAST NAME / OF ITS DIRECTOR / ANAGRAMS TO ONE / OF ITS GENRES
Had to be the James Cameron directed historical drama/action/adventure/romance "Titanic," found by 440 solvers.
Gwinns says:
My streak will go on!
Raygirl writes:

I just heard on the radio that they are building a Titanic theme park in Dubai. Doesn't sound like fun.
Well they have an indoor ski slope in Dubai, so why not an indoor iceberg?
magoo says:
Co-directed by Tess Raid
danchall writes:
Some would say Shakespeare in Love was DAMNED good, but that's no genre.
Similarly, Norm Hurlbut:
Not a genre, but I could argue that a major theme of "Birdman" is I RUIN ART.

Vln Vla asks:

He directed it, but did he ACT IN IT?
Dele says:
That's an ice find!
PatXC recalls her experience:
Love it! Saw the movie on Valentine's Day, 1997. During the evacuation scene, there was a fire alarm in the theater. We were so wrapped up in the movie, it felt like we were getting on lifeboats too! Not sure if we ever saw the rest of the movie.
And arctan li hers:
saw this movie for the first time when i was 20 or so, when it was re-released in 3D. me and my boyfriend were the only people in the theater. so we have our popcorn and drinks, and they're long gone by the time jack and rose are flying at the front of the ship. that's about when i started crying, because it was so romantic and emotional and i knew what the ending was and that made the whole moment sort of sad. so my eyes are flowing almost as bad as the water is into the ship. now, titanic is a great movie, but it's like three hours long, and the last hour or so is nothing but rushing water, and at this point i'm sitting there crying my eyes out, all the while thinking "i've gotta pee, i must've drank me fifteen dr. peppers". so uh, yeah. good memories. would watch again.

And finally, Adam Thompson notes:
neat that you have "Rose" in the bottom right
This week's winner, whose name was chosen at random from the 440 correct entries received, is Bea Snidow of Richmond, Va. In addition to a MGWCC pen, pencil and notepad set, Bea will also receive a 1-year subscription to my new crossword feature…
MATT GAFFNEY'S DAILY CROSSWORD, VERSION 2.0:
Starting today I've re-launched my daily crossword as a subscription service, still named Matt Gaffney's Daily Crossword. There's a new puzzle sent via e-mail every day, 10×10 in size, with a mildly amusing mini-theme. And all-new puzzles; no repeats like I sometimes did at the old site!
The puzzle runs $24 per year, or $18 for six months, or $12 for three months, or $6 for one month. Gift subscriptions available, too, on the Subscribe page. And you can get a free sample puzzle at the site, plus sign up for a free week of puzzles to test-drive before you buy.
Check it out here:
THIS WEEK'S INSTRUCTIONS:
This week's contest answer is a well-known TV show.
IMPORTANT NOTE: As of January 2015 MGWCC is a subscribers-only crossword. The cost is $26 per year, and you can subscribe (or get a free trial month first) here:
Solve well, and be not led astray by words intended to deceive.