LAST WEEK'S RESULTS: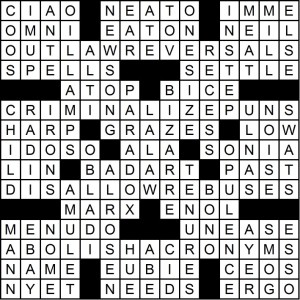 We were looking for an 11-letter proper noun that would've made a good fifth theme entry. So we should probably look at the first four theme entries, each of which carried the clue [Something the Wordplay Police want to do?]
17-A = OUTLAW REVERSALS
25-A = CRIMINALIZE PUNS
45-A = DISALLOW REBUSES
57-A = ABOLISH ACRONYMS
So we've got four phrases in which the first word is a synonym for "prohibit" and the second is a kind of wordplay. What 11-letter proper name fits the pattern? Well, the Wordplay Police might also want to ban anagrams, so it must be BANANAGRAMS, found by 397 solvers.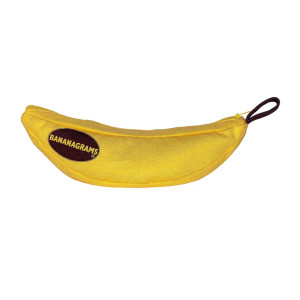 An interesting try was rapper BUSTA RHYMES, submitted by seven solvers. It's eleven letters and the RHYMES part certainly fits, but then "bust" isn't really a synonym for "prohibit," and there's an extra A in there as well.
Redhead64 says:
Get rid of wordplay? That's bananas!
DIS warns:
Then they came for my Spoonerisms…
magoo asks:

What are you, some kind of crypto-fascist?
And Vraal points out:

Of course, this *couldn't* be a suitable answer, because the coexistence of the answers to 5a and 15a would have resulted in a paradox.
This week's winner, whose name was chosen randomly from the 397 correct entries received, is Kristen Duerhammer of Toronto, Ontario. In addition to a MGWCC pen, pencil and notepad set, Kristen will also receive a signed copy of my new book Pocket Posh Easy Crosswords.
THIS WEEK'S INSTRUCTIONS:
This week's contest answer is a six-letter word relevant to this puzzle's theme. Submit your answer in the form on the left sidebar by Tuesday at noon ET. Note: the submissions form disappears from the site promptly at noon on Tuesday.
To print the puzzle out, click on the image below and hit "print" on your browser. To solve using Across Lite either solve on the applet below or download the free software here, then join the Google Group (2,326 members now!) here. Or you can download the .puz file (you may have to right-click the link and save to your Downloads folder).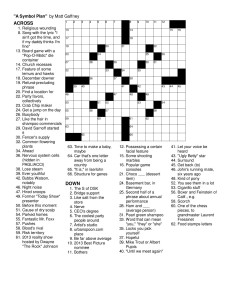 Solve well, and be not led astray by words intended to deceive.