IMPORTANT NOTE: As of January 2015 MGWCC is a subscribers-only crossword. The cost is $26 per year, and you can subscribe (or get a free trial month first) here:
LAST WEEK'S RESULTS: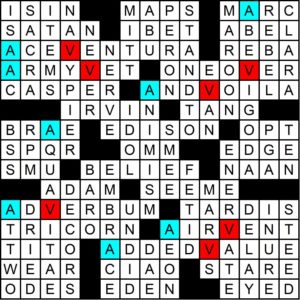 Instructions last week read:
What six-letter word, found somewhere in this puzzle's clues, characterizes its theme entries?
It probably didn't take you long to realize that a pair of 10s, 9s, 8s, and 7s in the grid were two-word phrases with the initials A.V.:
ACE VENTURA / ADDED VALUE
ABE VIGODA / AQUA VITAE
AND VOILA / AD VERBUM
ARMY VET / AIR VENT
What 6-letter word found in the clues would characterize these? As a set you might label these entries the "A.V. 8" — or contest answer AVIATE, found by 572 solvers in the clue to 51-Across.
WHAT DID JOON DO?
For the first time, a MGWCC has used the "feat." tag, which Millennial constructors have popularized over the past few years. This is short for "featuring," and comes from the music biz, where a single may be credited to not only its main artist but also feature one or more other artists.
So what does a "feat." contribution equal in this case? On February 6th, Bruce Haight ran a puzzle in the NYT which featured five D.V. initialed phrases (DEATH VALLEY, DARTH VADER, etc.). His reveal entry was DEVIOUS, intended to be parsed as "D.V.-ous". Not bad, but Joon mentioned in a conversation that a really cool way to do this would've been to have eight D.V. entries, then change the reveal to DEVIATE, i.e. D.V. 8.
I liked that idea a lot, but didn't want to use DEVIATE itself since then I'd be duplicating all/most of Bruce's themers. So I went with these A.V. 8 instead and offered Joon a co-author credit. He said that'd be a bit much, but his contribution was valuable enough that I thought the "feat." idea would be just right. So everyone's happy, and I get to look slightly hipper than I am by throwing that featuring tag around.

Matthew Grieco writes:
Fact I really should have mentioned in the comment box when I submitted my answer: I solved this week's puzzle outside Madison Square Garden while waiting to watch the New York Rangers, whose head coach is Alain Vigneault, who in turn has a pregame show called the AV Squad.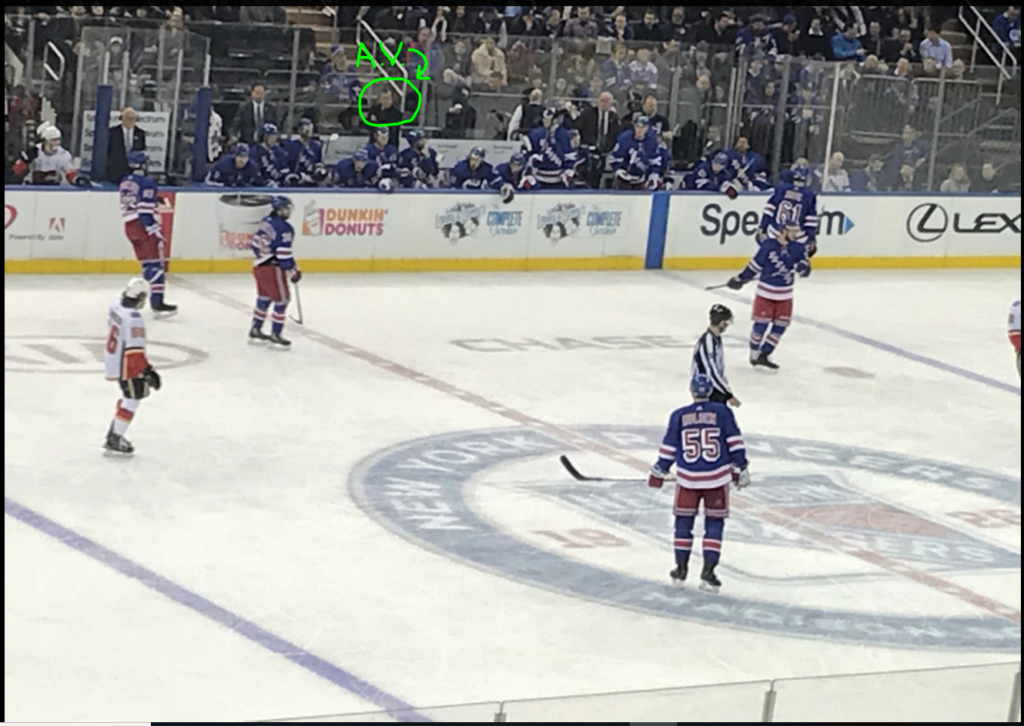 This week's three winners, whose names were chosen at random from among the 572 correct entries received, are:
Jane Brickman — Andover, Mass.
J.R. Skelton — Mountain View, Calif.
Dave Taube — Eugene, Ore.

Each will receive a MGWCC pen, pencil, and notepad set, plus a 1-year subscription to Matt Gaffney's Daily Crossword.
THIS WEEK'S INSTRUCTIONS:
You'll need one of these to get this week's contest answer.
Solve well, and be not led astray by words intended to deceive.