IMPORTANT NOTE: As of January 2015 MGWCC is a subscribers-only crossword. The cost is $26 per year, and you can subscribe (or get a free trial month first) here: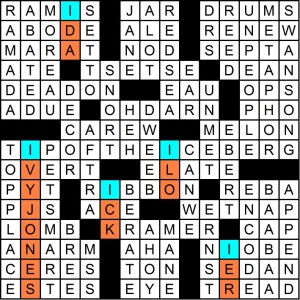 The sole but evocative theme entry last week was right across the center: 39-A was clued [What's really going on lurks beneath it] which yielded TIP OF THE ICEBERG. Meta instructions asked for a large and highly populated area, not much help since the world is full of those.
Well in a wordplay sense, the tip of the word "iceberg" might be the I, and there are indeed a suspiciously small number (5) of I's in the grid. Look beneath them and those letters spell out meta answer DA-VYJONES-LO-CK-ER, which is indeed large and houses many millions of souls (not to mention fish).

LuckyGuest says:
An ice meta!
Gwinns exults, in his best Celine Dion voice:
My streak will go ooooonnnn!
Ben Vincent says:
WHY DOESN'T DVLCE SPELL ANYTHING oh wait.
That was the tricky part — gotta go all the way to the bottom of the grid entry/sea!
glasser loved 4-D:

I solved this while holding my thematic baby IDA!
Steve Blais says:

I sea what you did there.
Jason T quips:
Alternative title: Sea Monkee
He means the other Davy Jones.
Mutman got it:
Same place where most of my meta brain cells go late in the month!
And finally, Ale M creeps me out with a spooky find:
A red herring stalled me for a while: The letters for JAMES CAMERON are bunched together in an iceberg shape in the SW corner.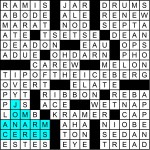 This week's winner, whose name was chosen randomly from the 175 correct entries received, is Jeff Louie of Cambridge, Mass. In addition to a MGWCC pen, pencil and notepad set, Jeff will also receive a 1-year subscription to Matt Gaffney's Daily Crossword (MGDX).
BATTLE OF THE BANDS:
Since he's an alumnus of several bands and an all-around music aficionado, I asked the great Brendan Emmett Quigley to choose his favorite band names from our April Fool's Day grid. And his picks are:
Megasatyr (2 entries) — winner: Tyler Hinman, San Francisco, Calif.
Birdage (1 entry) — winner: Josh Graber, Rockton, Ill.
Dharma, Inc. (2 entries) — winner: Greg Meade, Farmingdale, N.Y.
Congratulations to our winners, who will all receive a MGWCC stationery set. And if Megasatyr ever opens for Dharma, Inc., please let me know.
THIS WEEK'S INSTRUCTIONS:
This week's contest answer is a well-known alcoholic mixed drink.

Solve well, and be not led astray by words intended to deceive.