IMPORTANT NOTE: As of January 2015 MGWCC is a subscribers-only crossword. The cost is $26 per year, and you can subscribe (or get a free trial month first) here:
LAST WEEK'S RESULTS: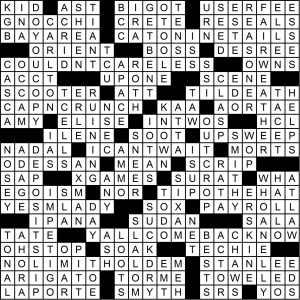 Theme entries had been abridged in Sam Donaldson's puzzle last week! They were:
24-A [Forked whip] = CAT O' NINE TAILS
30-A [Totally apathetic] = COULDN'T CARE LESS
46-A [Brad Garrett sitcom (2006-2010)] = 'TIL DEATH
49-A [Cereal mascot whose first name is Horatio] = CAP'N CRUNCH
67-A [Anticipatory cry] = I CAN'T WAIT
87-A [Irish gesture of respect] = TIP O' THE HAT
89-A ["Downton Abbey" affirmative] = YES, M'LADY
99-A [Southern farewell] = Y'ALL COME BACK NOW
110-A [Game played in the Main Event of the World Series of Poker] = NO LIMIT HOLD 'EM
Note all those contractions! What's left out of each is the key:
CAT OF NINE TAILS
COULD NOT CARE LESS
UNTIL DEATH
CAPTAIN CRUNCH
I CANNOT WAIT
TIP OF THE HAT
YES, MY LADY
YOU ALL COME BACK NOW
NO LIMIT HOLD THEM
Know where those abridgements lead to? Meta answer FOUNTAIN OF YOUTH, found by 460 (!) solvers. Pretty tough to find a nice phrase that all those contraction remainders spell out, but Sam pulled it off! Elegant.
Hugh says:
Fine construction. By putting in the missing letters on the right side as I solved the grid, 'twas done quickly.
Golem calls this:
A Ponce-y scheme
And Asdanf quips:
I think for solving this I deserve an Apos-trophy.
This week's winner, whose name was chosen randomly from the 460 correct entries received, is David Squire of Flagstaff, Ariz. In addition to a MGWCC pen, pencil and notepad set, David will also receive a 1-year subscription to Matt Gaffney's Daily Crossword (MGDX).
Thanks for an very nice Week 2, Sam! And now we're on to this week's challenge:
GUEST CONSTRUCTOR MONTH, WEEK 3: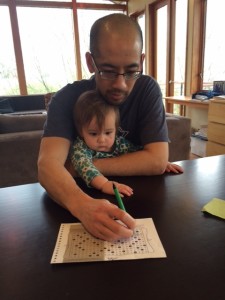 Guest Constructor #3 is Jeff Chen, the larger person in the picture above. Jeff has made quite an impact on the crossword puzzle world in the past five years: he both blogs the New York Times crossword in admirably nerdy depth every day at www.xwordinfo.com, and has earned a much admired/feared byline as a constructor as well. Outstanding examples of his work include this and this, but especially this.
Jeff lives in Seattle with his wife, Jill, with whom he co-won my January 2015 Crossword of the Month award, and their daughter Tess (smaller person above), who will probably start winning this award circa 2034. Baby #2 is on the way, whose byline you can expect to see on crosswords around then as well.
And Jeff is offering a special prize to our weekly winner for his puzzle: "Angel" status at the above-linked xwordinfo.com, which gives you access to all kinds of fun cruciverbal data over there. I'm an Angel myself and can testify that it's pretty neat.
Now, let's see what Jeff's got up his sleeve for Week 3!
THIS WEEK'S INSTRUCTIONS:
This week's contest answer is a color.
Solve well, and be not led astray by words intended to deceive.