LAST WEEK'S RESULTS: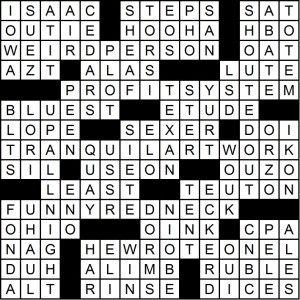 The key was three last week: we were looking for a city in Europe, and the five theme entries were just clued as "Part 1 of city," "Part 2 of city," and so on. Those answers were:
WEIRD PERSON
PROFIT SYSTEM
TRANQUIL ARTWORK
FUNNY REDNECK
HE WROTE ONE-L
Most solvers puzzled out the last two first: JEFF FOXWORTHY became famous with his "you might be a redneck" jokes (e.g.: "If you've ever taken a beer to a job interview…you might be a redneck"), and SCOTT TUROW wrote the crossword-friendly book One-L about his first year at Harvard Law School.
Noticing that those two have a triple letter in common, the rest were easily (?) backsolved: an ODD DUCK is a "weird person"; the profit system of capitalism is also called FREE ENTERPRISE; and a tranquil style of artwork is a STILL LIFE.
Put those triple letters in order and you've got the lovely Dutch city of DELFT, known for its pottery, which is famously triple-blasted in a furnace before being triple-coated in lacquer and traditionally sold for three guilders and thirty-three florins per plate.
Just kidding. There's no special connection between DELFT and the number three; it's just something I could form with the limited selection of triple letters in the world.
Redhead64 says:
Bad timing, The Netherlands just lost their chance at winning the World Cup (doubly ironic since you mentioned the World Cup in 39-Down's clue!)
J Bowzer thinks the puzzle was:

Not too onerous!
Wobbith says:

Considering that I started with Al Yankovic, capitalism, and Mona Lisa, I'm amazed that I got this one at all.
Re 47-D, Meg says:

I'm an Eckerd grad! The college was renamed for a drugstore magnate. People used to think we were all going to become pharmacists . We proudly wore t-shirts saying "Eckerd Drug College".
And finally, bhensley suggests:

With all the art in the puzzle, I have to point you to the lovely Vermeer painting "View of Delft."
Here it is: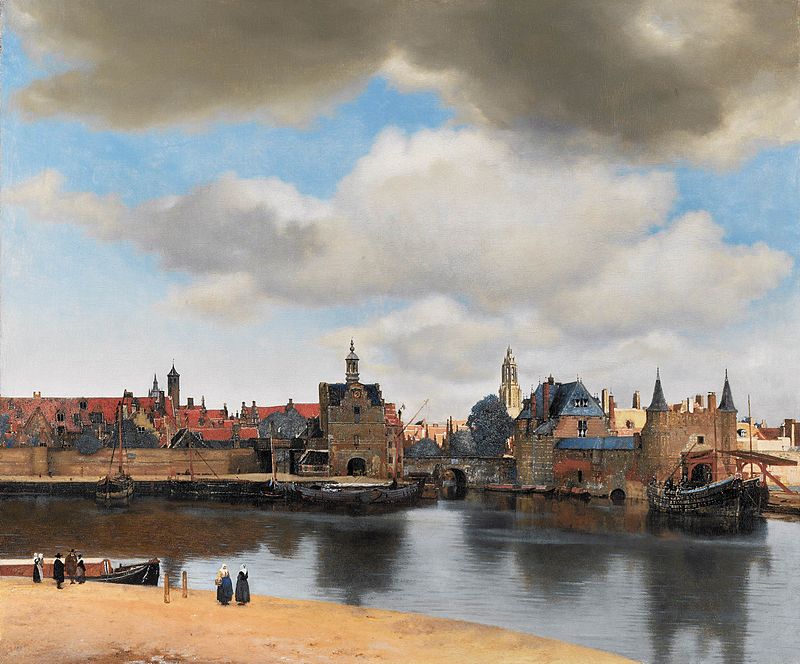 This week's winner, whose name was chosen randomly from the 330 correct entries received, is Ronald Byron of Lady Lake, Fla. In addition to a MGWCC pen, pencil and notepad set, Ronald will also receive a copy of my new(ish) book Crunchy Crosswords.
SHORT-TERM PARKERING:
I'll be filling in for the vacationing Rex Parker this Sunday thru Friday (July 20th-25th) over at his site. Visit me there as I praise/deconstruct/lambaste/etc. six days' worth of New York Times crosswords.

THIS WEEK'S INSTRUCTIONS:

This week's contest answer is a world capital. Submit your answer in the form on the left sidebar by Tuesday at noon ET. Note: the submissions form disappears from the site promptly at noon on Tuesday.
To print the puzzle out, click on the image below and hit "print" on your browser. To solve using Across Lite either solve on the applet below or download the free software here, then join the Google Group (2,281 members now!) here. Or you can download the .puz file (you may have to right-click the link and save to your Downloads folder).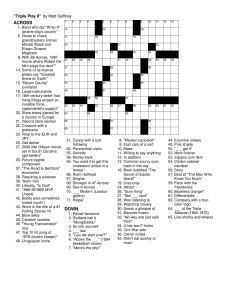 Solve well, and be not led astray by words intended to deceive.