LAST WEEK'S RESULTS: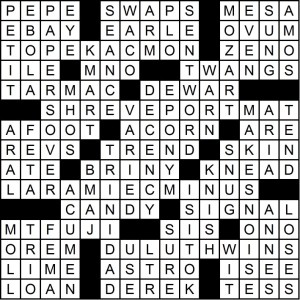 We were looking for two grid entries that can combine to form an excellent fifth theme entry. The four given were:
17-A ["Why would we visit that Great Plains city?!"?] = TOPEKA? C'MON!
28-A [Where to wipe your feet next to the Red River?] = SHREVEPORT MAT
43-A [Mediocre grade for a student near the Snowy Range?] = LARAMIE C-MINUS
56-A [Epic successes on Lake Superior?] = DULUTH WINS
The title "All Around Town" suggests encircling those four cities in some way, and this was the key to the meta: the first word in each entry is a city, and the second word is formed by the first letters of the states surrounding that city's state.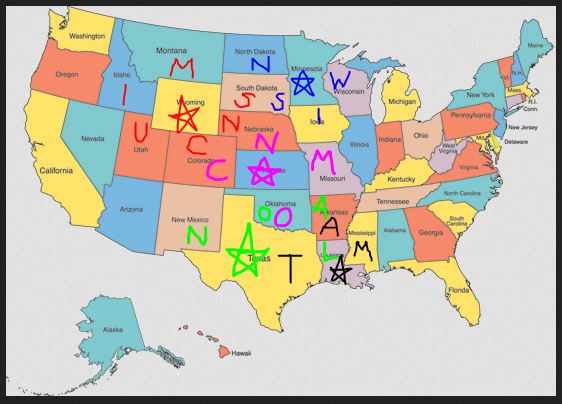 So we have:
Topeka, Kansas, surrounded by Colorado, Missouri, Oklahoma and Nebraska = C'MON
Shreveport, Louisiana, surrounded by Mississippi, Arkansas and Texas = MAT
Laramie, Wyoming, surrounded by Colorado, Montana, Idaho, Nebraska, Utah and South Dakota = C-MINUS
Duluth, Minnesota, surrounded by Wisconsin, Iowa, North Dakota and South Dakota = WINS
So we need a fifth two-word theme entry fitting this pattern. There were three cities in the grid, but the right one turned out to be WACO (6-D), Texas, which is surrounded by Louisiana, Oklahoma, Arkansas and New Mexico, giving us LOAN (63-A), and making WACO LOAN our meta answer.
Meta – World Peace suggests a clue for our meta answer:
Baylor bailout?
And Jason T writes:
Personally, as a Canadian, I'm more of a SASKATOON MAN.
Or MANN, if corners count!
This week's winner, whose name was chosen randomly from the 130 correct entries received, is Maggie Wittlin of New York City, N.Y. In addition to a MGWCC pen, pencil and notepad set, Maggie will also receive a copy of Patrick Blindauer's forthcoming Outer Space Puzzlefest.
MONTHLY WINNERS:
93 solvers submitted the correct contest answer to all four of November's challenges (CHEESE, DENVER, TONGUE, WACO LOAN). The following ten skillful and lucky winners, chosen randomly from that group, will receive a MGWCC pen, pencil and notepad set:
Danny Augenbraun — Pittsburgh, Penna.
Rich Bragg — Los Altos, Calif.
Jonathon Brown — Jersey City, N.J.
John Cassidy — Staten Island, N.Y.
Alexander Miller — Grand Rapids, Mich.
Katie Miller — Houston, Tex.
Mike Morse — Kensington, Md.
Brett Rose — Chicago, Ill.
Jeffrey L. Schwartz — New York City, N.Y.
James Wentworth — Bronte, N.S.W., Australia

Congratulations to our ten winners, and to everyone who went 4-for-4 in November.
ZEP:
With 12 hours to go, Patrick Merrill's puzzle-based comic book "Zep" is so close to funded it's not even funny. Help him out if you want!
[Update: I wrote this on Thursday afternoon, anticipating that this drive would be close-but-not-quite-there by noon on Friday. But...last night, a mystery fan dropped a $2,500 pledge in the Zep bucket, putting him over the line. Wow!]
CHANGES COMING IN JANUARY 2015 @ MGWCC:
First, I'd like to thank everyone who's solved the MGWCC puzzles and/or hit the annual Tip Jar over the past 6.5 years. Both the solvership and tip jar count have grown at a healthy clip during this time, and have served as great encouragement for me to keep doing what I'm doing.
The online crossword market has changed over that time, though, and, encouraged by the success others have found with it, I've decided to make MGWCC a subscription service beginning in January of 2015. The cost to subscribe will be $26 per year.
More details coming next week, but during the month of December nothing will change. You can pre-order your subscription (or a holiday gift for someone else) here, but it won't begin until January; all of December's puzzles will be available free for everyone, as usual.
Also note that there will be no tip jar for the last six months of 2014; those puzzles are all on the house. So if you were planning to tip next summer, I hope you'll channel that monetary love into a subscription.
My deepest gratitude again to all of you who solve MGWCC and those who've tipped so generously over these years. I expect we'll have some growing pains during this transition, so please bear with me through that.
Now, on to December's puzzles, and I hope you'll be with me in 2015 and beyond as well.
THIS WEEK'S INSTRUCTIONS:

This week's contest answer is a five-letter kind of bird. Submit your answer in the form on the left sidebar by Tuesday at noon ET. Note: the submissions form disappears from the site promptly at noon on Tuesday.
To print the puzzle out, click on the image below and hit "print" on your browser. To solve using Across Lite either solve on the applet below or download the free software here, then join the Google Group (2,334 members now!) here. Or you can download the .puz file (you may have to right-click the link and save to your Downloads folder).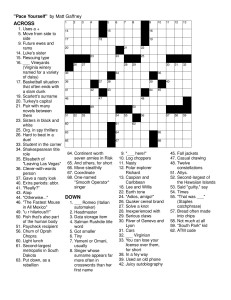 Solve well, and be not led astray by words intended to deceive.