IMPORTANT NOTE: As of January 2015 MGWCC is a subscribers-only crossword. The cost is $26 per year, and you can subscribe (or get a free trial month first) here:
LAST WEEK'S RESULTS: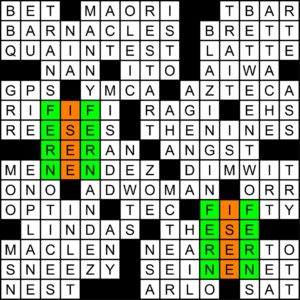 BETWEEN TWO FERNS was 10-Down last week, clued (incorrectly — see below) as [Zach Galifianakis talk show since 2014 — and the key to this meta]. We were looking for a two-word sentence uttered frequently by talk show hosts, and if you checked between the FERNs in each of the four long entries, you saw contest answer I SEE twice (see diagram at right). Those other three were TRANSFER NOTICES, MANNY FERNANDEZ, and BLAZING INFERNO.
DeepakB writes in Crossword Fiend comments:
Between Two Ferns has been around since 2008, not 2014…
Oops — he is correct, as you can see here. I think I saw that President Obama was on the show in 2014 and that there have only been 21 episodes of it and that somehow translated to starting in 2014. But it's on an irregular schedule, running between 0 and 5 episodes per year thus far. Anyway, apologies for the error.
Neville says:

Nice minitheme in the SW with MACLEN, ONO, and LINDAS!
ICDogg says:
That's my name, don't wear it out!
LuckyGuest got it:
I see what you did there!
Small Wave Dave had other plan(t)s:
Easy solve–now I can spend the weekend getting potted!
Smelnick is 1 for 1:
If correct, my first solve!!!
Tyler Hinman's new streak is now at 1:
I SEE — What I didn't say last week
da kine opines:
I love these easy ones!
And finally, lisepac boasts:
veni, vidi, vici!
This week's winner, whose name was chosen at random from among the 487 correct entries received, is Greg Anderson of Middleton, Wisc. In addition to a MGWCC pen, pencil, and notepad set, Greg will also receive a 1-year subscription to Patrick Blindauer's forthcoming weekly series Piece of Cake Crosswords, which is about halfway funded now.
THIS WEEK'S INSTRUCTIONS:
This week's contest answer is a famous athlete.
Solve well, and be not led astray by words intended to deceive.