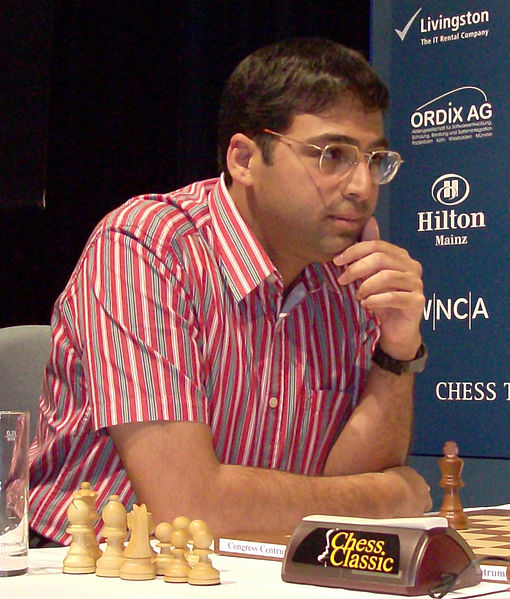 LAST WEEK'S RESULTS: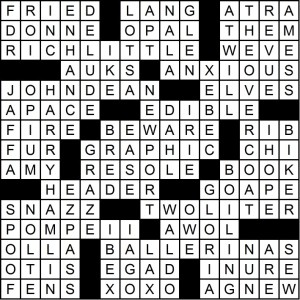 Week 4 played much tougher than I'd figured, yielding just 63 correct answers. Contest instructions asked for one of newly-crowned world chess champion Magnus Carlsen's predecessors, and the five theme entries were starred:
17-a [Frequent guest on Johnny Carson's show*] = RICH LITTLE
39-a [Featuring much detail*] = GRAPHIC
57-a [They're kept on their toes*] = BALLERINAS
11-d [1842 short story with great influence on Russian literature*] = THE OVERCOAT
25-d [Perseus portrayer, 1981*] = HARRY HAMLIN
What's the common thread? Each of the five theme answers suggests a five-letter term with a 1-2-1-2-3 letter pattern: "The Overcoat" was written by Nikolai Gogol; Harry Hamlin's other big role besides Perseus was in "L.A. Law"; ballerinas wear tutus; Rich Little is an impersonator, a.k.a. a mimic, and a synonym for "graphic" is vivid.
Which world chess champ's name belongs on this list? Carlsen's immediate predecessor, the great Vishy ANAND, whose career has had the misfortune of overlapping those of the greatest chessplayer of all time (Kasparov) and the player who might well become the greatest of all time (Carlsen). But serving as a MGWCC meta answer will dull some of that pain for Vishy, a great champion in his own right.
rvkal writes:
Going to celebrate with some Hohos and cocoa.
NDE got it right, but wondered:

Or did I miss a former World Champion who was Tatar?
As I'd figured it would be for most solvers, Crossword Beast's entry point was Gogol:
The key for me was wondering why your THEOVERCOAT clue didn't mention its author. That DIDIT!
And Andrew J. Ries suggests:
The prize for this week should have been a gift card to CiCi's Pizza!
This week's winner, whose name was chosen randomly from the 63 correct entries received, is Lance Nathan of Arlington, Mass. In addition to a MGWCC pen, pencil and notepad set, Lance will also receive a signed copy of Ben Tausig's new book The Curious History of the Crossword.

WRONG SIDE OF A FINE LINE?
I do want to mention that not everyone dug this meta. A number of solvers found the connections between the theme entries and their five-letter 1-2-1-2-3′s to be more "tenuous" than my intended "subtle." Long and interesting discussion on that here.
Although I am highly sensitive to complaints that a meta is unfair (because unfair is unfun), I generally did not agree with those claims here. GOGOL and L.A. LAW were very prominent terms with which to associate "The Overcoat" and "Harry Hamlin," and, though MIMIC, VIVID and TUTUS were more hidden, a quick look at the list of world champions would have revealed ANAND as another 1-2-1-2-3. Since there were only about 20 names on that list, it couldn't have been a coincidence, and so the other 1-2-1-2-3 terms could have been backsolved.
But still, a decent number of experienced meta-solvers did deem these connections to be a little too loose (perhaps not quite "unfair," but very loose). This kind of thing will unfortunately happen from time to time, since the enjoyable part of tough metas is how subtle they are, and that line gets very fine late in the month.
But we're all friends here so let's move along to Week 5 (which I've toned down a bit from a normal Week 5, since last week's was so brutal — and it's a holiday weekend to boot).

THIS WEEK'S INSTRUCTIONS:
This week's contest answer is the three grid entries referenced in 58-across (please submit the entries themselves, not their clue numbers). Submit your answer in the form on the left sidebar by WEDNESDAY (note extra day) at noon ET. Note: the submissions form disappears from the site promptly at noon on Wednesday.
To print the puzzle out, click on the image below and hit "print" on your browser. To solve using Across Lite either solve on the applet below or download the free software here, then join the Google Group (2,126 members now!) here.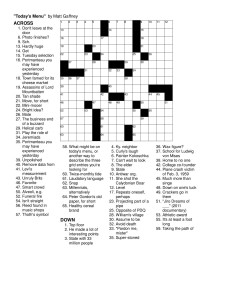 Solve well, and be not led astray by words intended to deceive.