LAST WEEK'S RESULTS: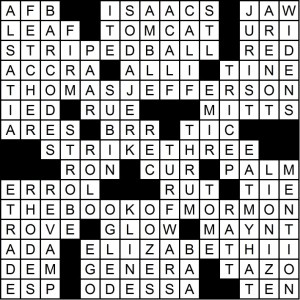 All about the polygons last week: solvers were tasked with finding a hidden sixth theme entry, so what was the pattern of the first five? They were:
17-A [Pool rack item (regular)] = STRIPED BALL
23-A [U.S. paper money figure (irregular)] = THOMAS JEFFERSON
34-A [Home plate shout (irregular)] = STRIKE THREE
49-A [Utah is where this musical begins (irregular)] = THE BOOK OF MORMON
58-A [50-pence coin face (regular)] = ELIZABETH II
Nudged by those mysterious "regular" and "irregular tags," 186 solvers noticed that each theme clue begins with a polygon, with increasing numbers of sides:
"Pool rack" = triangle (a regular triangle)
"U.S. paper money" = rectangle (an irregular quadrilateral)
"Home plate" = pentagon (irregular pentagon, in this case)
"Utah" = hexagon (irregular hexagon; known to crossword solvers since "Six-sided state" is a common clue for UTAH)
"50-pence coin" is a heptagon (regular heptagon)
So in order to complete the pattern we need to find a clue somewhere in the grid that begins with an octagon. And there it is at 19-Across, [Stop sign color], making RED our meta answer.

Maggie W. says:
Thanks for making the phrasing of 49a so awkward.
And Graham Rosby writes:

I had to ask my NONA about this!
(That's Italian for "grandma.")
This week's winner, whose name was chosen randomly from the 186 correct entries received, is David Bael of Minneapolis, Minn. In addition to a MGWCC pen, pencil and notepad set, David will also receive a 1-year subscription to the American Values Club Crossword, edited by Ben Tausig.
VULTURE CROSSWORD CONTEST:
My New York magazine crossword contest is now online! In .pdf format only for now, but I think an e-version is in the works as well.
TWO MORE METAS:
Erik Agard (not sure of the deadline but I think it's Wednesday; haven't solved it yet but its Twitter buzz is glowing)
Peter A. Collins (Fireball Crosswords — subscription required and highly recommended if you're not already signed up; deadline for the contest is Sunday at 6 PM ET)

SPECIAL PRIZE THIS WEEK AND NEXT:
In addition to a MGWCC pen, pencil and notepad set, winners this week and next will also receive a copy of the great Trip Payne's forthcoming 2014 Extravaganza, which drops on August 1st. It will be worth the wait, rest assured.
THIS WEEK'S INSTRUCTIONS:

This week's contest answer is a useful part of your computer. Submit your answer in the form on the left sidebar by Tuesday at noon ET. Note: the submissions form disappears from the site promptly at noon on Tuesday.
To print the puzzle out, click on the image below and hit "print" on your browser. To solve using Across Lite either solve on the applet below or download the free software here, then join the Google Group (2,225 members now!) here. Or you can download the .puz file (you may have to right-click the link and save to your Downloads folder).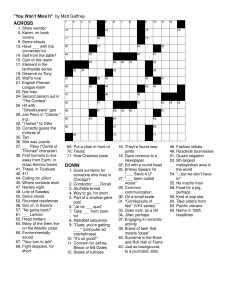 Solve well, and be not led astray by words intended to deceive.