IMPORTANT NOTE: As of January 2015 MGWCC is a subscribers-only crossword. The cost is $26 per year, and you can subscribe (or get a free trial month first) here:
LAST WEEK'S RESULTS: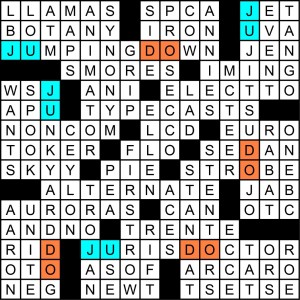 We needed one of the 28 sports being played in the Rio Games, and our theme entries were:
17-A [Entering, as a rabbit hole] = JUMPING DOWN
11-D [One place to earn a black belt] = JUJITSU DOJO
57-A [Degree you need to take the bar exam (usually)] = JURIS DOCTOR
25-D [Animal you don't want to mess with] = JUNKYARD DOG
Those entries' two words each start with JU and DO, making JUDO our contest answer, found by a Subscription-Era record 508 solvers.
Steve Blais says:
Chop chop!
pchristofferson thinks:
JUJITSUDOJO is maybe the greatest answer of all time.
Jon Delfin writes:
Jun Dolfin?
FrotzNPL suggests:
Just do it! Some good ones with the right bigrams … unfortunately in the wrong order: Juan, Don Julie Brown, Downtown
marpocky writes:

Just dope! (As I could defensibly claim "the kids" might say.)
Leo sends this compliment:
Way to throw down!
canyouneilthelovetonight says:
Hopefully the IOC won't be Juggling Doping scandals this year.
lilroser hit a milestone:
Thanks! 100 and counting!!
And PhilB points out:
That theme would have been a lot harder to construct using Golf
This week's winner, whose name was chosen randomly from the 508 correct entries received, is Barbara Struzziero of Cape Elizabeth, Me. In addition to a MGWCC pen, pencil and notepad set, Barbara will also receive a 1-year subscription to Matt Gaffney's Daily's Crossword.
THIS WEEK'S INSTRUCTIONS:
This week's contest answer is a U.S. city with a more famous European namesake.
Solve well, and be not led astray by words intended to deceive.