LAST WEEK'S RESULTS: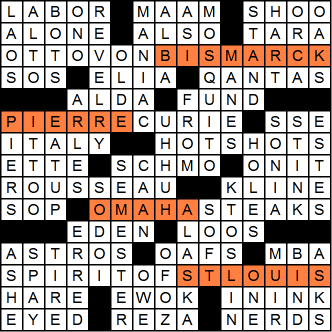 We needed a body of water, and 604 solvers found it: flowing in order downstream, we had BISMARCK (North Dakota), PIERRE (South Dakota), OMAHA (Nebraska) and ST LOUIS (Missouri). Those human settlements each lie on the mighty MISSOURI RIVER, making that last week's meta answer.
Brent Holman writes:
Having St. Louis in there gave me slight pause, but I'm letting your parenthetical note wash away any worries.
The clue there was [Lindbergh's ride (well, it's close enough for the theme)]. Parenthetical included because, although it famously sits at the confluence of the Missouri and Mississippi, St. Louis proper is actually three or four miles south of said confluence.
This week's winner, whose name was chosen randomly from the 604 correct entries received, is Steve Blais of Maidstone, Ont. In addition to a MGWCC pen, pencil and notepad set, Steve will also receive a copy of my forthcoming book Crunchy Crosswords.
NEW VULTURE CONTEST:
Solve my meta from this week's New York magazine here. Deadline is April 16th.
SPECIAL PRIZE THIS WEEK AND NEXT:
In addition to a MGWCC pen, pencil and notepad set, winners this week and next will receive a two-year subscription to Andrew Ries's new weekly crossword ($5 for one year, $10 for two). As a testimony to his sick cruciverbal skill, note that one of Andrew's Fireball puzzles was just nominated for Crossword of the Month in March.
THIS WEEK'S INSTRUCTIONS:

This week's contest answer is a TV show. Submit your answer in the form on the left sidebar by Tuesday at noon ET. Note: the submissions form disappears from the site promptly at noon on Tuesday.
To print the puzzle out, click on the image below and hit "print" on your browser. To solve using Across Lite either solve on the applet below or download the free software here, then join the Google Group (2,244 members now!) here. Or you can download the .puz file (you may have to right-click the link and save to your Downloads folder).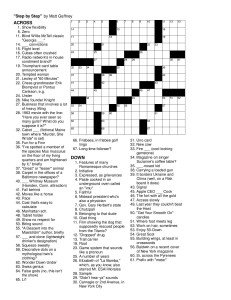 Solve well, and be not led astray by words intended to deceive.