IMPORTANT NOTE: As of January 2015 MGWCC is a subscribers-only crossword. The cost is $26 per year, and you can subscribe (or get a free trial month first) here:
LAST WEEK'S RESULTS: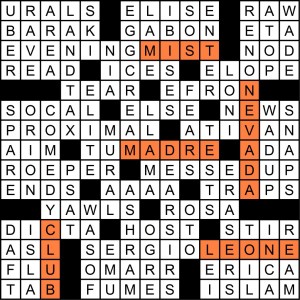 Not as easy as lather-rinse-repeat, but close. We were looking for a six-letter Spanish word familiar to English speakers, and our five theme entries were:
17-A [Stephen King-like weather*] = EVENING MIST. Spooky!
11-D [Seat of Washoe County*] = RENO, NEVADA
65-A [Director of "The Good, the Bad and the Ugly" and "Once Upon a Time in America"*] = SERGIO LEONE
30-D [Carolines on Broadway, notably*] = COMEDY CLUB. No apostrophe in that, why not?
41-A [Playground insult, in Ixtapa*] = TU MADRE
Put contest answer SIERRA before each second word and you've got a soft drink, a beer, a country, an organization, and a mountain range (fitting since sierra means "mountain range").
jimaquaman wasn't going to miss it:
My niece's name!
Sharkicicles says:
I knew those four years of Spanish in high school would pay off!
gabeluis is new here, and batting 1.000:
My first one!
So is robertkeller:
My first one!
markta dodged a bullet:

I literally had typed "Puerto Rico" and almost submitted it. WRONG META!
That was the answer to my WSJ meta last week.
Ed had Sierra in mind alrerady:
I'm hiking in Utah next week on a Sierra Club trip. Maybe that helped subconsciously?
And Jerry asks:
Isn't a Sierra Club what John Muir had for lunch while hiking in Yosemite?
Not sure! Can't quite see his lunch on the California state quarter.
This week's winner, whose name was chosen randomly from the 438 correct entries received, is Kristen Jones of Cuyahoga Falls, O. In addition to a MGWCC pen, pencil and notepad set, Kristen will also receive a 1-year subscription to Matt Gaffney's Daily Crossword (MGDX).
THIS WEEK'S INSTRUCTIONS:
Fill in the blank: [FLAG OF ___] with the name of a country in order to form a good final theme entry for this puzzle.
Solve well, and be not led astray by words intended to deceive.