IMPORTANT NOTE: As of January 2015 MGWCC is a subscribers-only crossword. The cost is $26 per year, and you can subscribe (or get a free trial month first) here:
LAST WEEK'S RESULTS: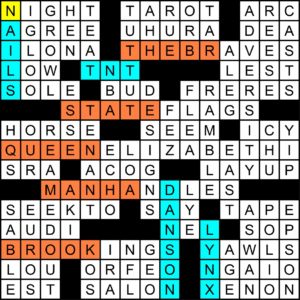 All you needed to do was figure out what letter went in the 1 box last week! I amended that later, requiring solvers to show how they got to that letter as well, when a couple of people pointed out that some solving programs could override the locked Across Lite file and show you what the letter was supposed to be.
At any rate there were six or seven possibilities there, since 1-A was clued as [A common, uncapitalized English word] and 1-D was the same, except with an asterisk. Then 1-A was ?IGHT and 1-D was ?AILS, meaning F, M, N, R, S, and T would all fit, plus B if you consider "bight" common enough. So first insight: realizing you can't just guess there.
Second insight: the first five letters of each of the five long acrosses are the same as the first five letters of each of New York City's five boroughs. Like so:
THE BRAVES = THE BRONX
STATE FLAGS = STATEN ISLAND
QUEEN ELIZABETH I = QUEENS
MANHANDLES = MANHATTAN
BROOKINGS = BROOKLYN
Third insight: those leftover letters in each borough's name must mean something. The four asterisked clues in the grid yield answers TNT, DANSON, LYNX, plus ?AILS at 1-D. Cross off the letters in those four words and you're left with contest answer N, which completes NIGHT/ NAILS in the top left corner.
pgw writes:
for some reason this puzzle makes me want to get a new yo-yo…
Dant says:

It helped that I was watching the Yankees while working on the puzzle
Jason Shapiro says:

what a nice aha moment for me, as i sit here in manhattan!
Jimmy y Carmie write:
Originally from NYC, would've been horrible not to get this!
And finally, Tom Cassidy solved it on a relevant boat: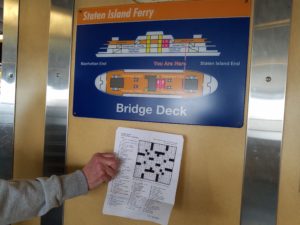 This week's winner, whose name was chosen at random from among the 175 correct entries received, is David Olson of Lake Forest, Ill. In addition to a MGWCC pen, pencil, and notepad set, David will also receive a copy of of Patrick Blindauer's new Broadway Puzzlefest.

SPECIAL PRIZE THIS WEEK AND NEXT:
Last month I interviewed Joon Pahk about his indie puzzling, specifically his subscription puzzle service Outside the Box Puzzles. In addition to a MGWCC pen, pencil, and notepad set, winners this week and next will also receive a 1-year subscription to Outside the Box Puzzles.
THIS WEEK'S INSTRUCTIONS:
This week's contest answer is a word describing this crossword puzzle.
Solve well, and be not led astray by words intended to deceive.