IMPORTANT NOTE: As of January 2015 MGWCC is a subscribers-only crossword. The cost is $26 per year, and you can subscribe (or get a free trial month first) here:
LAST WEEK'S RESULTS: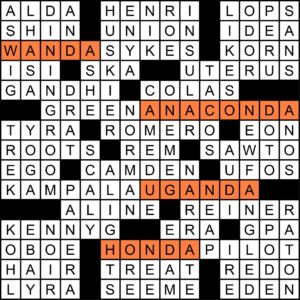 We were looking for a noted TV producer last week, and our theme entries were:
17-A ["Curb Your Enthusiasm" and "Black-ish" actress] = WANDA SYKES. Very funny lady.
28-A [Heaviest species of snake in the world] = GREEN ANACONDA
47-A [African capital where the 2016 chess movie "Queen of Katwe" is set] = KAMPALA, UGANDA. I saw this in a theater (rare for me) and can recommend it highly. Did you know that movie tickets are like $12 now and the big popcorn is $9? Whoa.
60-A [SUV since '02] = HONDA PILOT.
What's the common thread? Wanda, Anaconda, Uganda, and Honda all rhyme with the name "Shonda," leading of course to contest answer SHONDA RHIMES. You couldn't really have done this with LeAnn Rimes years ago since not much rhymes with LeAnn.
jagoandlitefoot writes:

This is literally the exact theme of a Will Nediger puzzle from last month
Gah!! I always Google to make sure a meta I'm doing hasn't been done before, but this one didn't show up because 1) it wasn't reviewed on Crossword Fiend and 2) it doesn't have a Google footprint at all, it turns out, since it appeared as one of Will's subscription-only puzzles, which are $25 CDN per year and, I'm told by several very reliable sources, worth it.
So I've added Will to the sidebar on this site, and special prize this week and next will be a 1-year subscription to Will's weekly subscription puzzle. Solution grid to Will's puzzle, if you're curious: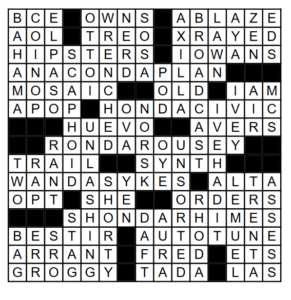 This week's winner, whose name was chosen at random from among the 467 correct entries received, is Jacob Cunningham of Los Angeles, Calif. In addition to a MGWCC pen, pencil, and notepad set, Jacob will also receive a one-year subscription to Matt Gaffney's Daily Crossword.
GUEST CONSTRUCTOR JEFFREY HARRIS:
Why the guest puzzle in September? Because for Guest Constructor Month in June I accidentally commissioned six puzzles instead of the needed five. When I realized my mistake, Jeffrey Harris gamely allowed me to postpone his Week 2 meta until a later date. And that date is here…
Under his nom de solve of JanglerNPL, Jeffrey is the only solver who's gotten every single meta since we instituted the leaderboard system five years ago. His current streak stands at 261; three years ago he answered a few questions about his meta-solving prowess, so I figured now would be a good time to check back in with a few more Q's:
MG:Your streak now stands at 261 metas in a row since you'll get automatic credit for writing this one. Getting nervous?
JH: Oh, I'm always nervous about metas, from the moment the puzzle is released to the moment I see my name on the leaderboard.

MG: What do you think your chances are at making it to MGWCC #1000 with your streak intact at 777? Want to bet a steak dinner on it?
I have had nightmares, plural, about breaking my streak — I don't think I want to compound the stress by putting a steak dinner on the line! Also, if I had to guess, I'd take your end of that bet anyway. Whether it's a typo, misreading the instructions, being away from the internet one weekend, or just plain being stumped, I'm pretty sure I'll miss one between now and #1,000. [Note: I don't penalize solvers for obvious typos, BTW!]

MG: What are your favorite and least favorite kinds of meta, or aspects of metas?
That's a tough one to answer. I'm sometimes put off by strained fill that's required of more theme-dense metas. I think "the meta answer is [such-and-such] that would make a great final theme entry" can be overused — these sometimes feel just like regular crosswords where one theme answer didn't match up lengthwise — but even those are enjoyable, and one of my favorite metas from the past few years is of that form.
Thanks, Jeffrey! And now, here's his puzzle. Hope you don't break a streak on it…
THIS WEEK'S INSTRUCTIONS:
This week's contest answer is a TV show.
Solve well, and be not led astray by words intended to deceive.